A disturbing first-person video game that allows users to recreate violent school shootings for entertainment has inflamed outrage as the U.S. grapples with a series of deadly school shootings.
"Active Shooter," set to debut on the video game platform Steam next week, invites users to play as either a first responder or the shooter who stalks a school building's halls with various weapons, including a knife and a grenade, according to a video sample.
"Pick your role, gear up and fight or destroy! Be the good guy or the bad guy. The choice is yours!" the game's page advertises.
Not everyone is seeing the product's entertainment value or social worth.
An online petition seeking to block the game's launch had racked up more than 86,000 signatures as of Tuesday afternoon.
Fred Guttenberg, whose 14-year-old daughter Jaime was among 17 people killed in the mass shooting at a Parkland, Florida, high school in February, was among those condemning the game and urging it not be released.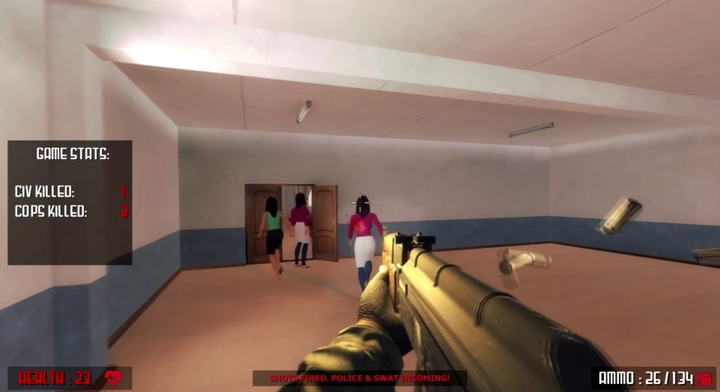 "I have seen and heard many horrific things over the past few months since my daughter was the victim of a school shooting and is now dead in real life. This game may be one of the worst," he said in a Twitter post on Sunday.
Andrew Pollack, whose 18-year-old daughter Meadow was killed at the Parkland school, also decried the game's release as well as its creator to the Miami Herald.
"The last thing we need is a simulated training on school shootings," he said. "Video game designers should think of the influence they hold. This really crosses the line."
The game's creator, a publishing house named Acid which gives its home as Moscow in Russia, has defended the game as not intended to be taken seriously.
"First of all, this game does not promote any sort of violence, especially any [sort] of a mass shooting," an update on the game's Steam page reads. The statement from an unidentified person says that "while I can see people's anger and why this might be a bad idea for the game, I still feel like this topic should be left alone."
A representative for Valve, the company that runs Steam, did not immediately respond to a request for comment on Tuesday.
This is not the first time such a game has emerged.
A video game called "School Shooter: North American Tour 2012" invited players to re-enact the 1999 massacre at Columbine High School in Colorado. That game was removed from its hosting site following similar outrage.
Violent video games' sales to children have been allowed by the U.S. Supreme Court after it ruled that they fall under the First Amendment's right to free speech.
As of Friday, 23 shootings ― either intentional or accidental ― have occurred in 2018 on the campuses of K-12 schools or colleges, according to a count by CNN. The shooting in Parkland was the deadliest, followed by one at Santa Fe High School in Texas that killed 10 people.
Calling all HuffPost superfans!
Sign up for membership to become a founding member and help shape HuffPost's next chapter