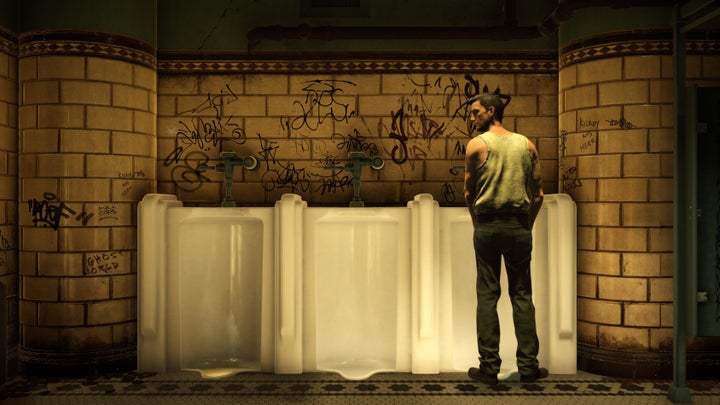 A new video game that allows players to cruise for simulated gay sex in public restrooms is making a politically charged message about the policing of sexuality among queer people and censorship in video game culture.
"I am interested in the politics of sex ― who is allowed to have it, where, when, how, why," Yang told HuffPost. "Almost all video games containing police also depict the police as a fun player. Like in 'Grand Theft Auto,' the police are a playful partner that will let you escape most of the time, or 'reasonably' pursue you 'fairly' with sufficient cause. In real life, many police do not operate this way; they bend rules, mislead you, accuse you without cause, and detain you for whatever reason they like. Gay men, especially gay minorities, know this well, because we remember it in our community histories."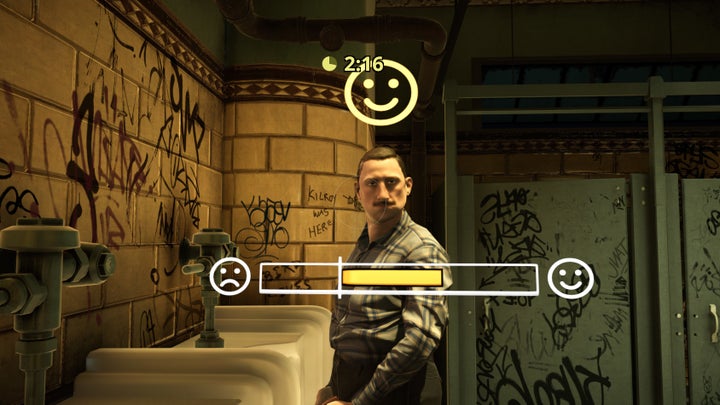 In the past, Yang told HuffPost that Twitch.tv, the platform through which he hosts his projects, has banned the designer's work from the site for featuring male genitalia. As a result, Yang chose to make a political statement in "The Tearoom" by replacing the penises of the men in the game with guns.
"I chose to use guns instead of dicks to highlight how Twitch.tv bans my games for featuring dicks ― so I've given them what they wanted, and made a video game about guns," Yang said. "To this day, most of my gay sex games have been banned by Twitch. I get emails from people who want dicks instead of guns ... well, if Twitch unbans my games, then I'll finally feel free enough to do that. In the meantime, I have to work around their censorship rules."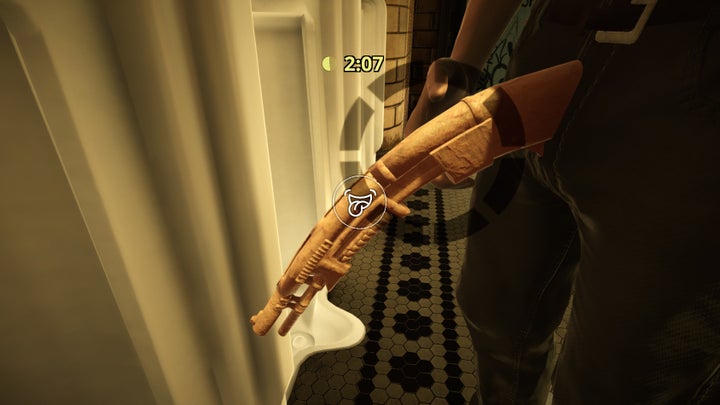 Yang wants those who play his game to not only enjoy the voyeuristic quality of simulated cruising in public spaces, but also to think about the ways that the sexuality of gay people has historically been ― and continues to be ― policed by those in positions of power.
He also wants people to remember how central sex has always been to the idea of queer liberation.
"Sex used to be a central part of gay politics and organizing, and public sex represented a strong intersection between gay rights and police reform movements," Yang said. "Don't get me wrong, gay marriage has been great, but now we need to move on to other concerns that affect us all, and join other movements in solidarity. 'The Tearoom' is my attempt to connect historical persecution of gay and queer men to modern day methods of surveillance and policing, to show that all our grievances are connected, and those 'old' tools of persecution are still here, and perhaps even more powerful today."
Want to check out "The Tearoom" for yourself? Head here.
Popular in the Community