Video games are one of the largest entertainment industries in America. The question is not who plays, but what games, on what device and with whom. In fact, nearly half of the U.S. population -- 155 million people -- play video games, and four out of five households own a game-playing device. Overall, video games are a $22.4 billion dollar industry.
Here are a few more reasons why video games are a significant part of American culture:
Gamers play everywhere. Players crush candy, connect dots and clash clans while riding the train, running errands or watching their favorite TV show: 35 percent of Americans play on their smartphones and three out of 10 play on their tablets or other wireless devices.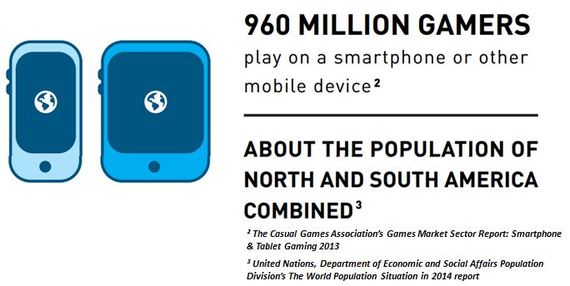 Watching people play video games is immensely popular -- and big business. Last year, more people (27 million) watched the League of Legends Season 3 World Championship, an esports competition, than the deciding game of the NBA Finals (18 million), the NCAA men's basketball championship (21.2 million) and the Game Seven of the World Series (23.5 million). Perhaps even more impressive is that more than 100 million viewers tune in monthly to Twitch -- which Amazon bought for $1.1 billion last year -- to watch video game play online. Read more about the growing popularity of esports.
Women represent a huge and growing segment of the gamer community. There are two times as many adult female gamers (33 percent) as there are young male players (15 percent) and the most frequent female game player is on average 43 years old. Older players (ages 50+) represent the second largest segment of the gamer population and are a larger block of the industry than players 18 years old and under.
Games bring people together. Video game play is an increasingly social activity. Fifty-six percent of the most frequent gamers play with others and 54 percent play online in multiplayer mode at least weekly. About half of the most frequent game players say that video games help them connect with friends and family.
Games offer a great way for parents to connect with their children. About 60 percent of parents whose children are gamers play computer and video games with them at least weekly. More than three-quarters of parents say they play with their children because it is fun for the entire family and an excellent activity while spending time with their kids. Parents also value video games' age and content rating system: 88 percent of parents whose children play games believe the Entertainment Software Rating Board video game ratings are helpful in choosing games that are suitable for their children.
Video games are a huge and growing hi-tech entertainment source. Games connect us, inspire us and bring us emotional experiences. They are ingrained in our culture. As they become more popular, games will continue to impact all aspects of society and stimulate creative solutions to major challenges.
Related
Popular in the Community