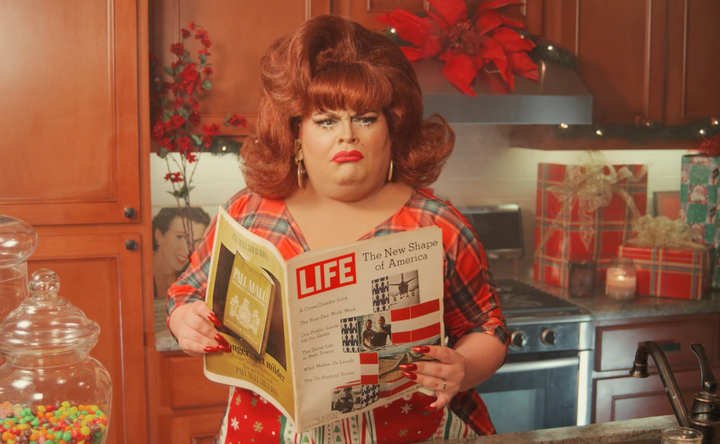 Ginger Minj is feeling the Christmas spirit in this exclusive Q&A and premiere of her new music video for "White Christmas." Check out the interview and the video (directed by Shawn Adeli and Brad Hammer) below!
You are currently in the middle of the Christmas Queens tour with Producer Entertainment Group right now. What city has been your favorite so far and what city are you looking forward to performing at?
It's hard to pick just one because each place has had something so unique and exciting to offer! Everywhere we've gone has been so wonderful to us, but I will say the views in Copenhagen and the audiences in Cardiff can't be beat! I'm excited to get home to the United States to finish off the tour!
Congrats on getting married, is it hard to be on the road while being newly married? How do you make it work?
Thank you! The Christmas Queens tour has been so special because CJ has been on tour with me the entire time. He's one of our stage managers and is so, so good at what he does. We really have the best crew on this show. And who doesn't want to spend the holidays traveling the world with their sweetheart?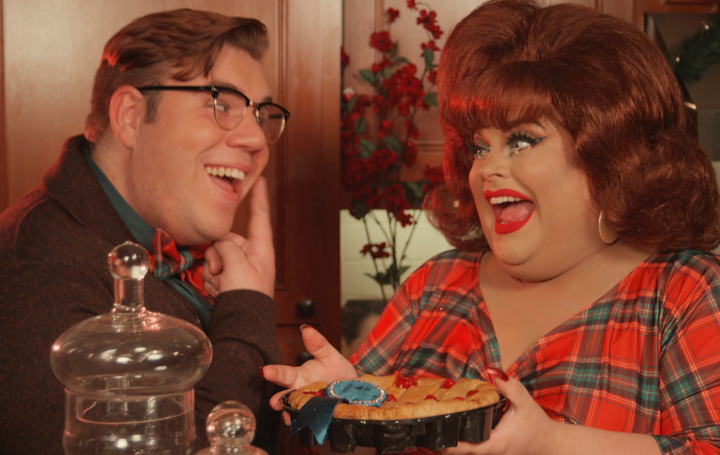 How did you decide to sing White Christmas on the Christmas Queens 3 album?
Well, I was originally going to sing "Silent Night", but I gave it to Michelle in exchange for her officiating our wedding! White Christmas was my grandfather's favorite Christmas song and I've always really loved that Beach Boys/60's surfer sound, so when you pair those two things together how could I resist?!
You were a lot of fun to work with on set of the music video for White Christmas. What was your favorite part of the shoot?
I had the best time shooting this video! I think my favorite part was channeling my inner Francine Fishpaw from the John Waters/Divine movie "Polyester" ... a loving, caring housewife with an edge. It's always nice being on a set where you're encouraged to be as over the top and ridiculous as possible!
You bake a cherry pie in the music video, is that your favorite kind of pie?
No! My favorite will always be my granny's strawberry rhubarb pie! Sweet & tangy, flaky and a little too red ... kind of like me!
What song (other than yours) is your favorite on the Christmas Queens 3 album?
I really, really love Ivy Winters' "First Noel". She is the most talented queen I know!
I know that John Waters is a fan of Ginger Minj, what are the chances we can get him to watch this video?
I think the chances are pretty good! ;-)
What Divine role is your all time favorite?
Francine Fishpaw from Polyester and Arvin Hodgepile from Hairspray!
The White Christmas video has a throw back feel to it. What are some of your old school favorite television shows?
I draw a lot of my drag inspiration from "I Love Lucy" and "The Carol Burnett Show," so those are two of my all time favorites. I could honestly watch TV Land all day and be happy and content.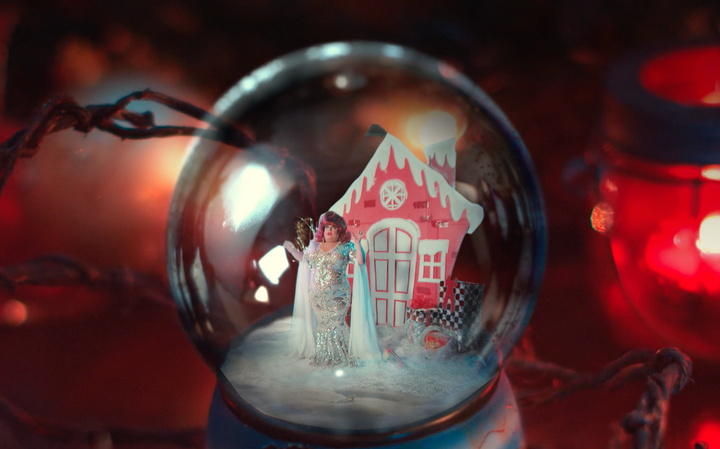 What projects do you have coming up in the future?
Oh, wow! Almost too many to list! I shot a few movies (one with Steve Gutenberg and one with Jennifer Aniston) which both come out next year. I'm working on my second album. Jiggly Caliente and myself have a cooking show called "Wigs In A Blanket" which debuts soon. The premiere of my one woman show in New Zealand is in January. And I'm hosting the world tour of The Hater's Roast for the second year in a row... among many other things! As the kids say, I'm #blessedAF!
REAL LIFE. REAL NEWS. REAL VOICES.
Help us tell more of the stories that matter from voices that too often remain unheard.