In 1978, Gloria Steinem wrote an essay titled "If Men Could Menstruate," which highlighted the unequal treatment women and men experience in everyday life. Now, Naya Health is applying that concept to another natural function of a woman's body: breastfeeding.
Naya Health's new video, "If Men Breastfed," walks viewers through the imagined experience of male employees who need to pump during the work day. The caption poses the question, "Would we still be dealing with outdated breast pumps, closets that double as lactation rooms, and a work culture that treats pumping as an inconvenience?"
As this video suggests, the answer is ― probably not.
"If Men Could Breastfeed" shines a light on the sexism that working moms face when returning from maternity leave.
"Women deserve better," Naya Health co-founder and CEO Janica Alvarez, told The Huffington Post.
"I found the experience of transitioning back to work after giving birth to be very curious," she added. "Maternity leaves are short, support and accommodations in the workplace are lacking, and the technology is crappy. You should never have to describe technology that touches your breasts frequently and enables you to provide nutrition as 'crappy,' but that's what it is."
Naya Health timed the release of "If Men Could Breastfeed"with the launch of the new Naya Smart Breast Pump ― which promises to to provide a more comfortable and quiet pumping experience.
"It's time for all of us to step up and make the world a better place for the working mom," said Alvarez. "Far too often women find themselves deciding between their family and career. The two must co-exist for today's mother."
Related
Before You Go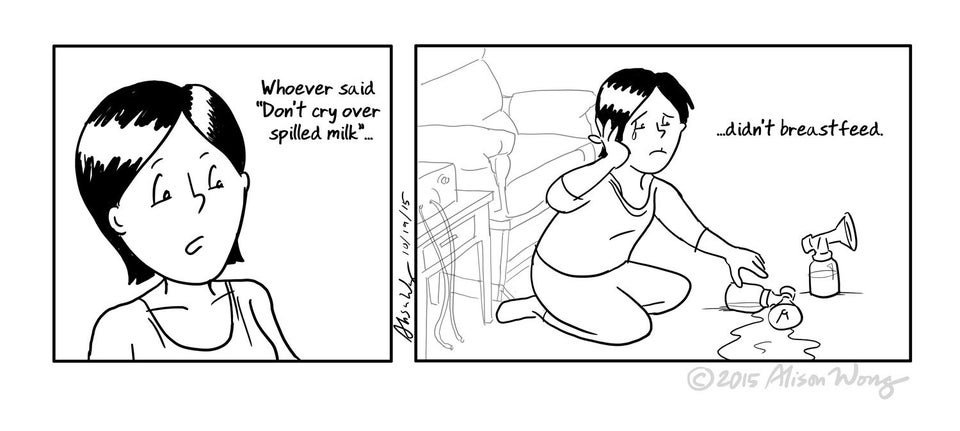 Comics That Sum Up Pumping