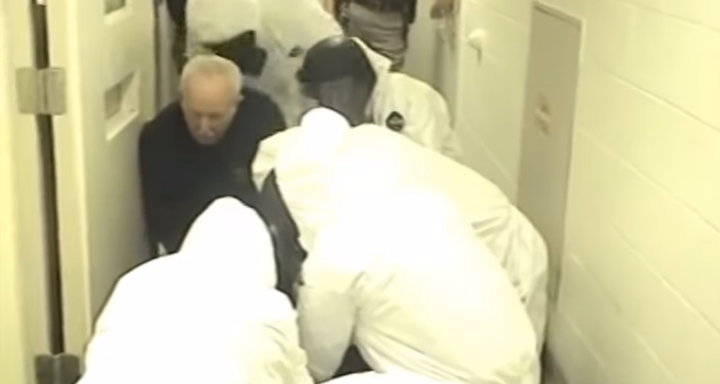 Fairfax County Sheriff Stacey Kincaid released video Thursday showing officers subduing and using a stun gun on Natasha McKenna, an encounter that eventually led to the death of the mentally ill Virginia woman.
The release comes two days after a criminal investigation into the officers' use of force ended with no charges being filed.
On Feb. 3, McKenna was shocked four times while she was restrained by several officers at Fairfax County Adult Detention Center in Virginia. She stopped breathing minutes later and was transported to an area hospital, where she died after five days.
In the video, Kincaid starts by exonerating the officers involved, noting that the criminal investigation against them is over.
"There is no better way for me to share what actually occurred than to make this video available to view for the community in its entirety," Kincaid said at the start of the 48-minute video.
Her speech is followed by a recording of a struggling McKenna surrounded by officers, who accuse the mentally ill woman of spreading urine and feces around her cell.
"You promised me you wouldn't kill me. I didn't do anything," McKenna says.
The officers, dressed in biohazard suits, can be heard saying "stop resisting" and "hold still" several times.
In the video -- which contains disturbing content -- McKenna fights deputies for more than 17 minutes. About 38 minutes into the recording, she loses consciousness.
The Commonwealth's Attorney for Fairfax County, Raymond F. Morrogh, called the death "tragic" in a decision earlier this week but concluded that the officers involved were justified in their use of force and wouldn't be charged.
"It is my legal opinion that there is not probable cause, much less proof beyond a reasonable doubt, that anyone involved in this case committed a crime," Morrogh wrote.
"It was Ms. McKenna's severe mental illness, coupled with the tremendous physical exertion she put forth over an extended period of time struggling with deputies that resulted in a cascade of lethal chemical reactions inside her body," he wrote.
Neither Morrogh nor McKenna's family attorney, Harvey Volzer, could be immediately reached for comment.
Volzer has previously said that the decision not to charge the officers sends a "frightening message to members of minority groups and the mentally impaired about equal protection in Fairfax County."
McKenna was arrested and charged with assaulting an Alexandria police officer on Jan. 26.
The jail banned the use of stun guns in April and has set up a new team to divert mentally ill offenders from jail and into treatment.