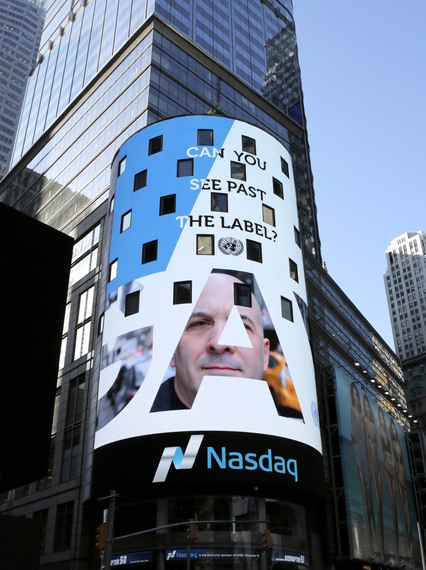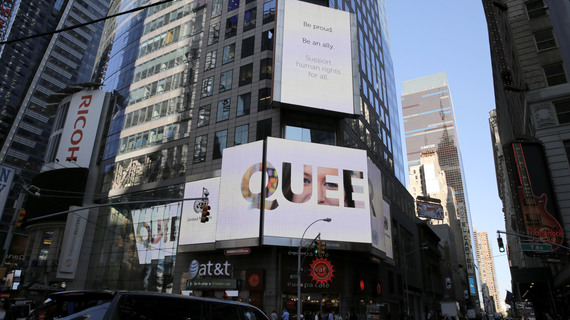 New York City's Times Square - with its throngs of visitors, office workers, hawkers of fake designer wear and life-sized Elmos and Buzz Lightyears - today serves as the unusual setting for a United Nations video launch. The UN has chosen the Crossroads of the World to debut "Faces" - the latest video produced as part of its global Free & Equal campaign for lesbian, gay, bisexual and transgender (LGBT) equality. The video is playing on the giant NASDAQ and Reuters screens throughout the day today.
The UN's new video, released three days ahead of the International Day against Homophobia and Transphobia on May 17, celebrates the contributions that millions of LGBT and intersex people make every day to families and local communities around the world. There are no actors, just real people filmed in their workplaces and homes - among them, a fire-fighter, a police officer, a teacher, an electrician, a doctor and a volunteer, as well as prominent LGBT ally and UN Secretary-General Ban Ki-moon. Singer Sara Bareilles has lent her support to the project - granting permission for her hit song "Brave" to be used for the soundtrack.
The 2-minute video is in part an attempt to debunk the damaging myth that gay men and lesbians are primarily sexual beings, and that LGBT people threaten communities. These and related negative stereotypes are still prevalent in some parts of the world, contributing to hostile public attitudes and serving as a barrier to acceptance; they also help explain high levels of homophobic and transphobic violence. "Faces" sets out to present a more representative picture by showing people as they really are: rounded individuals with the same variation of interests, skills, qualities and desires as anyone else.
"Faces" is the latest in a series of videos created for the United Nations' ongoing Free & Equal campaign. Last year, the campaign released a Bollywood-style music video, "The Welcome", featuring a young man who brings his boyfriend home to meet his family for the first time. The video generated enormous interest in India and beyond and quickly became the UN's most widely watched video on the video-sharing site YouTube. In the past 18 months, campaign events have been held in more than a dozen countries, campaign videos have been played on TV, in cinemas and on city buses and trains, and more than a billion people have been exposed to campaign messages online and through the media.
REAL LIFE. REAL NEWS. REAL VOICES.
Help us tell more of the stories that matter from voices that too often remain unheard.