The New Year brought the first significant snow of the winter to Lebanon's Bekaa Valley - the place many Syrian refugees have settled. Even though the snow amounted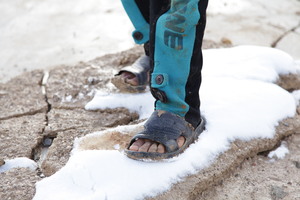 to less than four inches, it still was enough to keep many families up all night brushing snow off their roofs. Just a few inches collecting on their makeshift tents can cause collapse.
The cold temperatures are especially concerning for children in the tents, many of whom don't have proper winter clothing or footwear.
In this video, children describe what the past few days of winter weather has meant for them and their families:
World Vision has been helping families in the Bekaa Valley with warm blankets and cash assistance to allow families to buy fuel or other supplies to keep warm. For more information visit www.worldvision.org.
Popular in the Community