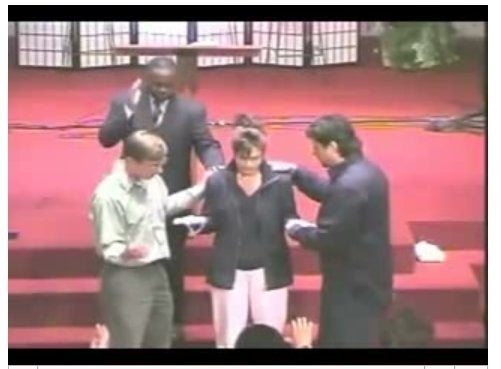 More information is emerging about the peculiar religious upbringing of Alaska Gov. Sarah Palin.
On Tuesday, progressive writer and documentarian Max Blumenthal reported on visits he had made to Palin's former church, the Wasilla Assembly of God, in late September, and the sermons of the controversial visiting pastor, Thomas Muthee.
"Muthee implored his audience to wage 'spiritual warfare' against 'the enemy.' As I filmed, a nervous church staffer approached from behind and told me to put my camera away. I acceded to his demand, but as Muthee urged the church to crush 'the python spirit' of the unbeliever enemies by stomping on their necks, I pulled out a smaller camera and filmed from a more discreet position. Now, church members were in deep prayer, speaking in tongues and raising their hands. Muthee exclaimed, 'We come against the spirit of witchcraft! We come against the python spirits!' Then, a local pastor took the mic from Muthee and added, 'We stomp on the heads of the enemy!'"
The story provides another strange ripple to Palin's religious background. As reported earlier, the Alaska Governor once credited Muthee with helping spiritually propel her to the governor's chair.
"He was praying: 'Lord make a way, Lord make a way,'" Palin recalled of Muthee during a speech to congregants at Wasilla Assembly of God. "And I'm thinking, this guy's really bold, he doesn't even know what I'm going to do, he doesn't know what my plans are. And he's praying not 'oh Lord if it be your will may she become governor,' No, he just prayed for it. He said 'Lord make a way and let her do this next step.' And that's exactly what happened."
Blumenthal, in addition to his on the scenes reporting, posts video of the sermon which Palin references (footage begins at 7:30). In it, the minister implores Jesus to protect Palin from "the spirit of witchcraft." Earlier, he states, "We need God taking over our education system. If we have God in our schools, we will not have our kids being taught how to worship Buddha, how to worship Muhammad. We will not have in the curriculum witchcraft and sorcery." He also preaches, "The other area is the media. We need believers in the media. We need God taking over the media in our lives."
The Kenyan-based minister (who reportedly started his ministry by preaching against witchcraft) has given guest sermons in Wasilla on at least 10 occasions. Palin, meanwhile, left the church in 2002, though she continued to be listed as "a friend," as recently as June. Moreover Palin, as the Huffington Post reported, recently appeared at Wasilla Assembly of God where she framed the Iraq war and even a natural gas pipeline in Alaska as tasks from God.
Popular in the Community