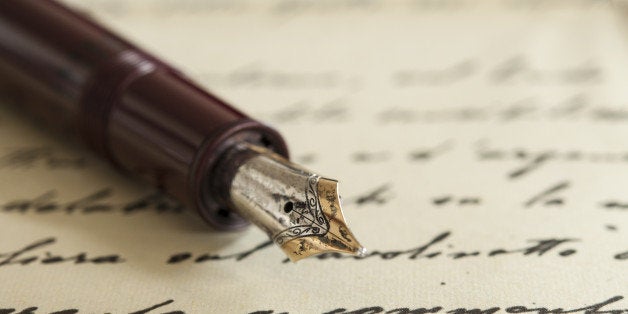 In the time that I have lived here, since the late 1990s, Houston has become quite the poetry town. There is so much poetry of so much diversity from so many different kinds of poets coming out pretty much every day that one can hardly keep up.
This may be a surprise to those still not used to thinking of Houston this way, but I think there are few other cities in the country, besides New York, where there's so much spontaneous, organic, grassroots literary and visual art being created. It all feels so authentic and real, nobody took it upon themselves to engineer this bubbling up of art, it just happened over the last two decades as the city gradually came of age and the literary and visual arts matured too.

For this Thanksgiving edition of the video reading series, I chose five poets with whose work I'm familiar, though I must say that they represent only a tiny fraction of the amount of good writing that's coming out of Houston.
Among the most active tribes in Houston poetry, I think of the juried festival Houston Poetry Fest (the thirtieth iteration of whose annual confab took place last month) which attracts poets from far and wide, the Gulf Coast Poets (who meet regularly at the Barnes and Noble in Webster, a Houston suburb, under the management of stalwarts Laura Pena and David Cowen), Houston Public Poetry (run by Fran Sanders for the last five years, taking the best local and regional poets to different public libraries around the city), the Word Around Town tour, organized by Gerald Cedillo, Lupe Mendez, and others, and now in its tenth year, which is also juried and every summer goes around bars and cafes and other venues around town to showcase the new and exciting in Houston poetry, the two-year-old Speak!Poet moderated discussion series organized by Winston Derden and Stephen Gros which travels to bookstores and other locales around town, the Write About Now slam poetry series at Houston's own venerable beer garden/performance art space AvantGarden in Montrose, created and curated by Amir Safi who's been in Houston only two years and has made such an impact already--and on and on, there are many other tribes, there are longlasting events like Robert Clark's First Friday series at Inprint House, now in its fortieth year, there is the annual Menil Indie Book Festival each spring, there is the inaugural Writefest Literary Festival organized by the up-and-coming literary organization Writespace and happening for the first time in February 2016, there are productive writing groups like Poets in the Loop which have graduated many fine poets, there is the Words and Art reading series organized by Mary Wemple in conjunction with several art installations each year at the Rice University Art Gallery, there are weeklong frantic celebrations of poetry along with music and art each year during the 100 Thousand Poets for Change event orchestrated by Billie Duncan--whew! you get the picture, from slam poetry to more traditional forms of poetry, often with a distinct regional slant, Houston is a happening place!
A few words about the readers included here. I had the honor of introducing Elina Petrova's debut book in English, Aching Miracle, at Houston's charming River Oaks Bookstore a couple of months ago; although Ukrainian-born Petrova has only been in the U.S. since 2007, she has an astounding flair for the English language, writing in what I consider a romantic-modernist idiom very unusual for today. Chris Wise is a teacher of English, whose debut book, Colliding with Orion Writing from Life, consisting of poetry, stories, and essays, comes out next year; he serves on the Houston Public Poetry committee, and is a wise and tender poet, dealing with working-class concerns with a touch of poignancy and melancholy that avoids the sentimental. Amir Safi, as I mentioned earlier, has taken Houston by storm, reviving AvantGarden as a prime venue for performance poetry; his recent award-winning performance at the Texas Grand Slam Poetry Festival, Ode to Whataburger (an ultimate Texas institution!), went viral. I became acquainted with Gabrielle Langley's work only recently, at the Houston Poetry Fest, and she struck me, as others concurred, as a very accomplished poet; like so many writers in Houston, she comes from an incredibly diverse multiethnic background, and her poetry inevitably reflects that. Finally, Lupe Mendez has been hard at work on the Word Around Town tour for many years, and represents for me a lot of what's unique and interesting about Houston poetry, reflecting Latino issues and speaking from a strong personal point of view that demands to be heard; his wife Jasminne Mendez is an equally noted presence in Houston poetry, and they often read at the same events!
In short, this presentation is for readers who may be jaded by the programmatic and often predictable style of academic poetry generated by MFA programs, and who wonder what happened to poetry, where are the authentic and democratic movements, and are we done with poetry once and for all and if it has ceased to be a public art. These grassroots Houston poets make you think twice about arriving at such hasty conclusions about the fate of poetry. It's something to give thanks for in these dark times, that whether or not they have program or official support, there are those for whom poetry remains a true calling, and they put their heart and soul into it regardless of recognition or fame. So enjoy this Thanksgiving treat, and let these poets know if you like their work, and support poets in your local communities!
These videos were recorded specifically for the Huffington Post, and as usual I asked the poets to offer some deeply personal thoughts about their approach to poetry, not the standard biographical stuff.
My first English-language book of poetry, Aching Miracle, was released in September 2015, and is now available in select Houston-area bookstores and online.
Since emigrating from Ukraine, I've been speaking self-taught English less than nine years. During the first four years of my "second life" in Texas, I kept silent, overwhelmed by the growing emotional material of my unvoiced acculturation. But gradually I started hearing the music of my new language; vibes and archetypes connected to the ground under my feet. Working on another poetry book in Russian would seem easy but artificial. It would have no spiritual meaning here, where my friends and husband with whom I've shared daily bread, problems, and joys, express themselves solely in English. After working at the law firm during the day and spending evenings in my dojo, I would often stay up late at night to follow news from my homeland and skype my father and fellow-townsmen from both sides of the Ukrainian-Russian armed conflict. So, the first poems I wrote in English carried Houston-inspired imagery mixed with traumatic memories related to Ukraine.
I shared glimpses of my multicultural experiences not as a travelogue, but as vulnerable personal diaries interspersed with my favorite haunting soundtracks, ekphrastic allusions, scientific admirations, and other sources of a trembling humane message. I never set a destination, but enjoyed the process of perfecting poems like "the Way" I practice in Aikido, until a recurring theme of my accumulating collection became more discernible. It could be roughly defined as overcoming loss and shaping a more joyful "second life" with awareness of the temporary nature of its precious tender light. I wanted to walk the tightrope between opposite ideas. Not taking my eyes off the painful human condition in the "old world," and the fun house of small-town mendacity in the "new" one, I wanted to explore the inland territory of peace between oceans of conflicts and empathy for every living being. I wanted to pass a simple message of heartbroken kindness with unorthodox praise of the Creator.
I wanted to remain fair to my roots: a coal-miner's daughter from mortar-shelled Donetsk who learned to sing in a foreign language in her forties. I craved musicality in a foreign tongue as if I tried to recapture the lost opportunities of my youth, when I had no chance to learn languages and the liberal arts, but only to read at night, dreaming of "aching miracles" that manifested themselves much later, in Houston. The years "I balanced on the tarred edges of high-risers' roofs, looking down at anthills of children / building and crashing castles in the courtyard sandbox" taught me to cherish life as if [Einstein's quote] "everything is a miracle." The leitmotif of my book is "an aching miracle whose touch no war can deaden"--the world's polyphony and glow: "a chronicle of rays," tarnished driveways glowing at sunset "like schist with apricot grains," "the photon glow... in place of missing branches," and "an invisible impulse developing its glow on Kirlian photos--the luminous thread between the reaching fingers of a couple in love."
The situations of my work generally focus on social class, and I take the position that I am not unique. With seven billion people in the world, I believe that I am caught in the lurch just like everyone else. So, I write about the world as I experience it. And if I do so in an honest way, I think others will relate. Just by being a human being, I have an audience. That said, I keep in mind Oscar Wilde's thought that "all bad poetry springs from genuine feeling." There must be some art to it, and I don't feel altogether bound by the truth. It's not a diary entry. I also tend to avoid overt approaches to politics, race, and religion. I'm not interested in a debate. I just want to write about living at the ground level.
Honesty doesn't have to be brutal. Neither does courtesy. Everyone is not my audience, and as an artist, I have to be okay with that. My writing will not try to be all things to all people. So, I do not try to be politically correct (or overtly incorrect). I am a real person, and I believe even our unsavory gut reactions are worth writing about. Everything is so filtered now. Fear is a despot that ties the tongue--fear of labels, rejection, giving offence, being ostracized. I'm not a politician, so I get to skip all that. Instead, I chose to write without fear.
In literature, conflict comes in many forms. I try to make sure my work approaches them. No need to be a one-trick pony, or a poet with a constant crisis. I don't want to be a negative poet. The dramatic masks remind us that comedy and tragedy are natural parts of life. I like my work to reflect that.
In performance, I agree with Robert Pinsky that poetry is first a voice art. The performance offers not just what is said but how it's said. I'm not an animated performer, but I do tend to convey an attitude. But the words are primary. I think a good writer must also ask how the work looks apart from performance. It's malpractice not to. And when I'm ready to go public with a performance-worthy piece, my approach is that the audience and I are sharing a moment. I don't like it when performers get up and shout "respect the mic." To me, that sounds like "Quit doing your thing so I can bore you with mine." I prefer to think if the audience likes my work, they will pay attention.
In form, I like a wide variety. The stricter the form, the more subtle and modern I try to write it. The forms remind us about concision, diction, meter, and revision. Forms strengthen our foundation, and in the forms there is freedom. The quantity of lines and the shifts are stated, so all a writer needs to worry about is what to fill the mold with. These lessons inform my free verse.
Thank you for reading, and I hope you enjoyed my presentation. Please feel free to comment or contact me in the comments section of the video.
I moved to Houston nearly two years ago and started working on a project called Write About Now Poetry. The goal of this project was to create a stage for writers to share their works in Houston once a week every Wednesday at 7:30 PM at AvantGarden. Since then, our stage has been blessed by hundreds of poets from as near as Houston to as far as Canada. It is my belief that a writer is the product of their environment.
My own poetry has flourished through the avenue of slam poetry. The reason I got into slam is I noticed that someone may not take the time to read my poetry, but they would show up and give me three minutes to read a poem, and then sometimes ask me if I had a book or if I could share more poems with them.
Much like Impressionism was met by harsh criticism from the conventional art community in France, slam poetry has received the same reception from academia. Under Impressionism artists such as Renoir and Monet among others formed a community. Could you imagine being in a community where you were working on a piece and Renoir came by to offer you his two cents? It is my goal to create such a community in Houston. It is my hope that AvantGarden, known for its rich history of hosting Houston poetry readings, becomes our own version of Café Gerbois. That goal has since grown through the establishment of the Write About Now YouTube channel and the Write About Now podcast.
The internet is another name for a boundless community, a stage, a megaphone for artists to meet, collaborate, inspire and share. My own poetry is the result of the collision between my Texas-upbringing and my Iranian heritage. A first generation Iranian-American, I was constantly in search of my own identity. I am currently working on my latest collection of poems entitled Safilosophy, set to be released in the Summer of 2016, that speaks to how it is both confusing and wonderful to live in a world with Persian rugs and chicken fried steak.

Gabielle Langley
As a poet, I am particularly interested in exploring romantic themes within a very disciplined and restrained style. I am also interested in the art of compressing vast stories into small spaces. I have been called a Neo-Romantic. Paradoxically, I am a devout minimalist in my sense of aesthetics. I am often told by other poets--and I consider this a true compliment--that my style shows a romantic sensibility captured within a minimalist framework. I love this idea. Romantic Minimalism. I love playing these two aesthetics against each other.
My work has also been described as "European." My father, who had an enormous impact on how I perceive the world, was born and raised in Berlin and educated at the Academy of Fine Arts in Vienna. I am, myself, fortunate enough to travel often throughout Europe. I feel completely at home in the capital cities there. So I think there is always going to be a sense of that continent in my work. I can't help it. It is in my blood.

At the same time, I was born and raised in the South, and my mother (also a Southerner) was an intrepid gardener. It is no surprise that my manuscript is titled, Azaleas on Fire. I grew up in a world--both real and imaginary--filled with flowers, humidity, frequent rain, and the rich black gumbo soil that we have here in the southeast. Anyone who knows me well knows that I am obsessed with white flowers...phalaenopsis orchids, white lilies, cyclamen, gardenias, magnolias, climbing jasmine, etc. These flowers make frequent appearances in my work. My poem "Narcissus," for example, draws heavily on the intoxicating magic of these tiny flowers. Flowers of all colors often seem to spring up without invitation when I am writing. They appear to weave themselves into the lines of my poetry, even when I am trying to keep the piece sleek and contemporary. No doubt, this is the influence of my mother's gardening.
All of my parents and grandparents have passed away now. So I feel like something of an orphan. I am not a religious person. Quantum physics has always made far more sense, and brings more comfort to me, than any religion. I love science and inquiry, the willingness to challenge a hypothesis. I have very little patience with those who are trying to pass off ancient myths and fairy-tale scribblings as dogmatic religion and scientific truth. I cannot pretend to know the cosmic order of things. I have never been convinced, one way or the other, that there is an afterlife. Even so, it often feels like the spirit of my parents visits me when I am writing. I seem to feel them sitting in the same room with me. I feel truly grateful for this. My poems are given back to them in thanks.
After I am done with my online MFA program at the University of Texas at El Paso in December, which I'm very excited about and grateful for, I have three projects in the works:
1) WAT?! I am currently in the midst of organizing and preparing original materials for the Word Around Town Poetry Tour--a seven-day, seven-venue summer event that has happened for the last decade. I am one of the current organizers and have successfully been able to gain support for this literary fest. The Houston Public Library's archival hand, the Houston Metropolitan Research Center, has graciously accepted the WAT?! Poetry Tour's inclusion into the City's archives. Officially, the tour has a historical home now. So I am working with the original founders and all the poets who have been a part of the tour throughout the years, in collecting poems, photos, flyers, press releases, and videos and have them sent into the HMRC to build the archive. It is an exciting time to be a Houston poet.
2) Anthropoesia. I am working on an Anthropoesia project: Antropoesia is a somewhat experimental form of poetry, using anthropological tools and techniques in researching a culturally relevant topic. At the end of this research, a writer then uses these facts in the creation of new writings--poetry, prose, nonfiction, fiction, etc. Currently, with the help of Dr. Guadalupe San Miguel, Tim Z. Hernandez, and Renato Rosaldo, I am working on expanding the history of Houston's "huelga schools". Back in 1970, the Houston Independent School District tried a highly unconstitutional form of "desegregation." They desegregated predominantly black and brown schools, while leaving most of the city's white schools untouched. Since Mexican Americans were seen as "Caucasian" this plan went through. Mexican American families didn't agree with this form and in August, 1970, they boycotted by removing 3000 Latino students and placing them in twenty-five separate strike schools, or "huelga schools," created in local community centers throughout Houston's barrios. I am working to interview and gain new insight into the lives of the founders, the teachers, and the students of these schools from that time period. I began the work as part of my MFA program and it has grown and taken a life of its own.
3) Tintero Readings. A hybrid reading series that changes every month; a featured poet reading, an open mic night, a performance art experience, a poetry Q & A session, etc. The most important feature is that this reading is bilingual; Spanish, English, Spanglish, all are welcome. In the proud tradition of the former Nuestra Palabra Literary Showcase, the Tintero Readings plans to fill the void and build the voice of bilingual poets in the city who need a place to read, a place to express, and a place to explore writing. We started it two years ago and plan to expand and continue the work beginning in January 2016.
Related
Popular in the Community