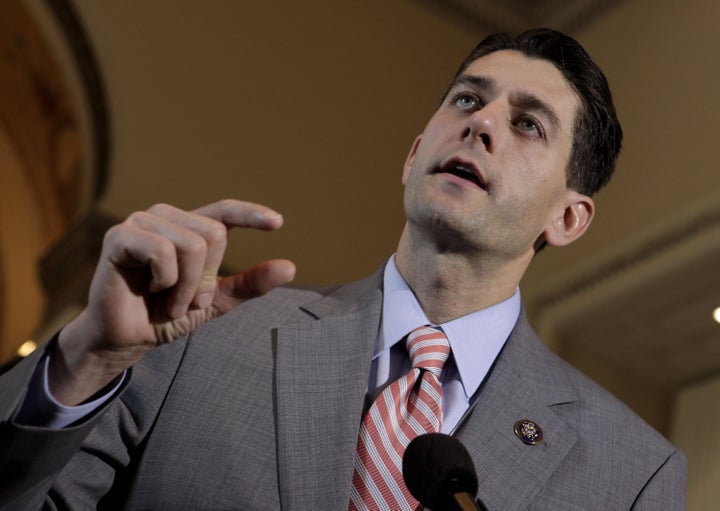 WASHINGTON -- Rep. Paul Ryan, who will chair the House Budget Committee when the GOP takes control of the House next month, slammed the White House for failing to meet with Republicans and called Thursday's vote on tax cuts "just political theater."
At at a Christian Science Monitor roundtable on Thursday morning, the Wisconsin Republican scoffed at the Democrats' proposal to extend Bush-era tax cuts only for households making less than $250,000 per year.
They're trying to "put Republicans in a box," he told reporters. "It's all for show. It's not going to go anywhere."
The House will vote Thursday afternoon on a bill to extend Bush tax cuts only to the middle class, even as Republicans are locked in negotiations with the White House to extend them for everyone.
The GOP is framing the vote as an attempt to raise taxes on small businesses.
When asked how he would defend a vote to deny tax cuts to middle-class Americans, Ryan said he'd say, "I just voted against raising taxes on small businesses. I just voted against tax increases that are going to slow down our economy and cost us jobs."
Earlier this week Speaker-designate John Boehner accused Democrats of undermining White House negotiations with this afternoon's vote.
Ryan also had some harsh words for the White House. "I don't know what they're thinking" on important issues, he said. "They don't really talk to us. They didn't need us, they didn't want us in the last session, so they didn't talk to us."
Watch Ryan rip the White House:
Ryan added that he's trying to set up dinner with current Budget Director Jacob Lew, whom he hopes to get to know as well as he knew the previous Budget director, Peter Orszag.
Popular in the Community