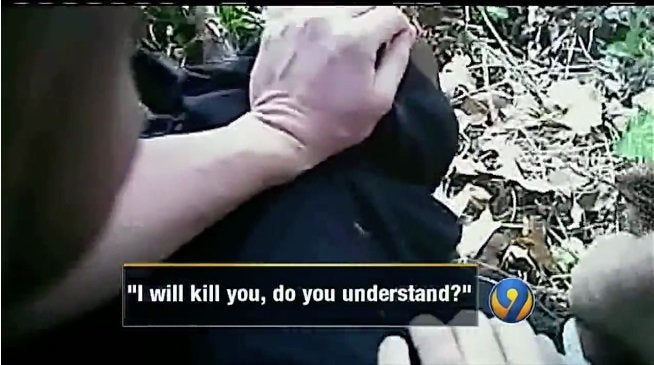 Video has surfaced showing a North Carolina police officer put a gun to the head of an unarmed man he threatened to shoot.
"I will kill you, you understand," said the officer, who can be seen in the video holding a gun to the head of 40-year-old James Yarborough.
Another officer can be heard suggesting officers use a stun gun on Yarborough.
"Light him up, he don't want to do it," the officer said.
"I knew it was over. I just knew it was over," Yarborough told WBTV News of what was running through his mind at the time.
Another officer on the video appears to deescalate the citation when he points out that Yarborough, who is on the ground with several officers on top of him, is unable to put his hands behind his back.
Charlotte-Mecklenburg police spokesman Robert Tufano told HuffPost in a statement that the incident occurred after Yarborough ran from officers who'd stopped a vehicle he was riding in as a passenger.
"Officer Dunham and other officers pursued the suspect on foot for more than three minutes before they subsequently caught up with him," the statement said. "Officer Dunham and other officers attempted to arrest the suspect who was resisting and refused officers commands to comply."
In a second body cam video showing the arrest from a different angle an officer can be heard saying, "Is your shit on? Cut it off," before the clip ends.
A subsequent search of the vehicle Yarborough was riding in allegedly resulted in the discovery of a firearm. He was initially charged with possession of a firearm by a felon and resisting arrest. However, the charges were dismissed due to lack of evidence, The Charlotte Observer reported.
"The only thing I did wrong that day was run," Yarborough told WBTV News. "That is the only thing I did wrong that day."
The statement Tufano provided to HuffPost states an internal investigation determined Dunham's actions "did not violate department policies and or directives."
It was recommended that Dunham receive "verbal communication training," but he resigned before the findings of the investigation were released, police said.
North Carolina Sen. Joel Ford (D-Charlotte) told WSOC-TV that he does not agree with the findings of the investigation.
"From what we know now, restraining Mr. Yarborough was justified," he said. "The persistent use of force and threat against his life was not, however."
Dunham is now employed by the Town of Davidson Police Department. WBTV News notified the chief of that department about the video. She has yet to comment on whether it will impact Dunham's employment with the department.
Yarborough told WSOC-TV he is looking for an attorney to sue Charlotte-Mecklenburg police.
David Lohr covers crime and missing persons. Tips? Feedback? Send an email or follow him on Twitter.
Calling all HuffPost superfans!
Sign up for membership to become a founding member and help shape HuffPost's next chapter
BEFORE YOU GO