And you thought your day started rough?
A Kentucky deer likely got the wildest ride of his life after video shows it colliding with a police officer's cruiser and performing what police are describing as "a Triple Axel" across the hood.
In a stunning dashcam video titled "KCPD Cruiser vs Deer," the four-legged animal suddenly appears flying across a Kenton County officer's windshield as if caught in a twister.
After landing on the other side, the deer then stands back up and darts away into the surrounding woods as if nothing ever happened.
"The encounter was less than cordial and ended as abruptly as it began," the police department wrote with the video's posting on their Facebook page Tuesday where it's since had more than 1.2 million views.
"We did place a call to Santa just to be sure this deer didn't belong to him (we would hate to end up on the naughty list)," they wrote. "He was quick to point out that he employs reindeer and that, although this deer did appear to fly, it was not a reindeer (we still aren't clear whether we will be making the nice list or not)."
Police say the video is an example of what a driver should do if they find themselves in a similar situation.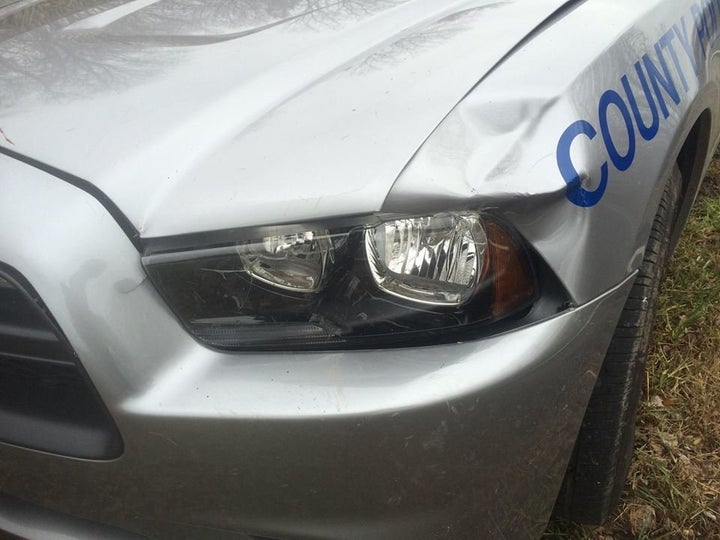 "Officer Pittaluga applied his brakes and steered away from the deer in a controlled manner," they wrote. "Although he didn't manage to avoid the collision, he did maintain control of his vehicle throughout the entire incident, even when the large (but apparently agile and acrobatically trained) deer was performing a Triple Axel over the hood of his cruiser."
The police department added that the officer was unharmed from the collision though his cruiser did sustain some damage.
They shared a photo of a fairly large dent just above the vehicle's left headlight.
PHOTO GALLERY
YouTube's greatest goat videos (LIST)
Calling all HuffPost superfans!
Sign up for membership to become a founding member and help shape HuffPost's next chapter