A provocative video that appears to show men dumping barrels of chemical waste outside is inspiring outrage online, especially since the men in the clip say they would be fired if they didn't dispose of the liquid that way.
The video, which was uploaded to YouTube on Tuesday, shows men lifting barrels labeled as containing machining and grinding fluid and pouring the contents on the ground while at least three men watch. It rose to the front page of Reddit early Wednesday and had more than 248,000 views by later that morning.
"We've been ordered to dump these barrels, two to three a night, and then burn them out," says an unidentified man filming the incident, which apparently took place in Nevada in May. "This is what we've got to do or we'll lose our jobs."
One of the men seen dumping the yellow-tinted liquid appears to wear black rubber gloves while handling the barrels.
"This is all the sludge out of our parts wash machine," he says. "Acid, all kinds of stuff. They're making us do this." 
None of the men in the video indicate where they work.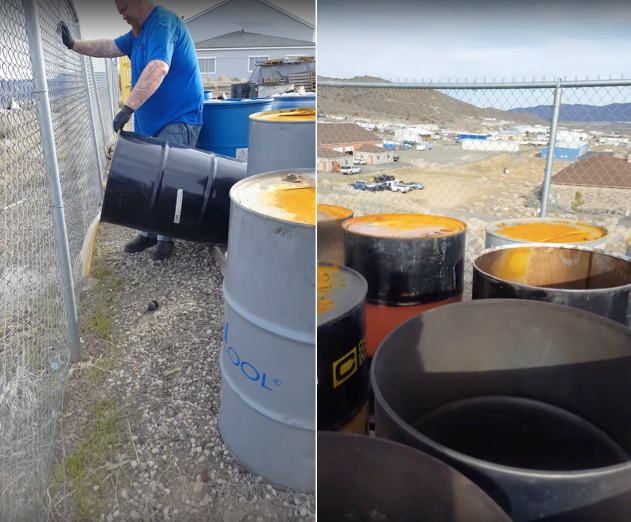 A label on the barrel indicates that it holds Hocut 795-H. The substance's Pennsylvania-based manufacturer, Houghton International, describes that as a "heavy-duty chlorine-free machining and grinding fluid that can be used with many machines and metals."
The barrel's label states that it is the responsibility of the product's user "to determine, at the time of disposal, whether a material containing the product or derived from the product should be classified as hazardous waste." It further advises users to avoid contact with eyes, skin and clothing.
A Houghton International spokeswoman told The Huffington Post that the company is looking into the matter and suspects that the product's safety requirements are not being followed.
The substance is hazardous per the 2012 Occupational Safety and Health Administration Hazard Communication Standard, according to an online safety data sheet bearing Houghton's name and a 2015 date.
"Do not flush into surface water or sanitary sewer system," the data sheet reads. "Prevent product from entering drains. Local authorities should be advised if significant spillages cannot be contained."
The Nevada Division of Environmental Protection, which enforces state laws pertaining to the environment, told HuffPost it has "received reports related to the YouTube video and is currently investigating to determine the extent and veracity of the claims."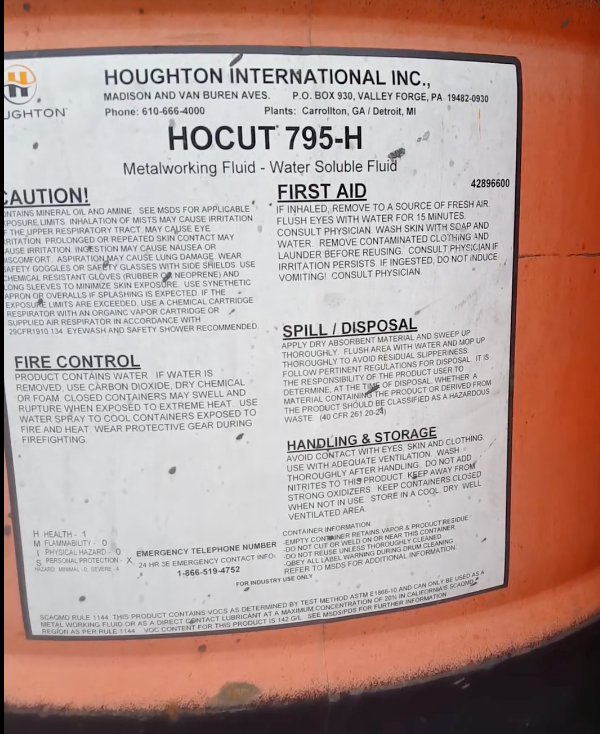 "We've been doing this for weeks. The plants are starting to die and shit," the man filming says in the video. "I don't know if we can get in trouble for this. I'm documenting this because I'm not trying to go to prison for this. We've been forced to do this. We've been told to do this. I have four children, that's the only reason why I'm doing this. This feels wrong, this is wrong."
"Employees must be able to exercise their rights freely and raise concerns with their employers without fear of retribution," Eric Harbin, OSHA's Acting Regional Administrator for Region 6, said in a statement. "We will hold employers accountable when they attempt to silence a worker who is concerned about their safety and the well-being of others. These lawsuits send a clear message that we will use all available enforcement tools, including litigation, to stop employers from engaging in retaliatory conduct."
This story has been updated with a comment from the NDEP.
Calling all HuffPost superfans!
Sign up for membership to become a founding member and help shape HuffPost's next chapter
BEFORE YOU GO
PHOTO GALLERY
Least Environmental Senators