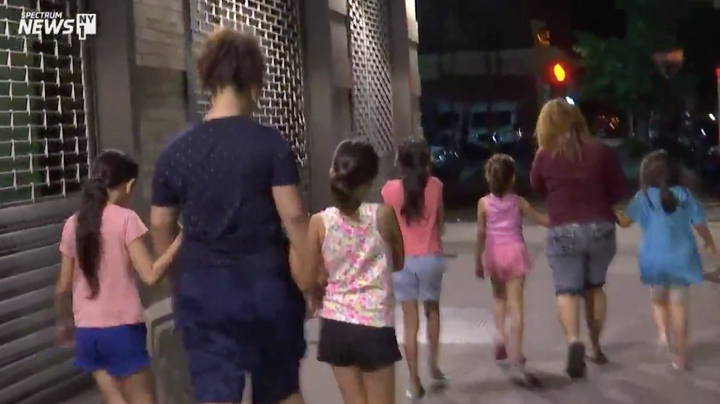 Children who were separated from their families crossing the U.S. border were brought to a New York City foster care organization in the dead of night, according to video taken by the cable channel Spectrum News NY1.
"It was jarring to see in the middle of the night," reporter Josh Robin said Wednesday morning. His story aired video of young girls who were speaking Spanish being led into a facility in East Harlem run by Cayuga Centers around 12:45 a.m. The children, their faces covered with coats, were led out of the building and into cars about an hour later.
"There was basically no one else on the street and the woman that they were with emphatically denied that they had been separated from their parents," Robin reported.
But Robin said he and a camera operator received a tip late Tuesday that a group of immigrant children separated from their parents at the border would be brought to the foster center.
During a press conference Wednesday morning, New York City Mayor Bill de Blasio (D) confirmed that the girls in the video were among those whom the U.S. government has torn from their families.
"Last night a group of children was being shuttled in the dead of night into an intake facility in East Harlem," De Blasio said. Other than that, he said he didn't know much more about what was being done with them.
A total of 350 children have been taken to that specific foster care center in the last two months, the mayor said. Currently, the facility has 235 immigrant children.
The immigrant kids are the victims of the Trump administration's zero tolerance policy, which directs that adults who enter the country illegally, including those who enter with children, be detained while they're being prosecuted.
Edward Hayes, president and CEO of Cayuga Centers, told The Gothamist Wednesday that the agency is caring for "unaccompanied children," but declined to confirm that the girls were immigrant children separated from their parents at the border.
"What I'm doing is respecting the terms of the contract, and it's important to respect these kids," Hayes said. "These are tender, vulnerable kids who don't deserve to be frightened. They're incredibly heroic kids and we're trying to take care of them."
"These children are placed in Spanish-speaking foster homes as they await reunification with a family member or sponsor, or return to the country of origin," the website reads.
After visiting the foster care center himself, De Blasio said in a second press conference Wednesday afternoon that officials told him that many children arrive at the center with lice, bedbugs, chicken pox and other "contagious situations." The youngest child to come through Cayuga Center's doors was 9 months old.
"Our message to the federal government is: Stop this right now. Stop this broken, inhumane policy right now," the mayor said.
This article has been updated to include more information about the children in the video, the number of kids at the New York facility and Mayor De Blasio's comments.