After a video surfaced showing migrants apparently being sold at auction in Libya, people worldwide have been calling for action. 
Last week, CNN published a report on modern slavery in Libya, featuring a video that reportedly was shot in August and appeared to show a man selling African migrants for farm work.
"Big strong boys," the man said in the video, according to a CNN narrator. "400 … 700 … 800," he called out the mounting prices. The men were eventually sold for about $400 each, CNN reported. The Libyan government said it has launched an investigation into slave auctions in the country. 
Several world leaders spoke out as well. The chairman of the African Union, Guinean President Alpha Condé, called it a "despicable trade ... from another era" on Friday. The U.N. Support Mission in Libya said Wednesday that it was "dismayed and sickened," and is "actively pursuing" the matter with Libyan authorities.
"I am horrified at news reports and video footage showing African migrants in Libya reportedly being sold as slaves," U.N. Secretary-General António Guterres said to reporters on Monday. "Slavery has no place in our world, and these actions are among the most egregious abuses of human rights and may amount to crimes against humanity."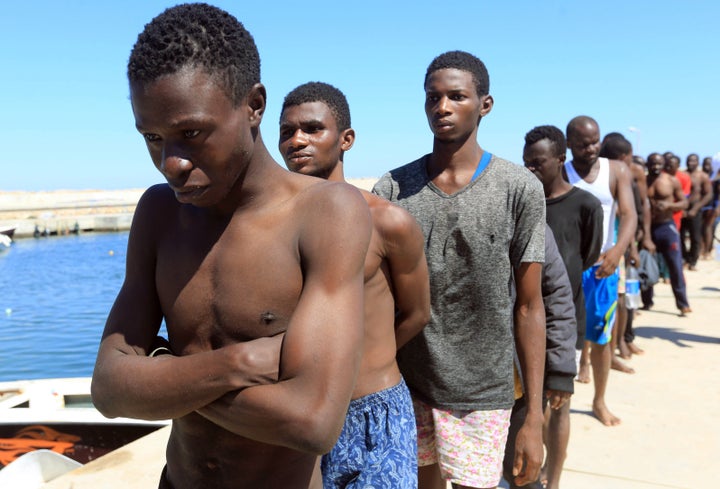 Guterres called for the international community to unite in fighting the abuse and smuggling of migrants, notably by increasing avenues for legal migration and enhancing international cooperation in cracking down on smugglers and traffickers.
However, rights advocates caution that real action may be slow in coming. "People are rightfully outraged," Human Rights Watch researcher Hanan Salah told Reuters of CNN's video on Monday. "But don't hold your breath that anything real is going to happen."
In Libya, migrants have become particularly vulnerable to human trafficking. The country functions as the main gateway for Africans to reach Europe, but it is also one of the world's most unstable, mired in conflict since dictator Muammar Gaddafi was ousted and killed in 2011.
Calling all HuffPost superfans!
Sign up for membership to become a founding member and help shape HuffPost's next chapter
BEFORE YOU GO
PHOTO GALLERY
Migrant crisis in the Mediterranean