Singer and arranger Ryan Edward Armstrong has collaborated with some of Broadway's brightest talents to offer the upcoming album CROSSROADS.
The Crossroads Recording Project is a re-imagining of Broadway showtunes, featuring collaborations with Broadway stars and artists from across the country to benefit the Rising Star Project at Seattle's 5th Avenue Theatre, The Northwest Choirs and Broadway Cares/Equity Fights AIDS.
Stephen Schwartz, who has two of his most beloved tunes featured on the record, sat down for this exclusive video interview with Armstrong and YouTube personality Andy Lalwani.
Armstrong, who sings and provides new arrangements on the album, is joined by Broadway's Angel Reda (Chicago, War Paint), Nick Adams (Priscilla Queen of the Desert, Guys and Dolls), Matt Rosell (Les Miserables), Heath Saunders (The Great Comet...) and Allen Fitzpatrick (Damn Yankees, 42nd Street, Memphis).
Expect to hear numbers including "Live In Living Color" (Catch Me If You Can), "Take A Chance On Me" (Little Women), "Who Will Love Me As I Am?" (Side Show), "As Long As You're Mine" (Wicked), "I Turned The Corner" (Thoroughly Modern Millie), "A Little Fall Of Rain" (Les Misérables), "You're Gonna Love Tomorrow" (Follies), "Impossible" (A Funny Thing Happened...), "The Night Was Alive" (Titanic), "The Company Way" (How to Succeed in Business), "Passeggiatta" (The Light In The Piazza), "Now, Later, Soon" (A Little Night Music), "All I Ask Of You" (Phantom Of The Opera) and "Crazier Than You" (The Addams Family).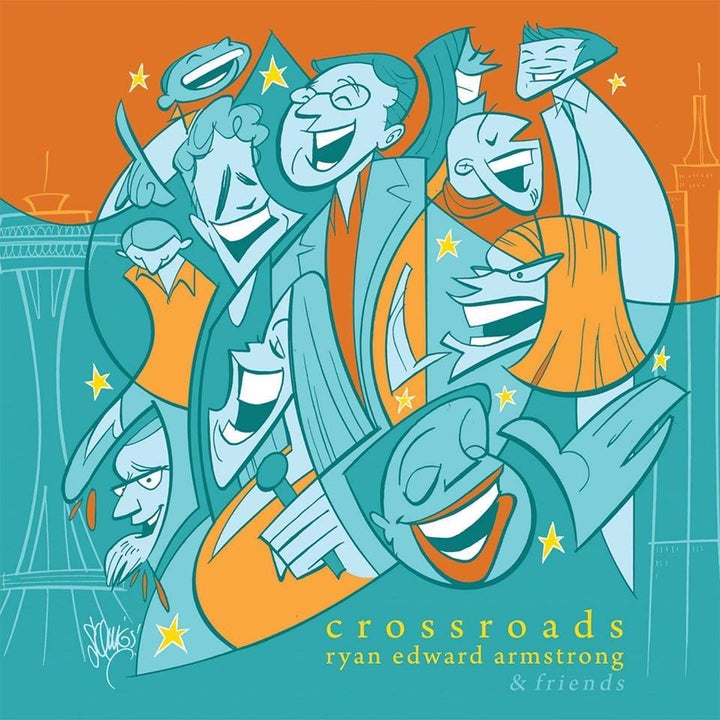 CROSSROADS will release on World AIDS Day (Dec. 1, 2017) on all major music platforms including iTunes, Spotify and Apple Music.
CROSSROADS is produced by Roven Records in association with AKA Studio Productions. Album artwork was provided by the the one and only Squiggs.
I spoke briefly with my old friend Ashley Kate Adams (the AKA of AKA Studio Productions) about her involvement in the project, and she shared a bit about what some of the challenges and greatest joys have been up to this point:
I was given the opportunity to join Ryan on CROSSROADS after we both sang in a concert together this past June. He told me that he had an album coming out soon featuring many Broadway and up & coming performers to help benefit BCEFA and other programs that helped to raise him. I appreciated his want to give back to an artistic community he was just joining so quickly and I told him we would be more than happy to jump on and help him handle branding, social media and press for his big release on Dec. 1st.
As Stephen said so beautifully in the interview, it was very endearing to see someone make their debut album about everyone else. I really appreciated the sentiment and I wanted to do what I could to also help lift him up. We also have been focused more on creating content for the screen so I thought it was the perfect time to get back to my musical theatre roots and help to give back during the Holiday Season.
As we have moved further into this process it has become apparent why our team is also here. The release for this album is on December 1st to honor and raise awareness for World AIDS Day. Through our work we have learned that even in 2017 this is a topic some people are still not comfortable talking about. We have run into some walls with our social media campaign; the album and the charities we are trying to raise awareness for are being flagged for "sensitive content'"on platforms such as Twitter because we are stating the significance of the release date. That has been hard to see. So I am thankful that you have helped us to get the word out about this important release and I hope everyone stands with us to help raise awareness for these charities and their causes.
Armstrong has a BFA in Musical Theatre from Central Washington University. He's performed in off-Broadway shows, including Pete the Cat and Orphans and Outsiders, and most recently finished TheatreWorks USA's national tour of Teacher from the Black Lagoon. Learn more at ryanedwardarmstrong.com.
Related
Popular in the Community