Jumping ship from the USS Intrepid, the annual fundraising event benefiting the lesbian, gay, bisexual, transgender and queer (LGBTQ) community and HIV/AIDS research, Jeffrey Fashion Cares (JFC), was held last night at The 69th Armory in New York City. It was my third year covering the event, joining a team of models, celebrities, the fashion industry's elite and volunteers to create awareness of the cause and to support Jeffrey Kalinsky, founder of the event, and the important foundations and nonprofit organizations who benefit from the charitable donations.
Each year there are new faces joining the cause but what is most inspiring are the friends that I see every year with as much passion, commitment and determination in working to educate and improve the lives of people living with HIV/AIDS and their families. It's also amazing to hear about their progress in the last year. Achievements that wouldn't have been possible without the donations from JFC.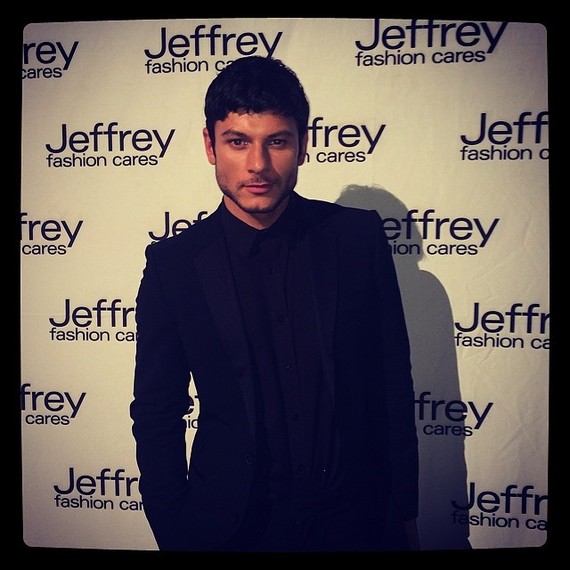 The Hetrick-Martin Institute (HMI), one of the JFC beneficiaries, is the nation's oldest and largest LGBTQ youth service organization. I interviewed HMI's Executive Director, Thomas Krever, again to find out what's been achieved since the last time we spoke. "We've been able to expand and create an advocacy center." Thomas continues, "Last year we opened a training and capacity building, a place where community members can congregate, can come and really learn how to gain the skills and the education to go out and serve and protect, to ensure safer communities in New York City and far beyond."
JFC provides up to 85 percent of donations to HMI and the three other beneficiaries, making it "one of the cornerstones of the organization and the work that we do", Thomas explains. "And you can't do advocacy, you can't teach others, you can't train if you don't your home-base, if you don't have your structure and if you don't have the resources to run quality programming. We are only able to provide quality training for other communities when our own programs work, and they only work because of functions like tonight, and JFC providing operating dollars to help these young people, transform their lives, so that we can go and teach others the work that we are doing here in New York everyday."
"We feel HMI, thanks to JFC, can no longer afford to be the best kept secret, and so its really our responsibility to go out and teach other communities how they can help too, cause they already love their young people but they don't have the skills and tools and that's where HMI comes in".
This year, JFC raised even more money to beneficiaries. So, how is that going to help HMI in the future?
Thomas informs me that "For 2015 , HMI has already started a partnership with our Federal Government, working with USAID, the State Department and of course, more training."
Jokingly saying that he should have played himself in Oscar-winning film The Wolf of Wall Street was Steve Madden, who presented the Community Leadership Award to author, lecturer, journalist and LGBT activist, Rob Smith, for his contributions to the community. Joining JFC Chairs, Christian Langbein and Michael Krans on the night was Vogue Editor Anna Wintour, Veep Actress Anna Chlumsky, CFDA CEO Steven Kolb with Host Committee Chairs, fashion designer Prabal Gurung and Paper Magazine Editorial Director Mickey Boardman sitting front row for the runway show which included some of the industry's best male models.
Once again, Andrew Weir, casting director of JFC since the beginning, called upon the many familiar male models and a few JFC 'virgins' to the runway. With some in more clothing than others, high-fashions designer labels such as Lanvin, Dolce & Gabbana, Givenchy dressed models Chad White, Cory Bond, Brian Shimansky, Francisco Lachowski, Nick Youngquest, Eian Scully, Clint Mauro, Parker Hurley, Parker Gregory and many more to make up the 42 spots.
Thanks to all who have and continue to donate their time, energy and money to JFC and the beneficiaries. Until next year...
Calling all HuffPost superfans!
Sign up for membership to become a founding member and help shape HuffPost's next chapter