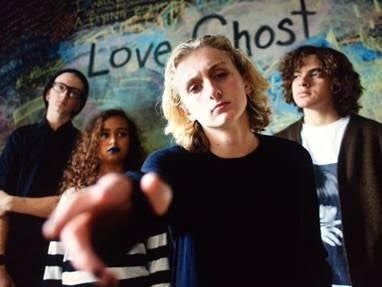 Love Ghost hails from the Los Angeles area. The band's latest music video is called "Forgive Me," and it is ooh la la! The music video is remarkable for a couple of reasons: first, the ages of the members of the band ranges from 15 to 16; second, the video is not the typical three or four minute highly-stylized vignette promulgated by most rock bands, where the producer attempts to bedazzle viewers by means of visual effects.
Before I go any further, I should tell you who is in Love Ghost. Finnegan Bell is on vocals, guitar and piano; Mya Greene displays a rare virtuosity on viola; Ale Sierra sits in the pocket and contributes vocals; Ryan Stevens plays bass and contributes vocals.
Essentially, Love Ghost's video is a mini-movie, like something from the hand of Fritz Lang, the German expressionist. In short, the video is about the journey one takes to self-forgiveness. It opens with a young man stumbling through the desert, dying from exposure and dehydration. He spots a mysterious figure in the distance and assumes it is a mirage. He removes a locket from around his neck and tosses it aside. Eventually, he comes across an ornate set of gates standing in the middle of nowhere.
It's at this point, when most videos would be ending, that the music begins.
As the young man pushes through the gates, he discovers they lead into the church of self-forgiveness, where pale, bald, dark-eyed people seek redemption. In the aisle sits a television broadcasting ads for things necessary for happiness. As the screen fills with a preacher baptizing people, the young man is transported to a swimming pool, where black-clad figures wait their turn for baptism. As the preacher extends his hand to the young man, offering him watery absolution, a dandy appears, sitting on the water slide at the end of the pool. Again the young man is transported to another location – outside a factory, where figures dressed in yellow haz-mat suits stand in line before a foreman. The young man runs and is chased. He ends up in a junk yard, which has a cross looking down on it. Falling to the ground, he finds the locket he previously discarded.
"Forgive Me" begins with a dark guitar riff, followed by the drums and then high haunting vocals as the melody is established. The melody is without qualm and advocates somber resolve and decisiveness, as it rides on the guitar. Divine instrumental harmonics are supplied by a delicate viola, along with Ale Sierra's stellar drumming, which works as another instrument rather than as percussion. Bell's voice is very good and hard to describe. It's raw and raspy, with a metallic undertone that emanates suppressed energy.
The overall feel of "Forgive Me' is an inarticulate cry of utter desolation as the young protagonist seeks self-forgiveness. There's a dark, crunching proximity to the song, as it examines the psychic parameters of elusive self-discovery that leads to forgiveness of self.
Love Ghost has it going on! "Forgive Me" is one of those songs that's dominant trait is excellence on all fronts: arrangement, production, musicianship and a contagious melody. And Bell's vocals are just icing on the cake, making it superlative.
If you get the chance to see them live, do it. And if you're in California, you're lucky because you can see them at the following places: July 8: Our Life Festival, Los Angeles, CA. July 18: The Vera Project, Seattle WA. July 26: The Study, Hollywood, CA. August 12: The Roxy, Los Angeles, CA. August 19: Echo Park Rising, Los Angeles, CA.
REAL LIFE. REAL NEWS. REAL VOICES.
Help us tell more of the stories that matter from voices that too often remain unheard.
This post was published on the now-closed HuffPost Contributor platform. Contributors control their own work and posted freely to our site. If you need to flag this entry as abusive,
send us an email
.