Two remarkable emails arrived last month.
One came from a young man in San Diego. "You have brought me great joy," wrote Christopher Nguyen, "in seeing for the first time where my mother came from."
A second note arrived from a young Chicago based actress auditioning for the lead role of the Vietnamese mother, Kim, in the Broadway revival of the musical "Miss Saigon" planned for 2017.
"As part of my character preparation," wrote Shana Dagny, "I was looking through your online Vietnam videos."
Dagny stumbled across an interview I had done with an Amerasian teenager in the 1980s. Astoundingly, Dagny (who really ought to be an investigative reporter), tracked her down. She found a real life Vietnamese mother named "Kim" living 31 year later in California.
Today in Riverside California, Kim Nguyen is the proud, loving mother of seven children.
I first met her when she was a "street kid" in Saigon in March 1985.
She and thousands of other half-American, half Vietnamese were a legacy of a war, many were trying to forget. Some Vietnamese called the most unfortunate ones "trẻ bụi đời" -- street children, elsewhere translated "children of dust."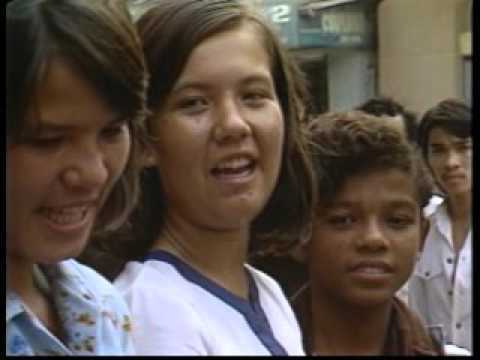 (See the 1985 video): HERE.
Like so many others, Kim Nguyen's story is one of abandonment, violence, struggle and deprivation.

It began 48 years ago when an American soldier and a Vietnamese woman conceived of a baby girl somewhere in Saigon.
Kim does not know who her father was.
Nearly three million American military men (and women) served in Vietnam between 1964 and 1975.
Kim's mother died when she was young. For a while she was placed in the care of her mother's family who made clear Kim wasn't really wanted.
Life became worse when North Vietnamese troops captured Saigon in 1975 sending the Americans fleeing. Half American children were an all too obvious reminder of the "imperialist Americans and their puppet regime." Some were raised by loving families. Many were not.
By the early '80s, Kim, who in those days introduced herself to foreigners as "Mai," was living mostly on the streets.
Kim was 16 years old when we first met: one of about a dozen Amerasian children I came to know during a decade of reporting trips to Vietnam. She was the most talkative of several dozen teenagers who could be found chatting to tourists along Saigon's main street known today as Dong Khoi -- "street of the popular uprising."
"I sell peanuts," Kim told me, "if I make money I eat. If I don't, I don't eat."
The cheerfulness the Saigon street children displayed, we came to learn, was painfully deceptive. For three years, Kim clung to a small group of five fellow Amerasians, the youngest 13. They were shunned, abused and lived by their wits in the harshest conditions.
After I filmed Kim in March 1985, (state security agents were watching), she was arrested and sent off to a prison camp for two months. Hanoi authorities were planning for tenth anniversary celebrations of their victory on April 30. They wanted a clean Ho Chi Minh City, free of the embarrassment of the street kids they were doing nothing to assist. Several hundred were rounded up.
At a time when few Americans visited Vietnam, Kim and her friends approached every visitor they could find, seeking help. Their only hope lay in their faces. They had no papers, no proof of parentage, no contacts, no money.

During the decade, 1979 to 1989, on frequent trips both to Cambodia and Vietnam, I would gather letters, notes, photos, scraps of papers from all kinds of desperate people. I took them off to the U.S. Embassy in Bangkok. I suspected nothing would happen; certainly not until Vietnam and the United States normalized relations. (That happened in 1995.) I moved on to other stories in Asia.
Gradually, however, things began to change. A few hundred Amerasians each month began to leave Vietnam.
In 1989 the U.S. Congress implemented something called the "American Homecoming Act." Vietnamese Amerasian immigration grew. Under the act more than 23,000 Amerasians and 67,000 of their relatives came to the United States. The act allowed young people to establish American identity by their appearance alone. It also provided welfare benefits for the newly arrived.
For Kim, however, there would be further hardship. Seeking refuge from street life, she married a man in Saigon. He fathered her first child, a daughter born just shy of Kim's 20th birthday. She says the man repeatedly beat her. As a condition for Kim and her daughter to leave for America, he insisted he come with her. U.S. officials agreed.
The family arrived in California in September 1990. They struggled. Kim supported herself, as many young Vietnamese women do, as a manicurist at a local nail shop. A second child was born in 1992. The abusive relationship born in hardship in Vietnam continued in hardship in California. Kim divorced.
In 1996, Kim finally met a loving man with whom she could build a new life. Matthew was a fellow Amerasian who had come to America in the late 1980's: son of a US soldier serving in Nha Trang on Vietnam's central coast.

Today Kim and her family live modestly in Riverside. There are five children living at home. Her oldest children are successful professionals. Matthew, the son who contacted me, is studying to be a Certified Public Accountant in San Diego.
Kim says her large family gives her great happiness.
"My family allows me to escape," she says "to escape the memories of those long lonely, cold nights on the streets of Saigon where I had no one."

Much to my surprise and embarrassment, Kim wants to thank me.
For what? I helped put her in jail for two months.
"No." she says, "when I got to Bangkok, US officials had seen my picture on television. It made it easier for them to accept me. They processed us quickly."
Actress Shana Dagny is both moved by passionately engaged with Kim Nguyen's story. Moving beyond preparation for a part, Shana, who has played the fictional Kim in Illinois and Indiana, wants to create a new film on the real Kim's life.
(Learn about Shana's Kim project): HERE.
The musical play Miss Saigon, which was first performed in London in 1989, has come in for its share of criticism over the years. Asian-American groups have denounced it as "racist, perpetuating stereotypes of Asian men and women and romanticizing prostitution and international adoption." I might add the portrayal of the last years of the American military presence in Vietnam is nothing but confused. The plot of Miss Saigon is drawn from Puccini's Madama Butterfly.
Just as Puccini had no understanding of 19th Century Japan, the writers and producers of Miss Saigon had little knowledge of 20th Century Vietnam.
As an entertainment Miss Saigon is nonetheless exciting.
And it did bring attention to one real problem: the plight of half American, half Vietnamese children.
In Miss Saigon, the fictional Kim kills herself to force her American lover to take her daughter to America. A chorus of Amerasians sings:

They're called Bui-Doi.
The dust of life.
Conceived in Hell,
And born in strife.
They are the living reminder of all the good we failed to do.
We can't forget
Must not forget
That they are all our children, too.
The real life Kim in Riverside says she had not heard of Miss Saigon until now, but she'd like to see it someday.
Kim Nguyen says someday she'd also like to return to Saigon -- now Ho Chi Minh City. But she says, she'll go with her family so she won't dwell on the painful memories of loneliness on the streets of Saigon.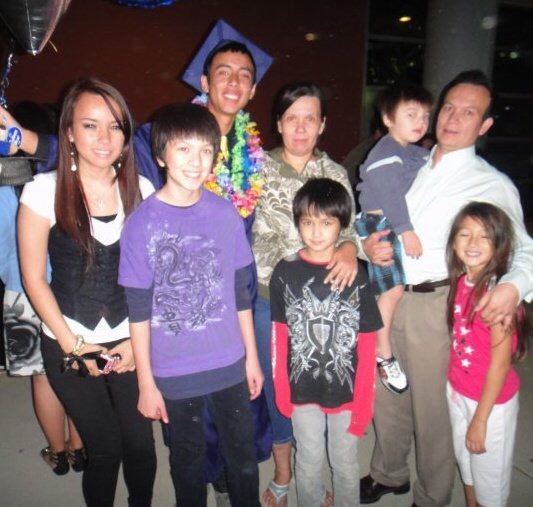 Kim and her family today in California.
Related
Popular in the Community