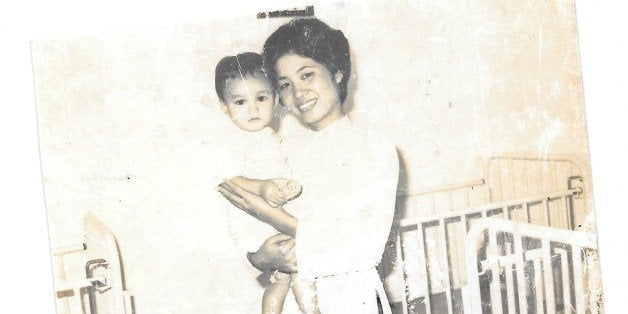 "Don't forget, be good. Love your new family. You always have your mother here in Vietnam. You have not been orphaned." I watched as this woman whispered in her daughter's ear. "Time and space separates us but in my heart and spirit, we are together." She handed me her child, and likely never saw her again.
It was 1972 and I was 25 years old and working at Holt International Children's Services in Saigon. Holt had just opened the office and was accepting hundreds of Amerasian babies -- children born of Vietnamese mothers and American military fathers. In South Vietnam at that time, anyone with ties to Americans lived in fear of retribution from the Communist forces in the North. For mothers of Amerasians, there was no denying those ties.
As a social worker, I spoke with mothers and family members directly, visited their homes and met the children before they were given to Holt. The children called me Ma Thuy, Mother Thuy. I was their temporary mother until they were adopted abroad. Letters and mementos from biological mothers were left with me. I promised that I would give those letters to the children, and that if ever I was able to leave Vietnam, I would find those children who had been adopted and tell them that they were loved, that they were not orphans. I would tell them how their mothers gave them up with hopes that these children would find better lives.
I remember one letter from a woman named Lan. She wrote me after leaving her two small daughters in our care. Lan said she had felt OK driving away from Holt, but when she arrived home and saw the two sets of pajamas that her daughters had worn just that morning, she burst into tears. She wanted to return to our office just to look at her girls one more time, but knew it would only make things harder. Instead, she cried, and comforted herself with the hope that one day she would see her little girls, grown up and well educated, and they would understand why she gave them up.
By March of 1975, in the days before Saigon fell, Holt was flooded with mothers and children. There were just three of us in the office. We worked hard and slept little. Outside of Holt, life in Saigon seemed like a horrible dream. Young wives and children dressed in white mourning clothes cried beside coffins covered in yellow and red, the colors of our flag. Every new day meant another funeral. The noise from cannons, bombs and rockets was constant. For me, it was far better to be with the babies inside imagining a better future than witnessing the horror outside.
On April 24th, I went to Tan Son Nhut Airport and waited to board a Pan-Am flight. I had been invited to go to the United States to help the children transition to their adoptive homes. I waited for four days at the airport. Finally, I was told that only the Americans working in Saigon would be allowed to leave. I said goodbye to the children. For me, it was enough to know that the babies would arrive safely in the United States.
I remained in Saigon for five years after the South fell. For the Americans, the war ended. But for the Vietnamese, the fighting continued. Those were difficult times; I was hungry, poor and afraid.
In March of 1980, I escaped Vietnam in the middle of the night with two of my uncles. I carried nothing but a few personal belongings, the mementos from the orphanage -- including Lan's letter about her daughters -- and my memories. We hid at the bottom of a small fishing boat. The communists and pirates were always looking for people like us, and while we were adrift the pirates found us. All of my possessions, including the letter, were thrown in the ocean. Many women were not as lucky.
We floated for seven days before landing at a refugee camp in Malaysia where we stayed in a makeshift shack for three months. Eventually, a group of us were taken to Canada.
In British Columbia, I was sponsored by an elderly couple, to whom I owe a debt of gratitude. I learned to speak English, to drive and to shop. I experienced snow for the first time in the winter. With the support of the Canadian government and a local church, I found a job at a women's shelter working with battered women and children who were looking to rebuild their lives, as I was doing with my own.
I was 35 years old when I had my first child, a daughter, in 1982. Two years later, I gave birth to my son, and moved to Florida with my children. I waitressed to make ends meet until I was offered a job in social work with Catholic Charities, my true passion.
Today, I work with refugees from many countries -- including Haiti, Russia and Burma. I work with new generations of children from all over the world whose parents left their homes with hopes of a new life, a better life, in the United States. My life has been a series of journeys. Despite being miles away from Vietnam, I will never forget the promises I made to those mothers in Saigon.
I made it to America, and I hope my words reach those who came into my care at Holt. I want them to know they were not orphans. They were loved. Their journeys began with the hardest decisions their mothers ever had to make. And on two sides of the ocean, lives were lived because of it.
The First Days Story Project, an extension of the American Experience film "Last Days in Vietnam," aims to collect, preserve, and celebrate the stories of Vietnamese American refugees and Vietnam veterans. "Last Days in Vietnam" premieres Tuesday, April 28 at 9/8c on PBS; Learn more about the film and The First Days Story Project at pbs.org/lastdaysinvietnam.
REAL LIFE. REAL NEWS. REAL VOICES.
Help us tell more of the stories that matter from voices that too often remain unheard.