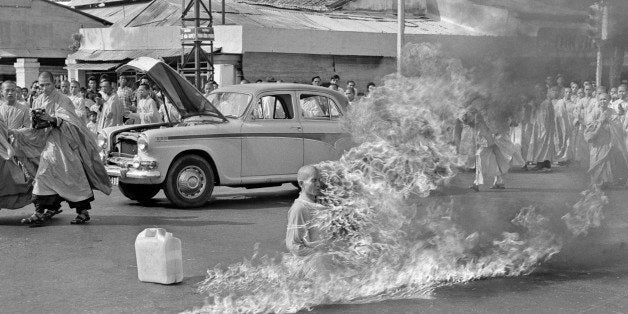 "If your photographs aren't good enough, you're not close enough." - Robert Capa (killed in Indochina by a land mine, 1954, his camera in his hand)
Most photographers would have agreed with those words. And in Vietnam, they surely would have seconded the words of David Douglas Duncan, a Marine photographer during World War II in the Pacific, the great photographer in Korea (for Life magazine), and present with a camera in the ferocious battle for Khe Sanh in 1968. He said about his Korean photographs: "I wanted to show what war did to a man... I wanted to tell a story of war, as war has always been for men through the ages. Only their weapons, the terrain, the causes have changed."
The AP photographers in Vietnam—as this book shows—wanted to do the same, as did such others as Tim Page, Larry Burrows, and Kyoichi Sawada, who worked alongside them. But they carried out their task beyond the earlier visions of Capa and Duncan. Each, in different ways, was showing what war did to all human beings. Not simply to the warriors, but to the civilians. In Vietnam, it was often impossible to separate them. Day after day, hour after hour, the photographers reminded us that these civilians were more than mere statistics. They were human beings.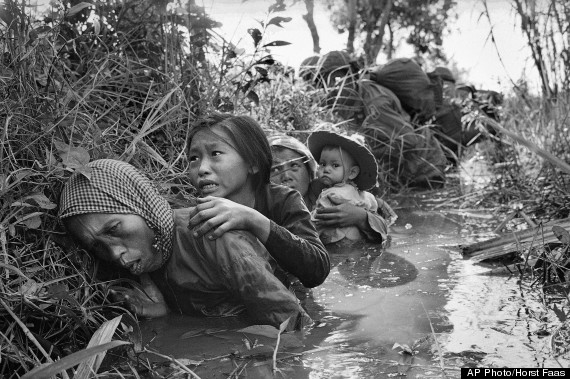 Many photographers moved in and out of the AP bureau during the Vietnam War. Some were freelancers, offering their film for a price (in Browne's day it was $5 a photo). But those on staff were among the best who ever practiced their dangerous craft. Consider, for purposes of compression, only these names: Horst Faas, Eddie Adams, Henri Huet, Nick Ut, Dang Van Phuoc.
Faas was a burly man, born in Berlin in 1933, the same year that Adolf Hitler came to power. When he was nine, he was compelled, like all other German kids his age, to join Hitler Youth. Later, he remembered the war for his constant hunger, and for the oddly beautiful sight of American bombers in the sky, and tracer bullets trying to destroy them. At war's end, his parents took him and the other Faas children out of the devastation of Berlin, fearful of the arrival of the Red Army, and they made their way to the West. His education was eclectic (it included eight years of Latin and a course in journalism that stopped at Gutenberg), but at eighteen he found a job as a clerk for the Keystone photo agency in Munich. His job: helping to comb through a roomful of several million photographs, organizing them into files. He first learned about photographs by studying them. Within a few years, he was carrying a camera and making them. By 1951, he was covering major stories in Europe, including the 1954 peace conference in Geneva about a place on the other side of the globe: Indochina. Just before Christmas, 1955, he was hired by the AP. He was soon in Bonn, the capital of West Germany. He was the AP's only photographer in that city, with competition from UPI and the German press. He had no guidance. Just assignments from Frankfurt or New York.
"I didn't know what I was doing," he remembered years later, "and I had to follow my peers from the opposition to see what and how we worked there."
At the AP he was handed a Speed Graphic, a camera that he hated for its clumsiness and the way focusing sometimes robbed him of that "decisive moment." But it was the AP. And the AP was driven with urgency.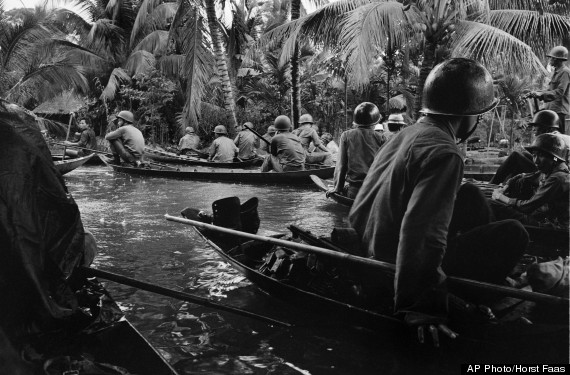 "Working for AP," he remembered, "it was always that you worked in fear. Fear of the events that have not happened yet... And it invariably happened at three in the morning."
After five years in Bonn, the AP sent him to his first war: in the Belgian Congo. He had volunteered for the assignment. He thought he would be in the Congo for a few weeks, and parked his car at the airport. He would be gone for a year and a half. But he didn't mind. At last he had a chance to make good pictures in a truly bad place. Out there, in the great wide world, with a Leica he had paid for himself. First stop: Leopoldville.
"It was my chance to get into international journalism," he said later, "and I used it and jumped and never came back."
In the Congo, tribal forces, regular Congolese army troops, and United Nations peacekeepers were fighting one another in a country of rivers, swamps, and jungle. Faas met other correspondents, including a small group from Fleet Street, and a young man from the New York Times named David Halberstam, who was then twenty-seven, passionate and intense about his craft. They were present together at some of the battles in the three-way combat in Katanga. Other times Faas went alone into fierce combat and, when he returned to Leopoldville, would brief Halberstam (and some other reporters). Sometimes Halberstam introduced Faas to people the German could not easily meet, including U.S. Embassy analysts and CIA spooks. Horst and David became friends for life.
"Yeah, he was a friendly American," Faas later said, "as authoritative as he always was. He always taught us to be serious journalists, dress seriously and act seriously, and responsibly... Not play around with the world of news."
After a year and a half, a worn-out Faas told his AP bosses that he wanted to go skiing. He had seen enough victims of assassinations, torture, and treachery in the exhausting heat of the Congo. They agreed that he could leave and thanked him for a job well done. He went skiing in Tours. A few days later, he was called by the AP in Paris and told to go to Algeria. Another war, marked by assassinations, torture, and treachery, was under way in an outpost of the eroding French Empire. Faas went. The war was almost impossible to cover, and very dangerous, particularly for reporters and photographers. Many of them had been marked for killing. The killers might have pledged allegiance to Algerian nationalism, to continued French sovereignty, to Islam, to simple vengeance for old injuries. The cause didn't matter. The effect was death. Not simply in Algeria, but increasingly from the right-wing OAS, in the heart of Paris. Faas did his best for ten weeks, and then got another call from the AP bosses. Now they wanted him to go to Laos. In Indochina.
In Laos, he met Peter Arnett and confronted another baffling, three-sided local struggle, with Americans from the virtually faceless CIA controlling all access to the action. Or actively preventing that access. And then Arnett and Faas were told to move on to Saigon. To help cover the Buddhist crisis. That destination, and the work they performed there for the AP, would define the lives of both men.
© 2013 Deidre Enterprises, Inc.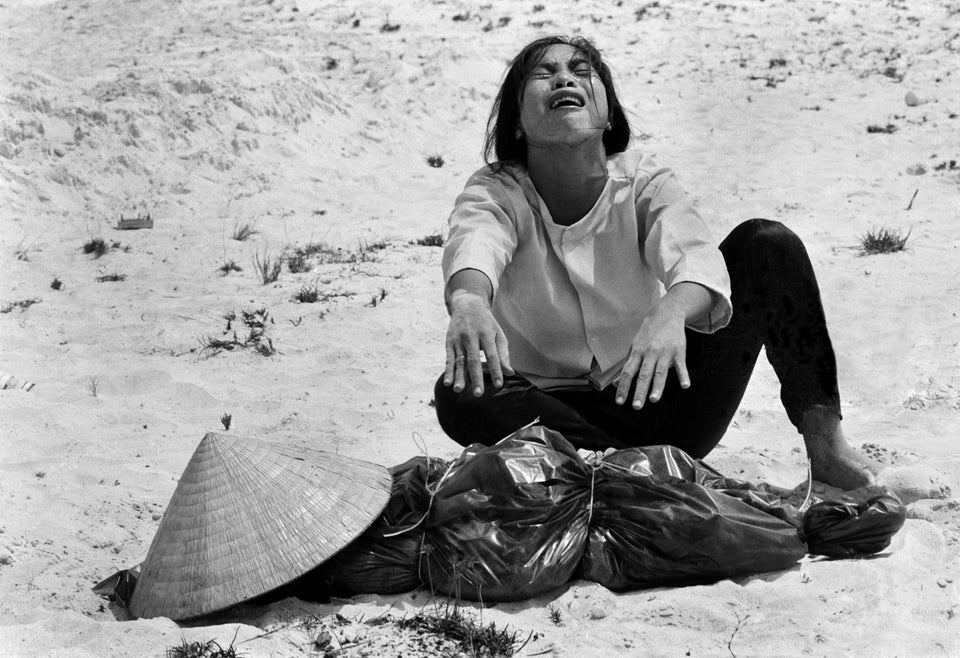 AP Photos From The Vietnam War
Related
Popular in the Community