When Thuy Nguyen was just 12 years old, she left her native country of Vietnam and boarded a South Korean boat in search of a safe place to call home. After living in a refugee camp for two months, Nguyen arrived in Canada in 1975, where she and her family were able to build a new life.
More than forty years later, Nguyen is paying it forward by taking care of others fleeing war in search of a stable home and a peaceful life. For the past year, she and her partner Michael Adams have been mentoring and supporting the Noumans, a family of nine from the embattled city of Homs, Syria.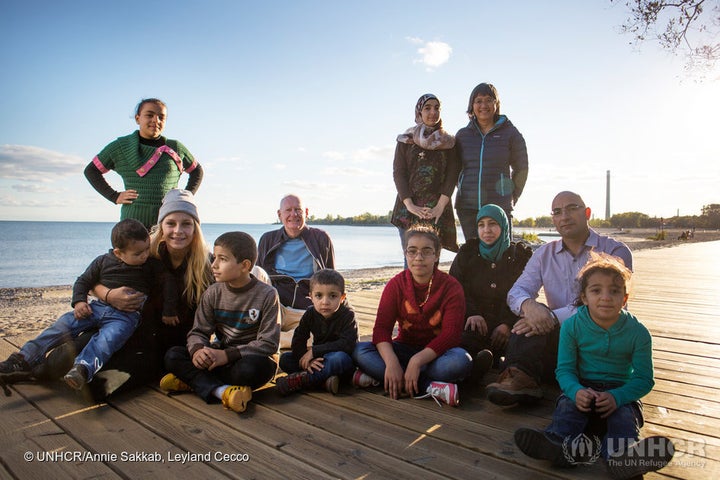 According to the UNHCR, Mohamed Nouman, his wife, and seven children arrived in Toronto in January 2016. Since then, Nguyen, Adams, and a small group of friends have stepped in to help the Syrian family adjust to Canadian life ― from finding the kids a good school in the area, to taking them to doctors' appointments, and helping them learn a new language. 
Nguyen told The Huffington Post that her biggest dream for the new family is for them to be happy in their new country. 
"My father always said that it's not often that you can have a big impact on somebody's life. So when you have a chance to do it, you should try," she told HuffPost.
The Noumans came to Toronto as part of a Canada's private sponsorship program ― the only one of its kind in the world, according to the UNHCR. The program was developed under the administrations of former Canadian prime ministers Joe Clark and Pierre Trudeau in the late 1970s, initially to help resettle refugees those uprooted by the Vietnam War.
Under the program, citizen sponsors commit to providing basic financial support for the refugees' first year in the country, or until the refugees become self-sufficient. The sponsors also help refugees with tasks like finding a job, learning English or French, and opening a bank account.
Michael Casasola, a UNHCR Resettlement Officer in Canada, told The Huffington Post that more than 275,000 refugees have come to Canada through this program.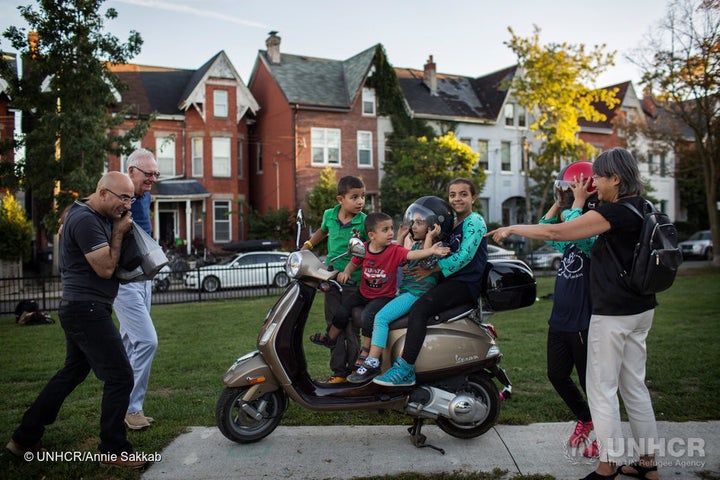 Throughout the application process, Nguyen and Adams received help from Lifeline Syria, a Canadian nonprofit that helps sponsors resettle Syrian refugees in the Toronto area. Frank Palmay, chair of the organization, told The Huffington Post that the minimum requirement for sponsorship of a single refugee is $12,600. For a family of nine like the Noumans, it's $40,000 ― an amount Nguyen and her partner raised with the help of about 130 friends and family.
Palmay said that there was a surge in interest in sponsorships in the fall of 2015. He linked that uptick to the haunting photo of Alan Kurdi, a 3-year-old Syrian refugee whose body was found washed up on a beach in Turkey.
But as the conflict in Syria continues on, with no foreseeable end in sight, Palmay said that the challenge now is to keep Canadians interested and motivated to help.  
"We're trying to re-motivate people again, because the human tragedy of Syria is beyond imagination," he told The Huffington Post.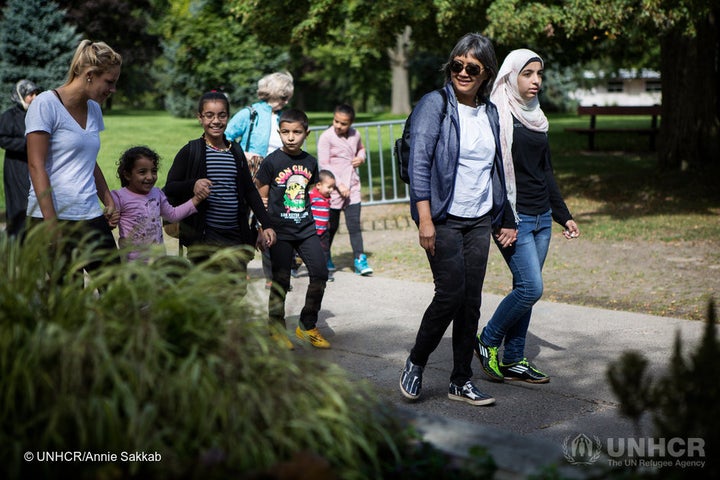 The Noumans' lives have changed drastically since they left Syria. According to the UNHCR, the family was trapped inside their house in Homs for days, afraid to leave because of bombs. 
Mohamed Nouman, the family patriarch, told the UNHCR that he decided to flee for safety because "I didn't want my kids to see death."
The Noumans fled to Lebanon and then Jordan. They lived in Amman for two years, the entire family sleeping in one room of an apartment. 
Now that they are in Canada, Narjes Nouman, the eldest of the family's seven children, said she finally feels safe.
"It is really wonderful to be with your family surrounded by safety," Narjes said in a UNHCR video. "There is no one to attack you like in Syria. When we came to Canada we felt better."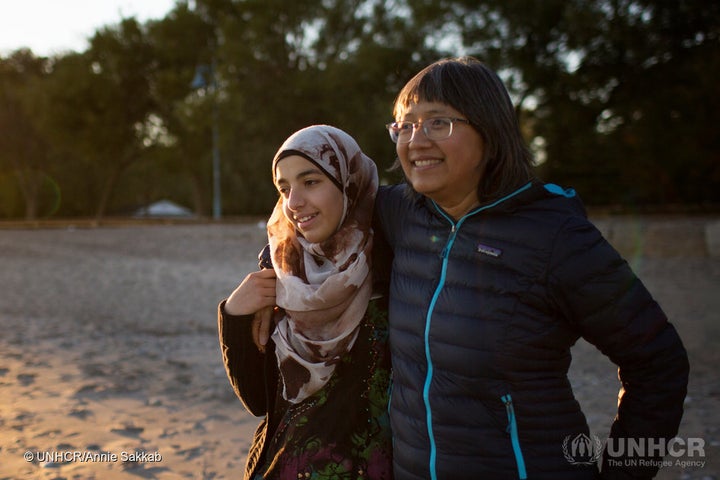 For Nguyen, sponsoring the Noumans was a way to help people who are searching for the same opportunities her family longed for so many years ago. After settling in Canada, she and her 15 siblings went on to attend college, finding careers in medicine, architecture, and finance.
Nguyen's goal now is to give the Noumans a "safety net" as they adjust to life in Canada. 
"I'm sure there's still anxiety, but it takes some of the anxiety out of the process, just knowing there's another family there," she said. "And if you need something, you can call and ask them."
She looks forward to seeing the children go to school. She wants to attend their graduation parties and their weddings. And she's looking forward to witnessing their lives change for the better ― just like hers did.
"There's something about the process of coming to another country and having to rely on yourself, something about that process that really makes you more resilient." 
Calling all HuffPost superfans!
Sign up for membership to become a founding member and help shape HuffPost's next chapter
BEFORE YOU GO
PHOTO GALLERY
Refugee Portraits