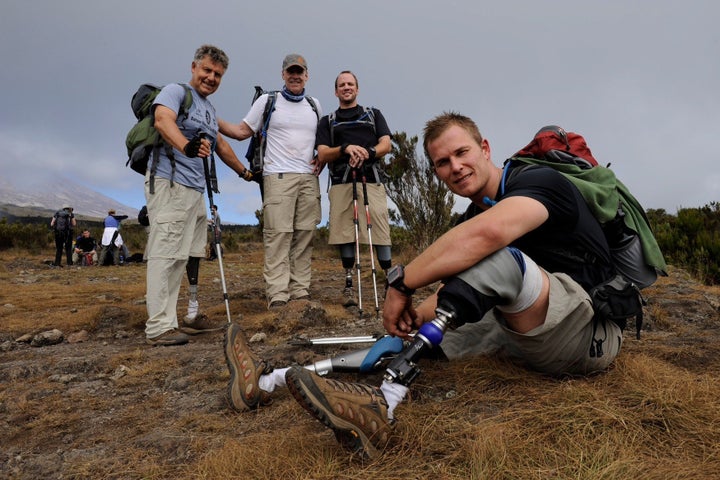 Each Memorial Day, my thoughts return to 1969 when I served in Vietnam. I remember the young men we lost in the in the Ninth Combat Infantry Division (4th/39th) and the day I nearly lost my life to a grenade in the Mekong Delta. Lying in the mud and my blood that day, I wondered if I would ever see my family or country again. I decided on that day that if I made it I would "make a difference" somehow in this life. Prayer and great medical treatment by a brave medic and Medivac chopper pilots allowed me to live, despite losing my left leg above the knee.
My military service left me with a profound respect for all who have worn the uniform, especially our severely injured service men and women. As someone wounded in combat, I know that when a warrior loses a limb, or becomes paralyzed or blind, their whole sense of self is threatened. It's not just the physical injury the wounded warrior faces. They lose their self confidence and self-image. Pain, infection and an uncertain future take their toll on the warrior physically and emotionally. Participating in sports helped me rebuild the confidence and independence I needed to begin living again.
The desire to help wounded warriors became the purpose in my life. For over 40 years, I have been honored to serve Disabled Sports USA first as a volunteer for 12 years and now Executive Director for nearly 30. DSUSA is an organization that provides people with disabilities, including wounded warriors, sports rehabilitation. We have found that sports are a great way for warriors to prove to themselves that anything is possible; and that they can still live their hopes and dreams. Last year, our Warfighter Sports program helped over 1,100 of the most severely wounded rebuild their lives through sports.
Thousands of other Vietnam veterans have also found their purpose to help this generation's severely injured service members. They remembered the critical support that helped them through, and also remember the support that wasn't there for the wounded; and they committed to making sure these mistakes were not repeated.
I think this is one of the important ways to observe Memorial Day. Yes to honor, but also to remember what went right and what did not, so we do not repeat the mistakes of the past. I know many fellow disabled Vietnam veterans who are now PTSD counselors, adaptive sports instructors, rehab therapists and recreational program directors, all dedicated to making sure today's wounded get the best support possible for their rehabilitation and renewal.
Working at DSUSA has allowed me to get to know many severely wounded and compare their experiences to my own. Many positive changes have taken place in our treatment of veterans and wounded warriors since my time in uniform. Today, the public treats those who serve with great respect. Medicine and therapy have improved and accelerated recovery. Advances in technology have led to power knee and power ankle units allowing double amputees to walk, run and climb mountains. Even arm prostheses are being tested that move based on the user's thoughts!
But one thing that hasn't changed in the past 40 years is the resolve of the wounded warfighters. When given the opportunity to achieve, they will astound you. They yearn for opportunities to persevere, prevail and do the seemingly impossible. DSUSA strives to provide those opportunities.
In fact, next week, I will be part of a team of five severely wounded warriors climbing Alaska's Mount McKinley, ("Denali" in the native language) the highest mountain in North America. This climb will take about four weeks and will traverse some of the coldest and most severe climate in the world. The purpose of the climb is to raise awareness to the full potential that every wounded warrior possesses. Our climbers embody this spirit.
For Neil Duncan, an IED explosion in Afghanistan left him with no legs, a shattered jaw wired shut, bandages from his armpits to his fingertips, and breathing through a tube in his neck. Today, Neil is both working and completing a Bachelor's degree. Despite losing both legs, Steve Martin not only competes in running and triathlon races, but he continues to serve as an Arizona Department of Public Safety officer. Jesse Acosta's severe injuries have not prevented him from excelling in a career in Finance, completing triathlons and summiting Mt. Kilimanjaro. And after a suicide bomb caused him to lose a leg above the knee in 2008, Captain David Borden returned to combat duty in Afghanistan last year. Each of these wounded warriors is an inspiration to us all about the power of the human spirit and the strength of character of today's military men and women. I feel honored to be able to participate alongside this generation's wounded warriors.
These wounded warriors and this climb will showcase the limitless potential of our extraordinary injured service members. Our climb starts right after Memorial Day, to honor those that have made the ultimate sacrifice, and ends right before Independence Day, the day we celebrate the freedom that our country's heroes have won.
I hope you and your family have a safe Memorial Day.
P.S. If you'd like to follow our team during the climb, or make a donation to support wounded warfighters, please go to our CrowdRise page.
Popular in the Community