It took 46 years, but Ricky Miller finally went to say goodbye to the best friend he tried desperately to rescue in Vietnam. It wasn't easy.
The first time he tried, about 25 years ago, he got as far as the little cemetery in Kentucky where he thought his friend was buried -- but couldn't get out of his car. The stress of the trip to visit his friend's family was so intense that he developed Bell's palsy a day or two afterward, and the paralysis of the facial muscles caused the left side of his face to sag dramatically for months.
He didn't know until his return last week that the family members he saw on that first trip were related to a different soldier with a similar name, and Miller had never actually met any of his friend's 10 brothers and sisters.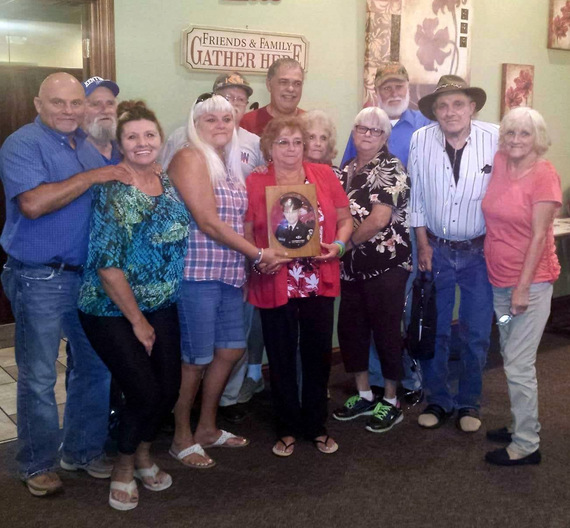 From left, Sammy Johnson, Paul's youngest brother; brother Bobby; Leslie, Tony's daughter; Paula, Randall's daughter; brother Randall: sister Maggie Jackson (with picture of Paul); Ricky Miller (behind Maggie); sister Cecelia; sister Theresa; brother Jesse; brother Tony; sister Mary
He has now, but even all these years later, it wasn't easy.
Miller was a 19-year-old helicopter crew chief in Vietnam, flying with a gung-ho air cavalry troop called the Condors. His friend was Sergeant Paul Johnson, the acting platoon sergeant of the troop's rapid-response infantry unit known as the "Blues" platoon.
Johnson led a reconnaissance team from the Blues that was put down in a foreboding mountainous jungle known to the Americans as Three Rivers in the notorious A Shau Valley. The North Vietnamese enemy used the A Shau as a supply route from the Ho Chi Minh Trail in Laos through the mountains to the populous coastal plains of South Vietnam. They fought to protect that lifeline throughout the war.
Johnson's team got hit by a superior enemy force soon after it landed, and he called for the choppers to come back for the wounded and lift everybody out. The first two Hueys landed, picked up their soldiers and took off without damage, but the third was hit repeatedly by AK-47 rifle fire and .51-caliber heavy machine gun bullets. Miller's ship was the fourth and last to land. He left his own machine gun position behind the helicopter's cargo door to grab two severely wounded men and hoist them aboard. At the edge of the landing zone, about 30 yards from his aircraft, Miller saw the unit's radio operator struggling to lift another severely wounded soldier. He dashed across the open area to reach them, told the radio man to run for the helicopter and bent down to lift the bleeding, barely conscious Condor before him. He saw then it was Johnson, his 22-year-old friend.
The platoon sergeant had a huge hole in his back and begged Miller to leave him and save himself, but the crew chief refused and somehow got Johnson back through a barrage of crashing, exploding mortar shells and hoisted him aboard the ship. As the Huey took off and raced toward the U.S. Army's 85th Evacuation Hospital at Phu Bai, Miller tried to minister to Johnson's gaping wound. The sergeant asked Miller to tell his parents and family back home in New Haven, Kentucky, that he loved them and was thinking of them. Miller assured Johnson he could tell them himself when he got home, but the soldier knew he was mortally wounded. He died on the operating table a couple hours later.
Tortured by guilt because he had survived and his friend hadn't, that there might have been something he could have done better or faster, Miller couldn't bring himself to contact the family for many years, to face them and tell them about how Paul Johnson died and his last request. Eventually, some 20 years after Johnson's death, he drove to New Haven and found the house where he was told Johnson had lived with his parents and several brothers and sisters. He gave the family a copy of the memorial service the troop had held for Johnson in Vietnam and showed them a Condors yearbook with photos of Johnson and other members of C Troop, 2/17 Cavalry, 101st Airborne Division. Miller didn't realize until recently that he apparently visited the family of a different Sergeant Johnson, a soldier from the same tiny town who was killed in the Mekong Delta, far south of the A Shau, a mere nine days after Paul Johnson was mortally wounded. That soldier, Nicholas G. Johnson Sr., is buried beside his parents in St. Catherine's Cemetery in New Haven. Paul A. Johnson is similarly buried next to his parents in St. Thomas Cemetery, about ten miles away.
Three years ago, Miller met Trina Judson, one of Paul Johnson's nieces, and Ed Long, one of the other men he rescued at Three Rivers that day, at the Vietnam Veterans Memorial in Washington, DC, where Ms. Judson praised him for his desperate effort to save her uncle and begged him to give up his misplaced guilt. Miller, now 65 and battling several health problems traceable to his combat experience, vowed to return to Kentucky to visit his lost friend's grave and meet with any of Paul Johnson's family members who wanted to see him. Maggie Jackson, three years younger than Paul and still devoted to the memory of her big brother, urged Miller to make the trip and rounded up all but one of her nine surviving siblings to welcome him.
Miller and his wife Ruby drove nearly 1,000 miles from their home in Clyde, Texas, to meet Paul's family on the 46th anniversary of that day in the A Shau. Without Ruby's encouragement and support, Miller said, he would not have been able to go through with it.
"They were very appreciative," Miller said afterward. "I was thinking they'd be mad at me. The reason I never went back: I thought it was my fault that he died." But instead, the Johnson family greeted him as a hero, the warrior who wouldn't abandon his friend and got their brother back to be buried at home and not left behind as missing in action. Maggie Jackson escorted the couple to BJ's Steakhouse in nearby Bardstown for a celebratory dinner and hours of exchanging memories.
There were presents and pictures and plenty of talk. Brother Jesse makes wine and gave the Millers two bottles of his best. His wife made a batch of her special salsa. Maggie was proudest of her present, a period box that she found with her granddaughter at the Goodwill. The granddaughter thought it contained a French harp and asked if she could see it. When the box was opened, they found a Vietnam War commemorative knife with a Huey helicopter emblazoned across the yellow field and three red stripes of the South Vietnamese flag and Vietnam veterans' service ribbon.
"It melted my heart," the kid sister said.
The next day, Maggie and Ruby accompanied Miller to the cemetery and showed him where Paul Johnson was buried. Then they left him alone to be with his friend.
Calling all HuffPost superfans!
Sign up for membership to become a founding member and help shape HuffPost's next chapter