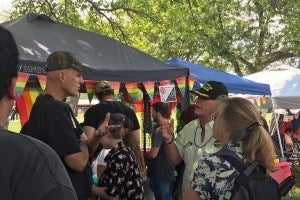 A veteran of the Vietnam War has stepped up and protected several young attendees of Lubbock Pride from a local fundamentalist preacher. The veteran, Ronald Nance, interfered when a local preacher who is known for his anti-lgbt agenda tried to poison the young minds with his hateful rhetoric.
Said pastor (whose name I will not mention here because why give him more publicity?) has a history of disrupting Lubbock Pride. In 2016 he threatened several attendees with hell and accused the present pastors of other churches of false teachings. He then took his hate online and insulted several people publicly and privately.
This year he even came armed with leaflets (see picture) that promote his twisted version of the Bible, stating among other things that "it's never okay to be g(r)ay" and that "the LORD (sic!) hated those relationships [same sex relationships] then, and He hates them still today".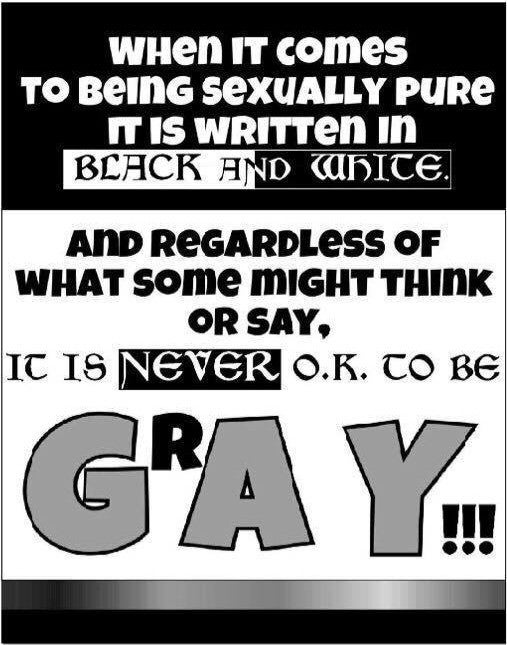 According to his own words, he was ridiculed and asked to leave the premises. But following reports from several Pride attendees, he also scared some of the very young visitors, a behavior that Ronald Nance could not tolerate.
"I just kept giving him scripture but he didn't want to hear mine. His answer is to repent and be heterosexual. Otherwise, we will all go to hell. He was berating all of us and even the children," Nance said.
The veteran has been an active member of the local LGBT community for several decades. He served on the board of Metropolitan Community Church Lubbock (an inclusive church) in the 1980s when being LGBT was considerably more dangerous than it is today.
His actions didn't remain unseen. A photographer captured the encounter and local radio host and blogger Wes Nessman shared the picture on his Facebook page. There he called Ronald Nace an "honest to goodness American hero" and offered to take him out to dinner once he found him.
"I had to leave Pride early but to know that someone was there and defended people really meant a lot to me," Nessman said.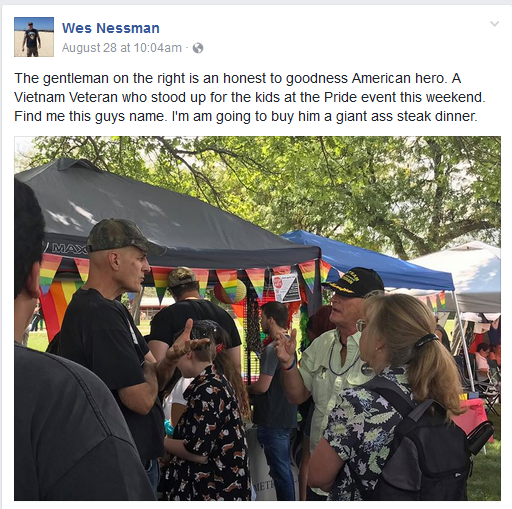 The community quickly identified well loved and respected Ronald Nance and they connected on Facebook.
According to the veteran's wish, Wes Nessman will not take him out for dinner but instead make a donation to Metropolitan Community Church Lubbock.
"I am an atheist but this church stands for good things. Love and gratitude comes back to you whatever you believe in," affirmed Nessman.
His donation will be received with gratitude.
It is beautiful really to think that all this hate preacher achieved in the end was to empower the LGBT community and support a church that has sworn to spread God's inclusive love in the face of all bigotry and open hatred.
Popular in the Community