DA NANG, Vietnam ― The street that leads to David Clark's home is marked with a sign that says "Ushi's house." That's the name of his wife, born in the year of the buffalo under the Vietnamese zodiac. Clark is also a buffalo ― that's what makes them a good match, he says.
In other ways, they're a surprising pair: Clark first came to Da Nang in 1968 as a 19-year-old Marine fighting in the Vietnam War. He returned to the country four decades later to see what had become of it. He met Ushi, who is Vietnamese, a few years later at a restaurant she owns in the town of Hue.
He remembers she was wearing a chartreuse dress, with long earrings and a watch to match. They later danced in the street as Ushi's favorite song ― the Beatles' "Eight Days a Week" ― played at a festival.
The two fell in love and married in a Catholic church while wearing traditional Vietnamese wedding clothes. Later, they bought a house near the beach in Da Nang and remodeled it to add some Western elements, including a filter that lets them drink straight from the kitchen sink. 
On a warm night this spring, with the sounds of karaoke wafting through the streets from nearby bars and restaurants, Clark's house offered another example of worlds colliding. A group that in the late 1960s wouldn't have been caught under the same roof ― let alone sharing an appetizer of deep-fried Vietnamese spring rolls ― gathered around a large kitchen table.
The guests included Floyd Henderson, a Vietnam War draft dodger who fled to Canada in 1969; Cathy Wilkerson, a former member of the militant Weather Underground group who landed on the FBI's "10 Most Wanted" list; and Chuck Searcy, who also served in the Vietnam War and has since returned to live in Hanoi.
Searcy is also the vice president of the Vietnamese chapter of Veterans for Peace, an anti-war nonprofit. Through the organization, he leads tours of the country geared toward Vietnam War veterans and activists, but anyone is welcome to join. That's what brought the unlikely group together at that kitchen table ― it was the 12th day of their trip from Hanoi to Saigon.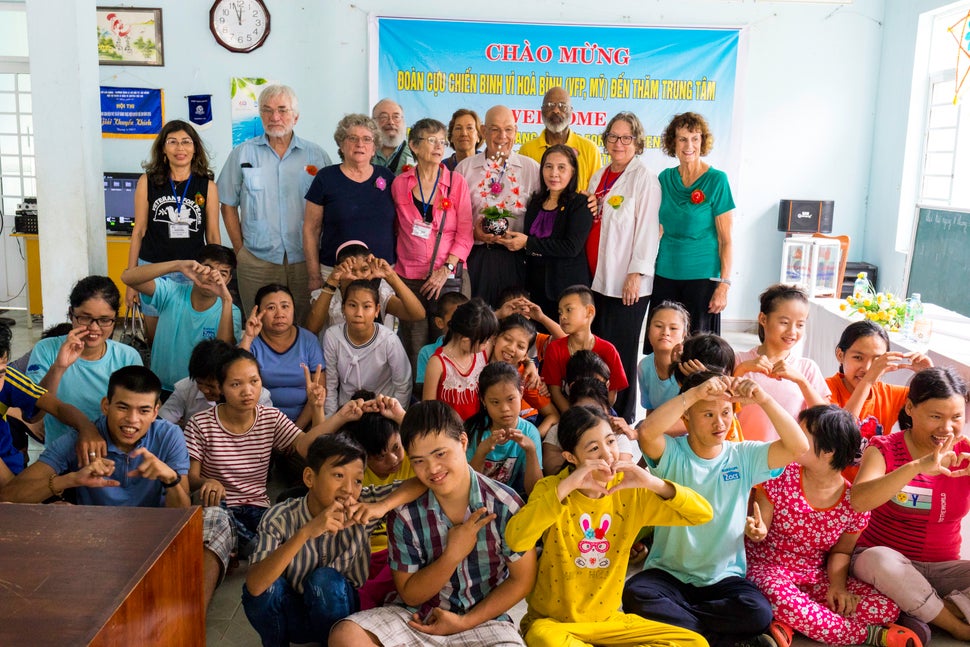 For some, going back to Vietnam is a way to make peace with the past. For others, the trip is a chance to connect with a place and a cause that still matters deeply to them.
War tourism isn't a new concept, and veterans have been returning to Vietnam for years. But Searcy says he probably won't keep hosting his tour. The affected generation is aging, and it's difficult to get enough interest in the trips to justify them. Ten people traveled with him this year; usually about 15 people join.
Searcy was stationed in Saigon from 1967 to 1968 as part of an intelligence battalion. He returned to the country for the first time in 1992, and moved there three years later to take a job at a nonprofit in Hanoi. 
His tour takes a little over two weeks. It costs $2,750, plus airfare, and participants are asked to bring a gift of $1,000. At the end of the journey, they decide together how to donate the money. 
Clark has been on the board of Vietnam's Veterans for Peace chapter for several years, which is how he met Searcy. He describes Searcy in military terms: a point man leading others to learn how to make amends for the United States' role in the war.
Clark has taken part in a few of Searcy's trips, but this is his first year hosting a dinner and welcoming people on the tour into his home.
"If you had told me 40 years ago that I'd be here in Vietnam, I'd have said you're full of shit as a turkey ― a Christmas turkey," he said. "I came here in 1968 to die for my country. Thank God I didn't. You know what's the greatest gift I have? I get to die here of my own choice."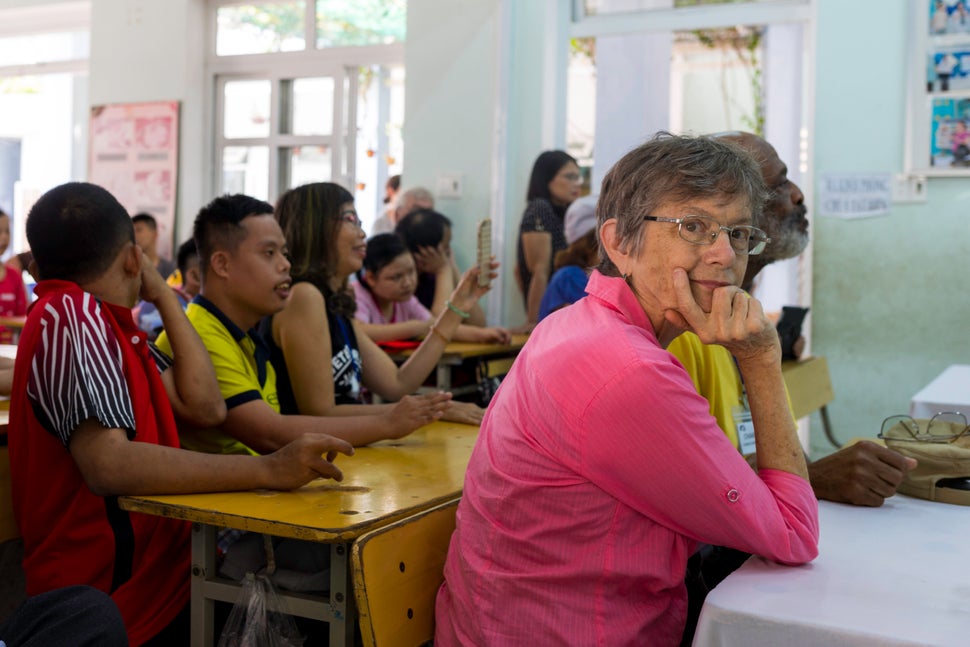 For Wilkerson, the 2017 trip was a chance to complete a journey she started 50 years ago.
In 1967, she and three other members of Students for a Democratic Society flew from the U.S. to Cambodia by way of Paris. Their goal was to make their way to meet with the Viet Cong in North Vietnam and bring back information to help their anti-war efforts in the U.S. 
It was a bloody year in the Vietnam War, and Hanoi wasn't accessible by a commercial flight. But the activists planned to hitch a ride on a mail plane that made a daily trip to the city because an international agreement dictated that it wouldn't be shot down, Wilkerson said.
They never made it across the border. The U.S. had started bombing the northern city, and the North Vietnamese decided it was too dangerous for the students to make the trip. So the North Vietnamese met them in Phnom Penh for four days of meetings and discussion.
Wilkerson caught the attention of national news ― and the FBI ― when her father's New York City townhouse, where she and other activists had been building a nail bomb, exploded in 1970. Three people died in the incident, and Wilkerson spent the next decade evading authorities by working minimum-wage jobs without an ID. She surrendered to law enforcement in 1980 and spent 11 months in prison.
Wilkerson is petite and shy, with silver-framed glasses. Her outward appearance doesn't match with the '60s radical who got caught up in a group advocating for an "armed struggle" against the U.S. government. But she still describes herself as an activist.
The events leading up to the townhouse explosion were "ill-advised," Wilkerson said. But even as she grew older, she maintained an interest in Vietnam. 
"People don't think about the consequences of war beyond the bullets," she said. "I needed to touch base with [Vietnam] again. To see what they've done, how far they've come."
Floyd Henderson describes how he feels today about his choice to flee to Canada instead of being drafted into the Vietnam War. Listen above.
Henderson joined Searcy's trip for the first time in 2014. Forty-five years earlier, he'd received a bench warrant for his arrest after ignoring several draft notices.
When his brother threatened to turn him into the FBI, Henderson took the $700 he had in his sock drawer and spent $250 of it on a Buick. He packed his typewriter, guitars and other possessions and drove with a friend to International Falls, Minnesota. Henderson had no intention of coming back once they crossed into Canada. 
"I didn't want to kill ― I had no desire whatsoever to shoot another human being for any reason," he said.
Although he'd made it across the border, he didn't have a legal right to be in the country permanently. "I spent that winter living pretty much on the street," he said.
Henderson later secured a legal right to be in Canada, but eventually returned to the U.S. after President Jimmy Carter pardoned draft dodgers.
Henderson is gentle and thoughtful when he speaks. He has spent a great deal of time considering his choice to flee the U.S. in 1969 while so many others were getting drafted. "Sometimes it's an almost constant ― regret might not be the right word for it, though it's probably the closest I can come to it ― that I did not go to Vietnam."
He'd make the same decision again, he noted. But still, he struggles with what he described as "survivor guilt." That feeling was what originally brought him on Searcy's tour in 2014. 
That group included many combat veterans, which made Henderson nervous. "I went with a huge amount of trepidation because I wasn't sure what kind of reaction I was going to get from these guys," he said.
He was surprised at the response he received. "Without a single hesitation, they accepted me as one of them," he said. "Even going so far as to call me a veteran and one of their brothers."
He joined the trip again this time for another chance to see the country.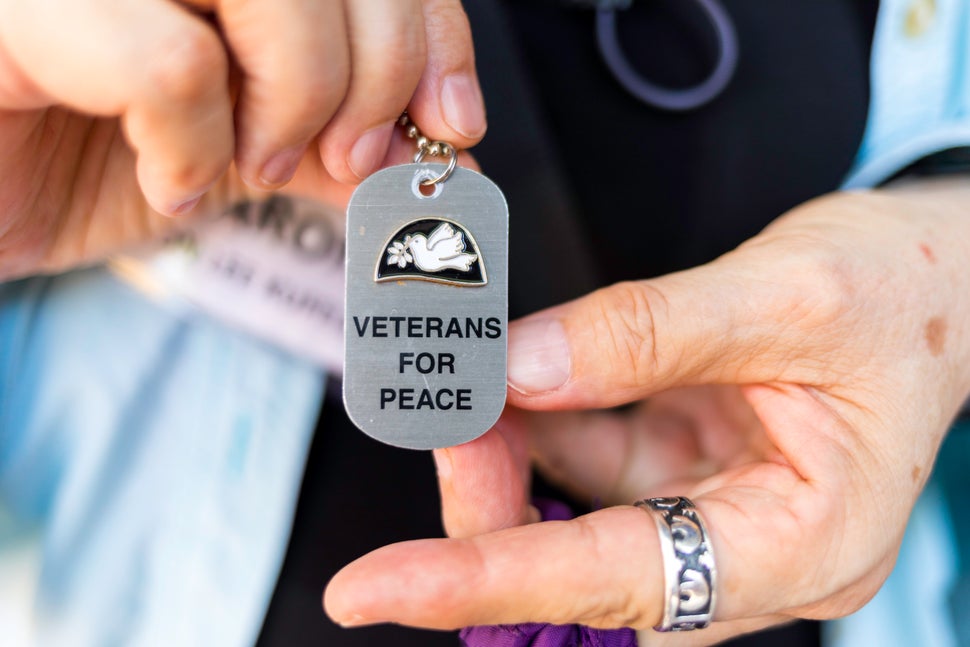 Clark joined the United States Marine Corps on his 17th birthday. On a warm day in March at the hotel where Searcy's group was staying, he recounted arriving in Vietnam for the first time. He couldn't legally vote or drink in his hometown, but here, he could carry a gun. He remembers that vividly.
It was a court-martial offense to leave the compound without a weapon, so Clark always had his M16 and rounds with him. And when he encountered a Vietnamese person, he remembers what he'd do.
"Every time I came across the Vietnamese ― I didn't care if it was a man, woman or a child ― I would point that M16 in their face. And I wanted them to fear me. Because I felt if they feared me my chances of going home were much, much better," Clark said. 
Clark was outwardly successful in the U.S. after the war, but he struggled emotionally to come to terms with his experiences. He couldn't forget that look of fear he'd put in people's faces. Or the battles where he'd shoot into the fray, not knowing whom or what he might be hitting. Certain dates or moments that were meaningless to others would trigger terrible memories of the war.
In 2007, a friend who had been in the Air Force suggested Clark try going back to Vietnam. So he went for it. He landed in Saigon and was waiting nervously at immigration when the humidity hit him, then the smell ― and then he saw people. The memories came right back. He wanted to turn around.
But he didn't. In fact, the trip turned out to be a positive experience. He couldn't believe how welcoming the Vietnamese people were. He visited several other times, and in 2013, he returned to stay for a year.
Clark likes to visit the Marble Mountains outside Da Nang, which he used to climb when he was stationed here. He watches the sunrise and looks out over the landscape ― sometimes it's cloudy, sometimes it's rainy. But the sun always comes up.
"When I'm in the United States, the American war in Vietnam haunts me every day and every night. I see many sights, and I see those faces," he said. "But when I'm in Vietnam and I'm on the top of Marble Mountain and I'm looking around and I don't see no flares, no tracers, no choppers, no gunfire, no artillery fire, no rounds going over your head ― the American war was over 40 years ago. They're at peace here. And I find peace here."
David talks about how living in Vietnam has helped him come to terms with his experiences from the war. Listen above.
As everyone sat around the big kitchen table enjoying Ushi's homemade yogurt for dessert, Clark offered guests glasses of Johnnie Walker Red Label scotch. He gave one to George Mische, another participant on the trip. Mische burned draft cards with homemade napalm in 1968 as part of the Catholic group that became known as the "Catonsville Nine."
Searcy told the group his story of first returning to Vietnam after the war, describing how he panicked as his plane approached the Saigon airport.
His anxiety was so intense that he would have turned the plane around, he said. But he couldn't. 
The group listened, smiling and nodding over their shared history. 
As the evening drew to a close, Searcy's tour participants bid goodbye to their hosts. They got back on a bus and made their way to their hotel. The next morning they'd eat warm, salty fried rice or pho, a traditional Vietnamese soup, at the hotel breakfast buffet before heading to the airport. From there, they'd fly south to Saigon.
Clark left the house and walked down dark, warm streets to one of his favorite local cafes. He smoked thuoc lao, a Vietnamese tobacco, out of a water pipe, the bubbles gurgling. Motorbikes hummed along past the café, and he greeted the two children inside the shop. It's his favorite place in the city, he said.
Heading back home afterward, he called "hello, hello" to the Vietnamese people he passed. They smiled and waved back.
REAL LIFE. REAL NEWS. REAL VOICES.
Help us tell more of the stories that matter from voices that too often remain unheard.