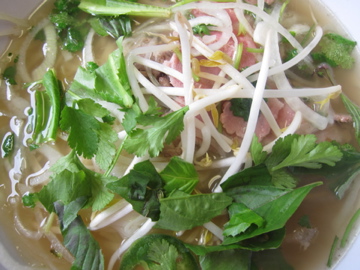 A steaming bowl of the most popular Vietnamese dish in the U.S., pho, at Pho Binh Trailer in Houston, Texas.
Before the end of the Vietnam War in 1975, the number of Vietnamese immigrants in the U.S. -- and Vietnamese restaurants! -- was practically nil. By 1980, however, nearly 250,000 Vietnamese had moved to the U.S., a statistic which never stopped growing; the most recent national census in 2010 found the population of Vietnamese Americans to be closing in on 2,000,000.
So is it any wonder that the number of Vietnamese restaurants -- though still dwarfed in the U.S. by the legions of Chinese restaurants, sushi bars and Thai restaurants -- is growing steadily? In fact, the Vietnamese boomlet makes a great deal of sense, in these diet-conscious times -- since Vietnamese cuisine is one of the lighter, fresher manifestations of Asian cooking, perfectly in key with our national taste of the moment.
And the dish that's leading the way, in all its one-syllable glory... is pho (pronounced FUH?, with an upward, interrogative glide)... a rice-noodle soup, usually made from a light, spicy beef stock, typically enhanced with thin slices of beef from various cuts. It was once a specialty of Hanoi, but has become ubiquitous in Vietnam, with many families there enjoying pho three times a week.
But the touch that really sells it in have-it-your-own-way America is the add-in factor. Along with every bowl, you are served a platter of fresh, leafy, Southeast Asian herbs that you can drop whole into your pho -- lots of them, so it ends up looking like a salad-topped soup! -- or hand-torn into smaller pieces. Don't think of missing the licorice-like Thai basil, the cilantro, or the rau, a kind of long, serrated-leaf, firm-chewing cilantro. You are also served fresh bean sprouts, fresh chiles, lime for squeezing... and you have access to the pho-doctoring hot sauce (sriracha) served on every table, as well as the funky-salty Vietnamese fish sauce that deepens the flavor.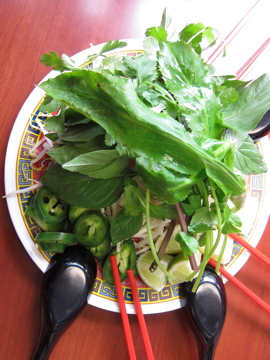 Pho Binh Trailer's plate of fresh herbs, bean sprouts, green chiles and lime for mixing into pho.
Food-minded urban residents all over the U.S. have been discovering this treat, usually at the small group of Vietnamese restaurants clustered at the edges of various Chinatowns (such as the strip of pho restaurants on Baxter Street in Manhattan's Chinatown). But if you want the very best pho in America, you have to seek out the Vietnamese communities in those few American cities with very large Vietnamese populations. California leads the list, with almost 300,000 Vietnamese Americans in and around L.A., and another 125,000 in and around San Jose.
For me, however, the most compact and desirable of these delicious urban enclaves is in Houston, Texas (over 100,000 Vietnamese Americans), where many of today's parents and grandparents were in the original waves of "boat people" who fled Vietnam in 1975. They came to the southeast Texas coast to work in the familiar shrimping industry -- and, 35 years later, their traditional culture is still vibrant in shops and restaurants in the Houston suburb of Alief, sprawling across and around Bellaire Boulevard, south of Hobby Airport.
So where to go fo' pho in this Texan welter of soupy possibilities?
On a visit to Houston a few days ago, and after asking a lot of questions, I was steered by local pho fanatics to one restaurant above all: Pho Binh Trailer, universally acclaimed as the best pho restaurant in Houston.
After paying a visit to Pho Binh Trailer -- a rustic conglomeration of trailers, porches, barred windows, and a lovely view of the drainage ditch out back -- I'm willing to call it the best pho restaurant in the country.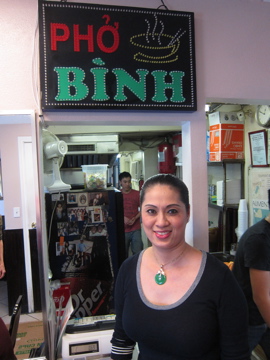 The reception is warm at Pho Binh Trailer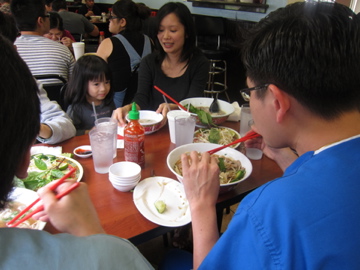 The clientele at Pho Binh Trailer is largely Vietnamese American
Why so good? Any pho restaurant rises or falls with its basic beef broth. This one is cooked for twelve hours, and contains the typical array of spices such as star anise and cinnamon. However, though these spicy flavors can often take over a pho, the Pho Binh version is subtle and beefy, miraculously clean. It is so good that there's a limited quantity of it; if the cooks run out of this broth on a busy day... they simply close down the restaurant.
When you order pho at a pho restaurant, the variety of meats in your bowl is up to you -- everything from long-cooked specialties such as beef brisket, beef tendon and beef tripe, to raw steak slices that only need a dip or two in the hot broth to develop their flavor (while holding their redness).
At Pho Binh Trailer, the beefy add-ons are particularly rich-textured and deep-flavored. I love the pho variation called Tai Nam Gau, which contains rare steak, brisket and "crispy fat" (which turns out to be a fatty cut of brisket). If you're into the rare steak thing above all, ask for some raw beef on the side; you'll be rewarded with a plate of super-cold, super-tender steak slices that warm up perfectly after a brief dip in the pho.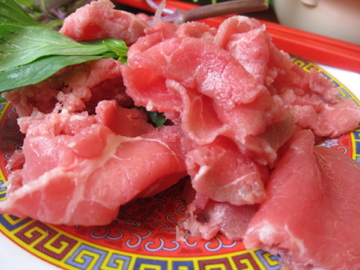 The raw sliced beef "side" at Pho Binh Trailer.
You will also find some of the best rice noodles in the country here -- fresh, not the usual dried rice noodles, hand-made specifically for the restaurant -- and, in an awesome Texas adaptation, wonderfully sweet and vibrant jalapeños on the herb plate. Fear them not.
Pho Binh Trailer -- which is now a crowded weekend treat for many Houstonians -- was founded in 1983 by the Nguyen family, who still run the operation.Their brand of pho ($5.50 for a regular bowl, $6.45 for a large bowl) is such a hit that they have expanded several times; today, you can find four Pho Binh establishments in the Houston area. But there ain't nothin' like pulling up to the originial -- confusingly, sometimes called Pho Binh, sometimes called Pho Binh 1, and, most appealingly and frankly, often called Pho Binh Trailer.
It will always be Pho Binh Trailer to me, and always worth a detour.
Pho Binh Trailer
10928 Beamer Rd.
Houston, Texas 77089
281.484.3963
If you're interested in making pho at home on a chilly late-winter day, here's a simple, streamlined, delicious recipe from my book It's ALL American Food:
Basic Vietnamese Pho
makes 4 main-course servings
4 pounds meaty beef bones
5 quarts water
1 large onion, unpeeled
6 whole cloves
a 2" piece of fresh ginger root
4 large shallots, unpeeled
3 whole star anise
a 3" cinnamon stick (preferably Vietnamese)
8 ounces Vietnamese rice noodles (bánh pho)
8 ounces sirloin or filet, very thinly sliced
1 cup mung bean sprouts
1 loosely packed cup cilantro leaves
1/2 cup sliced scallions (each slice 1/4" thick)
2 tablespoons Vietnamese fish sauce (nuoc mam), or to taste
Accompaniments:
2 loosely packed cups of cilantro leaves
1 loosely packed cup of mint leaves
1 loosely packed cup of Thai basil leaves (or other basil leaves)
1 cup mung bean sprouts
1 cup sliced scallions (each slice 1/4" thick)
2 small red hot chilis (such as Thai bird peppers), thinly sliced
Vietnamese fish sauce (nouc mam)
hot sauce (like Sriracha sauce from Thailand)
2 limes, each cut into 4 wedges
1. Place the bones in an 8-quart stock pot, cover the bones with the water, and bring to a boil over medium heat. As soon as the broth comes to a bowl, lower the heat, bring to a simmer, and cover.

2. Meanwhile, peel the loose outer skin from the onion, but leave some skin on. Cut in half and stud each half with 3 cloves. Cut the ginger in half, and cut the shallots in half. Place a heavy cast iron skillet over high heat, and moderately char the onion, ginger and shallots. Add to the pot. Add the star anise and the cinnamon stick. Simmer the broth for 4 hours, occasionally skimming any impurities from the surface.
3. Strain the broth, clean out the pot, and return the broth to the cleaned pot. Let the meat bones cool slightly, then take off the meat, shred and set aside. Discard the bones.
4. Cook the broth, uncovered, over medium-high heat. Reduce until you have about 8 cups of liquid.
5. While broth is reducing cook the rice noodles in a separate pan of boiling water, taking care not to overcook them. Drain.
6. Divide the noodles among 4 large, deep soup bowls. Divide the thinly sliced meat and the reserved shredded meat into 4, and add to the bowls. Divide a cup of bean sprouts, a cup of cilantro and 1/2 cup scallions into 4, and arrange on top of the meats.

7. Bring the broth to a boil, and add fish sauce to taste. Season with salt, if necessary. Pour a 1/4 of the broth into each bowl. Serve at once with accompaniments.
REAL LIFE. REAL NEWS. REAL VOICES.
Help us tell more of the stories that matter from voices that too often remain unheard.