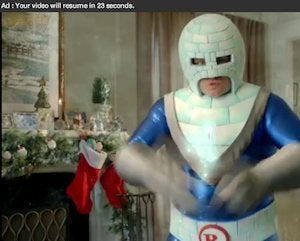 The television industry is betting that viewers will watch many more online ads than they're currently shown, according to the New York Times' Brian Stelter.
Currently, sites like Hulu show just a few short ads per video. But Stelter writes that networks have conducted studies which show that viewers will watch around the same amount of content online no matter how many minutes of ads are inserted.
Turner, the parent company of TBS and TNT, conducted a test by sending a random set of viewers to a specially built online player on the two channels' sites. Some viewers were shown roughly a minute of ads per episode; others were shown 8 to 10 minutes; and the last group was shown 16 to 20 minutes. Even some viewers watching half-hour sitcoms were given 16 to 20 minutes of ads -- more than twice the amount they would see on television.
As Stelter writes, the results were surprising:
Viewers of 30-minute TBS sitcoms like "Meet the Browns" watched, on average, 40 percent of the episode, including the ads, if there was one minute of ads and 37 percent of the episode if there were 16 minutes of ads. Viewers of hourlong TNT shows like "Memphis Beat" watched 59 percent of the episode if there were one minute 15 seconds of ads, and 49 percent of the episode if there was 20 minutes of ads.
CW did a similar study, with similar results. These studies could encourage the networks to stuff their online videos with more ads than ever.
Would you be willing to watch a lot more ads in online videos? Tell us below.
Calling all HuffPost superfans!
Sign up for membership to become a founding member and help shape HuffPost's next chapter