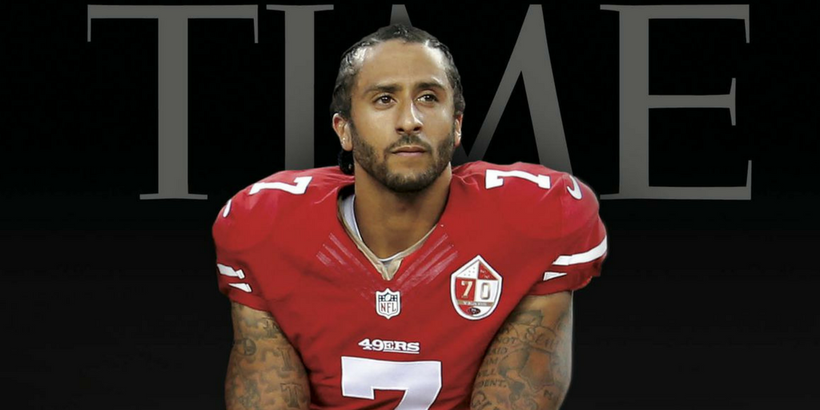 The following words and opinions are that of my friend and fellow Podcast Co-host Sean James. Myself and Sean share the same views with regards to this article. Enjoy the read and be sure to checkout The Left Side Strong Side Podcast.
As 2018 starts with its first holiday of the year Dr. Martin Luther King Jr. birthday, Americans can look forward to day off work, and setting some new year resolution for the year to come ⎯the two go hand-in-hand in our culture. This year, however, it seems that America is not just talking about NFL playoffs or NBA All Star ballots ⎯ our headlines have taken an entirely different direction. I would have never thought that Colin Kaepernick would still be driving media headlines without actually being on an NFL roster making plays, or that President Trump would be picking fights with NFL owners and professional athletes from the NBA and the NFL in particular. The notion that Steve Kerr and Greg Popovich⎯ two NBA championship coaches ⎯would have such pointed words for our President never even crossed my mind, until it happened. We seem to find ourselves in a very crazy time where politics and sports are unmistakably intertwined and have become one of the most polarizing issues in our country's narrative.
I often hear that there is no room in sports for social or political issues, but that argument has been blown out of the water this past year. First with Colin Kaepernick, as he used his platform to call attention to a social issue about which he felt very strongly, and then with President Trump who politicized and inflamed Kaepernick's peaceful⎯ and, in my opinion, respectful⎯ protest with his divisive rhetoric and calls to action. As a former athlete who has studied human behavior and worked with children and adults over the last 25 years, I strongly believe that sports have always brought people together. But recent events have caused sports to become a source of division for us instead. So I have begun to ask myself some big questions. How have we allowed ourselves to let a positive element of our society such as sports become so toxic? What happened to resolving issues that are important to everyone in order to feel safe and succeed? When did being right become paramount to being good?
Colin Kaepernick was a biracial child who was born in Milwaukee Wisconsin, to a single white mother and a black father and was quickly placed for adoption. He was adopted by middle-class white parents (who were already raising two biological children of their own), raised to be a devoted Christian, and later, graduated on the dean's list from the University Nevada. When Colin was 4, his father moved the family to Turlock, California⎯ a suburban neighborhood with an overwhelmingly white population of about 73,000, where only 2 percent of residents identify as African-American. Colin Kaepernick had a comfortable upbringing, and was afforded many opportunities that he might not have had if the Kaepernick's had not adopted him. His upbringing clearly included a strong sense of self, as well as a moral compass and social consciousness that were never extinguished by fame or success.
Since it was Colin Kaepernick who first ignited controversy by taking a knee to bring awareness to social injustice, I started to think back to his initial act, and under what circumstances it might have been perceived or received differently. What if Kaepernick kneeled for a cause other than the mistreatment of black people by police officers? What if, instead, he had kneeled for a cause such as mental health awareness for veterans, domestic violence, or ALS? Would so many of us still have had a problem with him kneeling? Would we still have thought that he was being disrespectful? Or would a more universal cause, that was more widely understood, been received far more positively? Would we perhaps have even honored him for bringing attention to such an important issue?
Kaepernick made the cause for which he was kneeling known—he was kneeling to protest the treatment of people of color in the United States and ongoing issues with police brutality. However, I truly believe that the reactions to his protest—and the ones that followed—lay somewhere in between knowing the reason, and understanding it. In response to questions about his protest Kaepernick once said, "This stand wasn't for me I chose to sit to protest the oppression of people of color in the United States and ongoing issues with police brutality. This is because I'm seeing things happen to people that don't have a voice, people that don't have a platform to talk and have their voices heard, and effect change. So I'm in the position where I can do that and I'm going to do that for people that can't." Kaepernick told the country why he was kneeling, but unfortunately, I think that a lot of people (our president among them) did not stop to acknowledge that knowing why is very different than actually understanding.
I would like to think that Kaepernick was not protesting against, but for something. As a black man in this country, I have unfortunately had many first-hand experiences that give me an all to clear understanding of what Kaepernick was protesting for. But for all those millions of people in our country who have had the privilege NOT understanding his protest from personal experience, I would like to assert that not having to have had those experiences does not give you the privilege of not even trying to understand them—you do not get that pass! None of us should have the "privilege" of not having to understand those who are not like us—their struggles, or their triumphs.
What if President Trump had addressed this issue on his first day in office? He could have immediately scheduled a meeting with all the NFL players and the owners to have a conversation about the issue in order to show citizens that he had compassion for the protest, and that he genuinely wanted to understand why players were kneeling, and work toward a solution to the problem. It could have been a golden opportunity for President Trump to show the country that he was willing to listen to an issue many black people feel is a critical problem in their communities. An opportunity to show a country comprised of people from all different walks of life that our differences are what make us great, but that since we are so different and have had such different experiences, it is critical that we take time to understand and celebrate them. An opportunity to show Americans that we cannot only care about the issues that effect each of us directly, but that we must care about the issues that affect others as well. Ironically, Time Magazine revealed that both Trump and Kaepernick are up for 2017 Person of the year. Two men, on opposite ends of one of the most controversial issues of the year, both being recognized. This is the diversity that should lift this country up, not pull it down.
With regard to the specific issue that Kaepernick has been so diligently fighting for— better relations between the police and people of color in this country—I believe that citizens must feel confident that the police in their communities are there to support and defend them. Likewise, the police must feel confident that they have the support and respect of the citizens they serve. In order to understand the importance of healing the relationship between citizens and police within our communities, we must first understand that our perceptions influence our actions. Each of us has the ability to educate ourselves in order to alter our perceptions for the betterment of our communities— to make the effort not just to know, but also to understand.
Our perceptions can tip the scales! Specifically—as athletes—regardless of our race, religion, or party, we wield a great deal of power and influence. I believe that power is one we are obligated to use responsibly. We hold the power to raise our voices for change. I do not believe in vilifying police officers⎯ I feel that doing so is a dead end for all of us. We need to work toward programs that celebrate our youth's success stories instead of branding them as thugs. Additionally, we must relearn to view our police officers once again as heroes and mentors, not villains or enemies.
There are leaders and there are those who lead. Leaders hold a position of power and authority, but those who lead inspire us. Whether they are individuals or organizations, we follow those who lead, not because we have to, but because we want to. We follow those who lead not for their benefit, but for our own. I truly hope that we get back to the core of why we play sports and how much it has done for our country. Do you really care what political party your favorite player is affiliated with if he or she is working for your team to win? Sports have the ability to bring unity and peace to a world that has been divided by religion, politics, culture, race and sexual orientation. Sports bring hope to the hopeless and unite us all. I pray that in the new year we can go back to using sports in the way they have been used for so many years, to bring us together instead of letting people use them as a tool to divide us. Just like our favorite teams, we are all better, wiser, and stronger when we try to understand each other and work together toward a shared goal. In 2018, let us consciously choose to make that goal one of love, peace, understanding, and positivity!
REAL LIFE. REAL NEWS. REAL VOICES.
Help us tell more of the stories that matter from voices that too often remain unheard.
This post was published on the now-closed HuffPost Contributor platform. Contributors control their own work and posted freely to our site. If you need to flag this entry as abusive,
send us an email
.