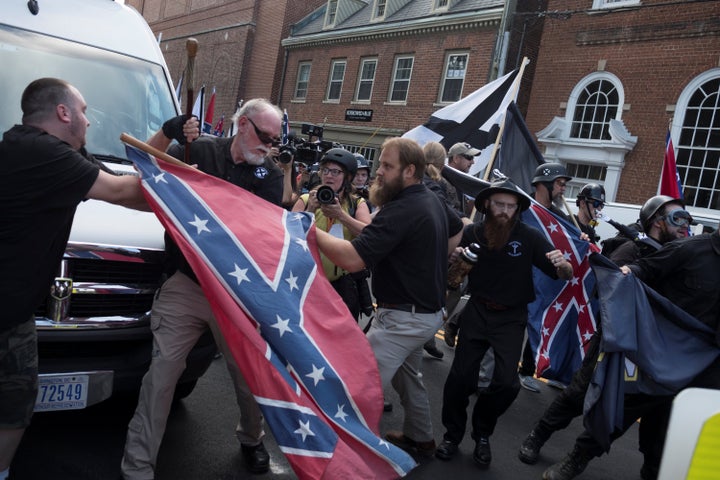 Americans are more likely to see the Confederate flag as a symbol of heritage than one of hatred, according to a new Economist/YouGov poll taken in the aftermath of the violence last weekend in Charlottesville, Virginia.
By a 5-percentage-point margin ― 43 percent to 38 percent ― those polled say the flag mainly represents Southern pride rather than racism.
And by 54 percent to 26 percent ― a 28-point margin ― the public sees statues of Confederate war leaders such as Gens. Robert E. Lee and Thomas "Stonewall" Jackson as representing Southern pride, rather than racism.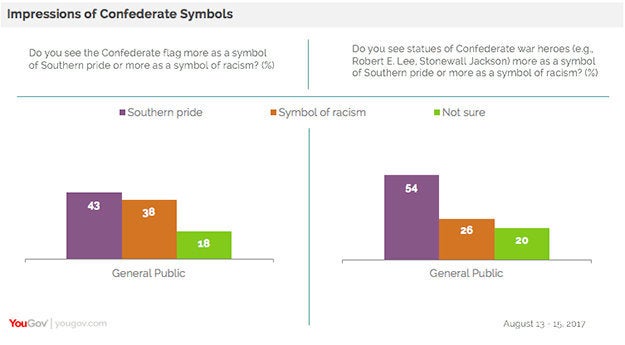 Views are divided along racial lines. Black Americans are 32 percentage points likelier than white Americans to consider the Confederate flag a racist symbol, and 27 points likelier to say the same about Confederate statues, according to the poll. The racial divide is especially pronounced in the South, with black Southerners 40 points likelier than white Southerners to consider the Confederate flag racist.
But there's an even wider gap along political lines, with voters who supported Hillary Clinton in last year's presidential election 65 percentage points likelier than those who supported President Donald Trump to consider the flag primarily a symbol of racism
Opinions on the Confederate flag were less positive in June of 2015. Following the murders of nine black Americans by a white supremacist in a church in Charleston, South Carolina, 41 percent of Americans said the flag was largely a symbol of racism while 35 percent said it represented Southern pride. Just months earlier, 41 percent viewed the flag as emblematic of Southern pride, while 31 percent saw it as a racist symbol.
One potential reason for the different responses after Charleston and Charlottesville: Two years ago, politicians in both parties were condemning not only the killings at the church, but Confederate symbols. Then-Alabama Gov. Robert Bentley and then-South Carolina Gov. Nikki Haley, both Republicans, had the Confederate flag removed from the grounds of their state capitols. And GOP presidential candidates including former Florida Gov. Jeb Bush and Sen. Rand Paul (R-Ky.) spoke out against the flag.
But even after the Charleston murders, the public ― including Democrats and black Americans ― leaned against changing the names of streets, school buildings and public facilities memorializing Confederate figures.
Today, pulling down statues commemorating the Confederacy remains a difficult sell. In another survey released Wednesday, conducted by Marist College for NPR and PBS Newshour, just 27 percent of Americans said that statues honoring leaders of the Confederacy should "be removed because they are offensive to some people," while 62 percent said they should "remain as a historical symbol."
"African Americans are divided on the question — but a plurality agree they should stay, 44 percent to 40 percent. Two-thirds of whites and Latinos believe the statues should remain as well," NPR's Domenico Montanaro said. "The only groups in which a plurality said the statues should be removed are Democrats, especially those identifying as 'strong Democrats,' those identifying as 'very liberal,' and those who disapprove of the president."
The NPR/PBS NewsHour/Marist poll surveyed 1,1125 Americans on Aug. 14-15, using live interviewers to reach both landlines and cell phones. The Economist/YouGov poll consisted of 1,000 completed interviews conducted Aug. 13-15 among U.S. adults, using a sample selected from YouGov's opt-in online panel to match the demographics and other characteristics of the adult U.S. population.
Popular in the Community