"Only in painting have I found happiness," Elisabeth Louise Vigée Le Brun confided at the end of her long, prolific career. Though Vigée Le Brun's high society portraits earned her great fame during her lifetime, her sentimental style fell out of fashion and she largely dropped off the radar. Her long overdue retrospective, "Vigée Le Brun: Woman Artist in Revolutionary France" opens at the Metropolitan Museum of Art in New York (February 15 to May 15, 2016).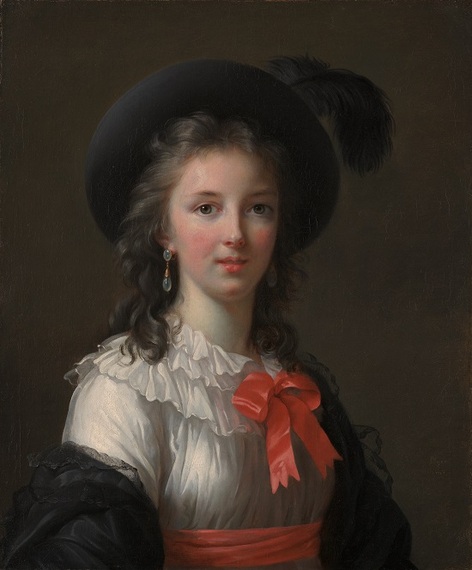 Elisabeth Louise Vigée Le Brun, Self-Portrait with Cerise Ribbons, ca. 1782. Oil on canvas, 25 ½ x 21 ¼ in. Kimbell Art Museum, Fort Worth, Texas
Organized at the Met by Katharine Baetjer, curator in the department of European paintings, the exhibition follows Vigée Le Brun's career chronologically -- from Paris to her peripatetic years as an émigré artist and return to France. According to Baetjer, preparation for the exhibition confirmed Vigée Le Brun's technical skills. "Her works on both canvas and panel are exceptionally well preserved and, as far as one can know, seem to look much as they did when they were painted."
The show opens with Augustin Pajou's terracotta portrait bust of the young artist. Born in Paris in 1755, Vigée Le Brun learned to paint from her father, a professional pastel portraitist. After his death, the precocious teenage talent went to work to support her family. At 21, she raised eyebrows by marrying a man twice her age, Parisian art dealer Jean Baptiste Pierre Le Brun.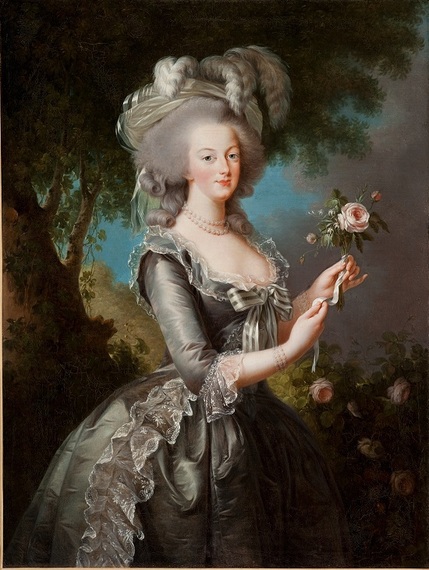 Elisabeth Louise Vigée Le Brun, Marie Antoinette with a Rose, 1783. Oil on canvas. 116.8 x 88.9 cm. Lynda and Stuart Resnick
The marriage was short lived, but Vigée Le Brun's well-connected husband helped her attract the notice of Marie Antoinette. She won over the young queen with her elegant brushwork and talent for painting luxe fabrics.Three full-length portraits are on view in the U.S. for the first time, starting with Marie Antoinette in Court Dress, a gift for her mother, Austrian Empress Maria Theresa.
It took an edict from Louis XVI for the 28-year-old artist to gain admission to the Royal Academy of Painting and Sculpture -- one of just four women members. Because women were barred from practicing history painting, Vigée Le Brun focused on portraiture, developing a unique style. She portrayed many of her female subjects informally, wearing chiffon dresses and loose, unpowdered curls.
Meanwhile, Vigée Le Brun's royal patrons were growing increasingly unpopular. In 1787, in an effort to polish the queen's badly tarnished image, Vigée Le Brun painted Marie Antoinette and Her Children, an ambitious propaganda piece depicting the queen as a devoted mother. Louis XVI and Marie Antoinette were soon arrested, tried, and beheaded.
Because of her ties to the queen, the artist and her nine-year-old daughter fled Paris in disguise in 1789. A savvy businesswoman, Vigée Le Brun turned misfortune into a lucrative career, producing flattering portraits of royals and courtiers across Europe. After an initial stay in Italy, Vigée Le Brun spent three successful years in Austria, followed by six years in Russia, periods well represented in the show.
Interspersed throughout the eighty plus works here are four self-portraits, which Vigée Le Brun used to advertise her talent. These include a recently discovered drawing from her twenties, along with a newly cleaned picture from Florence's Vasari Corridor. Wearing a black dress trimmed in white lace and a red sash, holding palette and brush, Vigée Le Brun stops painting for a moment to look engagingly at her viewers. Three portraits of the artist's daughter are also on view.

Despite her celebrity, Vigée Le Brun got off to a shaky start with Russia's Catherine the Great, who despised a sentimental double portrait of her young granddaughters. She had greater success with a more formal portrait of Catherine's beautiful daughter-in-law, wisely adding a portrait bust of the empress to the background. A year after Catherine the Great's death, Vigée Le Brun painted one of the empress's early lovers, the deposed king of Poland, Stanislaw August Poniatowski. Vigée Le Brun would call Russia her second homeland.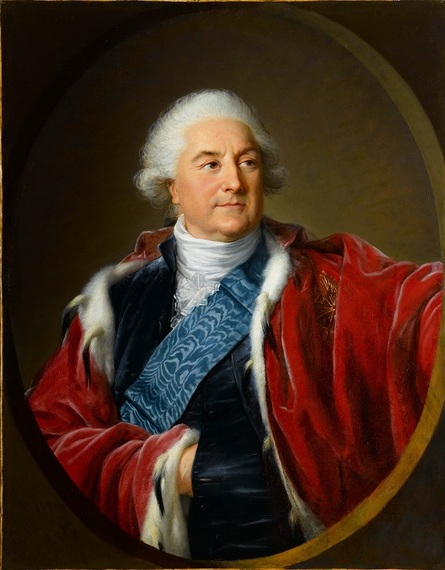 Stanislaw August Poniatowski, formerly King of Poland, 1797 Oil on canvas, oval, 38 7/8 x 30 ¾ in. Musée National des Châteaux de Versailles et de Trianon, on deposit from the Musée du Louvre
Vigée Le Brun returned to France in 1805, where her new clients included Napoleon's sister, Caroline Murat, the future Queen of Naples, and Her Daughter. The exhibition closes with four later French period pictures from private collections. In another masterstroke of marketing, the septuagenarian dictated her memoirs, equally colorful portrayals of the personalities she'd painted.
Susan Jaques' upcoming biography, The Empress of Art: Catherine the Great and the Transformation of Russia, will be published in April by Pegasus Books.
Popular in the Community