Students and officials from the University of North Carolina, North Carolina State University and Duke University came together Wednesday -- setting aside some of the most intense college rivalries -- for a vigil in honor of the Chapel Hill shooting victims.
Deah Barakat, a dentistry student at UNC-Chapel Hill; his wife, Yusor Abu-Salha, who was planning to enter the same dental studies program; and her sister, Razan Abu-Salha, an NCSU undergrad, were killed Tuesday.
"We want the legacy of these three wonderful students to be a legacy of hope and understanding," said UNC-Chapel Hill Chancellor Carol Folt at the event.
UNC system President Tom Ro, NCSU Chancellor Randy Woodson, Duke Vice President for Student Affairs Larry Moneta and North Carolina Central University Chancellor Debra Saunders-White joined Folt at the vigil, as did friends and family of the slain students. UNC-Chapel Hill, NCSU and Duke are key players in the Research Triangle, a region of the state known for its concentration of technology companies and research universities.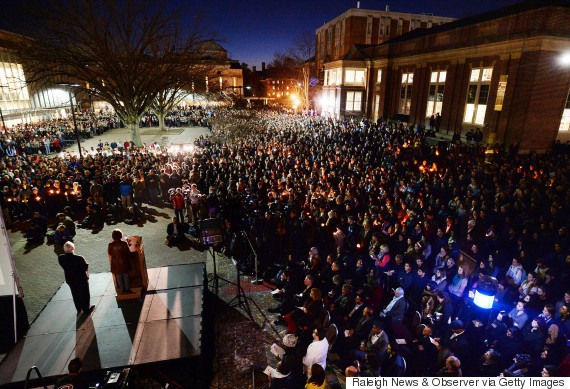 UNC-Chapel Hill Chancellor Carol Folt speaks to mourners gathered on campus on Feb. 11, 2015. (Chuck Liddy/The News & Observer/TNS via Getty Images)
Police have arrested neighbor Craig Stephen Hicks, 46, in the shooting. Law enforcement initially suggested the killings might have been sparked by a dispute over a parking space, but the victims' family members have argued it was a hate crime.
"Having been here for nine years and having attended many vigils myself in support of so many causes that this amazing institution is proud of, I never once thought that I would one day be here for my brother," Suzanne Barakat, Deah Barakat's sister, said Wednesday, according to WNCN.
Before You Go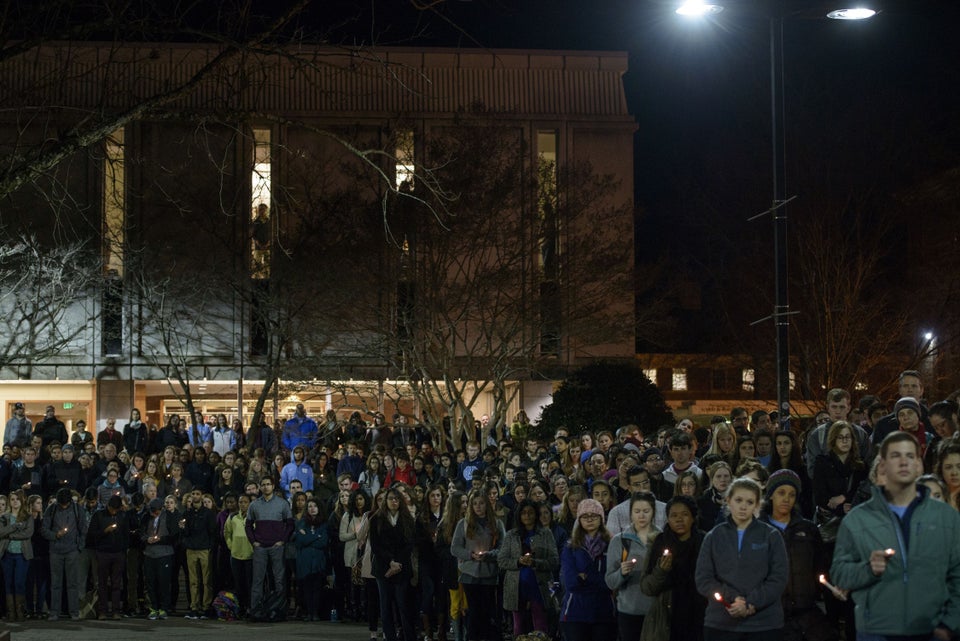 Chapel Hill Shooting Memorials
Popular in the Community