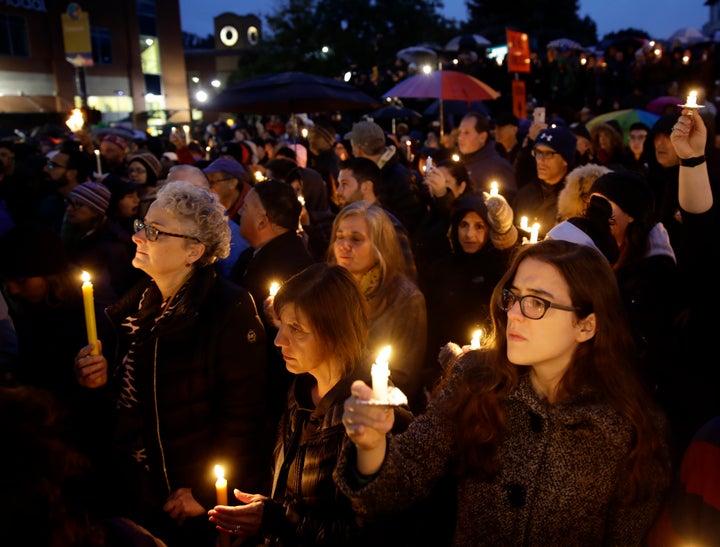 Thousands of people gathered in Pittsburgh's Squirrel Hill neighborhood Saturday night to mourn the 11 people killed and several others injured after a man opened fire at the Tree of Life synagogue that morning.
To pay tribute to the lives that were lost, the mourners crowded the streets in the neighborhood, holding candles, singing songs and pleading silently with signs to end the hate and violence.
"The sad part is that people are waiting to find out who the dead are because it's such a close-knit community there's like one degree of separation and chances are everyone will know at least one person who died," Barkley said.
Students from the nearby Taylor Allderdice High School organized the candlelight vigil, which began inside the Sixth Presbyterian Church before moving to the streets, in the hours after the shooting. More than 3,000 people attended the event to show their support, according to the Pittsburgh Post-Gazette.
"This was a very emotional, beautiful vigil, so proud of our community, our hearts are broken from this senseless, senseless hate crime against the Jewish community," Pennsylvania Rep. Mike Doyle (D), who was in attendance, said, according to CBS Pittsburgh.
"To see these young students say what they had to say and to show that strength and the sense of community that exists here, that this is not something that we're going to let break us, was really inspiring," he continued.
Allderdice High School is less than one and a half miles from where the massacre took place.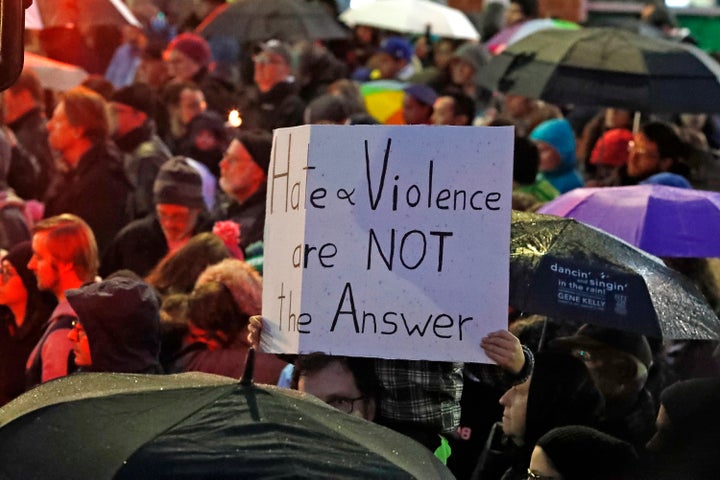 Robert Bowers, 46, is accused of opening fire at the Tree of Life synagogue in an apparently anti-Semitic attack, leaving nearly a dozen people dead and injuring six others. The synagogue was reportedly crowded at the time of the shooting, with at least three services and events scheduled for the day.
Officials said Bowers, who reportedly had an "assault rifle" and at least three handguns, announced his presence to the congregation by shouting, "All Jews must die," before opening fire.
He was later arrested after exchanging fire with police officers. The shooting is considered one of the deadliest attacks on Jewish people in recent U.S. history.
President Donald Trump called the shooting "evil" and said anti-Semitism was poison to the country during a rally in Murphysboro, Illinois.
"This evil anti-Semitic attack is an assault on all of us. It's an assault on humanity," Trump said at a rally in Illinois. "It will require all of us working together to extract the hateful poison of anti-Semitism from our world."
Speaking at the vigil, Sophia Levin, a sophomore at Allderdice High School whose mother and grandparents attended Tree of Life synagogue, said that the mass shooting has changed her.
"I am a different Jew today than I was yesterday," Levin also said, the Post-Gazette reported. "I hope that the Jew I am today will be stronger."
See photos of the vigil below.
CORRECTION: A previous version of this story said the vigil was held outside the Tree of Life synagogue. It was actually held elsewhere in the neighborhood.
Calling all HuffPost superfans!
Sign up for membership to become a founding member and help shape HuffPost's next chapter