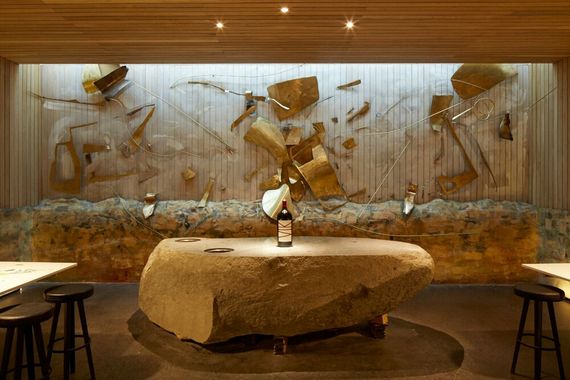 Ten years ago I wrote of Chilean wines, "I suspect that if most winedrinkers think at all about Chilean wines, they think of Concha y Toro, whose fans down enough of its $5 Chardonnays and Cabernets to make it the number two wine import to the U.S."
Since then Chile has emerged as one of the world's premier wine regions, with a slew of names like Veramonte, Los Vascos, Le Dix, Cousiño Macul, and Montés Alpha earning high marks from the wine trade and media.
The appeal of modern Chilean viticulture, especially among foreign investors, is that the country's isolated geography of oceans and mountains protects its vineyards from pestilents like phylloxera, and to this day Chile's strict agriculture laws prevent importation of any foreign plants.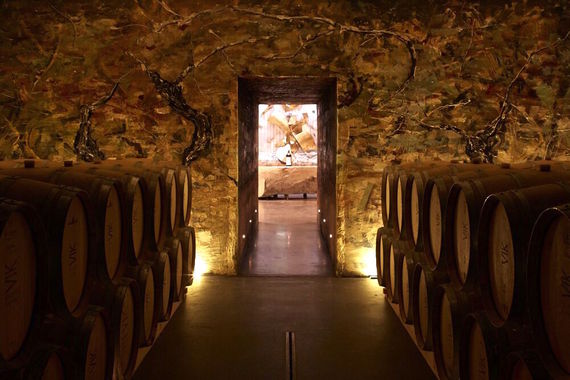 One of the most talked-about new wineries the oddly named VIÑA VIK, which has just opened a holistic retreat in Millahue ("place of gold") to join others that include Estancia Vik José Ignacio, Playa Vik José Ignacio, Bahia Vik José Ignacio and La Susana in Uruguay, owned and managed by Alexander and Carrie Vik. The new resort is part of the growing agro-tourism business worldwide. Millahue is part of the purchase in 2006 of 11,000 acres of land spread over twelve valleys. Here Alexander Vik, along with businessman turned winemaker Patrick Valette, did extensive research into the finest soil and terroirs and clonal rootstocks to produce European varietals like Cabernet Sauvignon, Carménère, Syrah, Cabernet Franc and Merlot. The winery was designed by one of Chile's foremost architects, Smiljan Radic.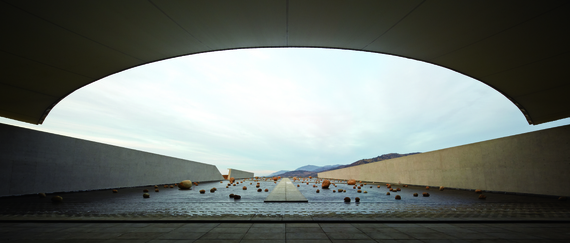 Weather stations monitor climate changes, special irrigation systems provide plenty of water, and harvesting of the grapes is done at night when the air is cool. The majority of the winery building is located underground to allow for a naturally cooling process during the winemaking, at a consistent temperature of 57 degrees. The roof of the winery features a stretched, transparent fabric to allow for natural sunlight. The wines are then fermented in stainless steel tanks, with aging done in new French barrels, for 20 to 24 months.
"Making wine in a new terroir is a slow evolution," Valette told me over dinner in New York. "You have to feel free to make good wine. It literally becomes your life to the exclusion of all else." Nevertheless, Valette and his wife have managed to raise nine children.
Valette is son of the former owners of the illustrious Château Pavie in Saint-Émilion. Born in Chile, educated in France (he speaks French, Spanish and English) and trained at the Robert Mondavi estate in Napa Valley, he spent years as manager of various wineries in France, becoming owner of Château La Prade and CEO of Château de Musset. Presently he owns Château de Rougérie in Entre Deux Mers, and still consults for several other French wineries. He joined VIK in 2006.
This year VIK has released its 2011 vintage in the Bordeaux style, and at a Bordeaux price: $140, making it perhaps the most expensive wine made in Chile today. Valette insists it is worth the price because he believes it ranks with some of the best crus in Bordeaux and because he knows how much time and effort has gone into producing it. The winery's mantra is from Aristotle: "The whole is greater than the sum of its parts," applied to every aspect of the interaction between man and nature, which includes technology and careful regard for the elements of soil and climate.
"We make wine to drink, not to taste," he said, meaning he is not interested in winning awards from tasting panels but to allow winedrinkers to savor the wine slowly, enjoyed with food that is complimentary. Upon tasting a terrine of foie gras with fruit preserves, he declared that "The sweetness of the preserves does not work with the wine. They fight each other."
Indeed, VIK 2011 is a wine best enjoyed with simple foods, not least beef, sweetbreads, and game like squab or rabbit. I found it a delicious wine that I would never drink on its own, without food, which proves that the whole being more than the sum of its parts.
It is a big wine but not high in alcohol, proving that you can achieve richness along with elegance, so that the wine is a pleasure when sipped, from the tip of the palate to the back of the throat. Its components of 55 percent Cabernet Sauvignon, 29 percent Carménère, 4 percent Syrah, 7 percent Cabernet Franc and 5 percent Merlot give it both breadth and depth, and the unusual addition of the Syrah brings out a higher fruit component, while the Merlot softens the wine, whose tannins are already loosening.
The fact that the vines are so young--just three to five years old--proves two things: First, the best Chilean soil and sun, combined with irrigation (the valleys get little rain) are capable of producing exceptional, healthy varietals, and, second, a wine like VIK 2011 shows how total commitment, an holistic ideal of balance from many components can be achieved in a modern winery whose dependence on the state-of-the-art technology must be backed by centuries of tradition, and perhaps paying a little homage to the Chilean sun gods.