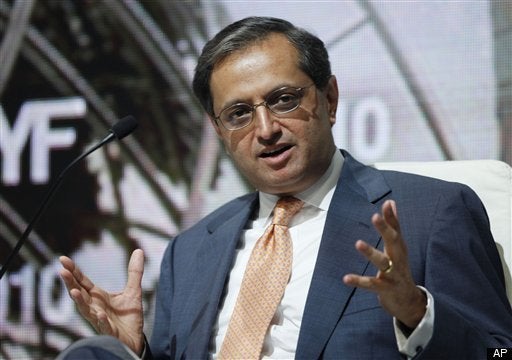 Vikram Pandit may soon be getting an extremely big raise. Early in 2009, the CEO of Citigroup vowed to work for a salary and bonus of just $1 per year until the bank returned to profitability. Now that the bank has posted two straight profitable quarters Citi's board will review Pandit's compensation package, the Wall Street Journal reports.
How much will Pandit get? JPMorgan chief -- and 2009 "Banker of the Year" -- Jamie Dimon pulled in $17 million last year, including a $1 million salary. Bank of America CEO Brian Moynihan will pull in a salary of $950,000 in 2010 (exclusive of bonus).
But because the U.S. government still owns roughly 17 percent of Citigroup, there are limits on how much it can pay its top executives. The Emergency Economic Stabilization Act of 2008, the WSJ notes, "restricts the bonuses for a bank's 25 highest paid executives to no more than one-third of the employee's overall compensation for a given year."
"The Board is very pleased with the progress that the management team is making in restoring Citi to profitability," Mr. Parsons said in a statement on Friday. Mr. Pandit's "performance would merit" higher compensation, he said. The CEO's "decision is admirable but, beginning in 2011, the Board intends to compensate Vikram commensurate with the job of CEO of Citi."
CItigroup has also issued huge boosts in the salaries of its top executives, according to regulatory filings released today. The AP has more details:
John Havens, head of the bank's institutional clients group, will get a salary of cash and stock $9.5 million, with likely bonus of $4.75 million. Manuel Medina-Mora, head of consumer banking for the Americas gets $8 million, and a bonus of $4 million.
Chief Financial Officer John Gerspach will receive $4.17 million, and a bonus of $2 million.
The government still owns a 17 percent stake in Citigroup."

Calling all HuffPost superfans!
Sign up for membership to become a founding member and help shape HuffPost's next chapter