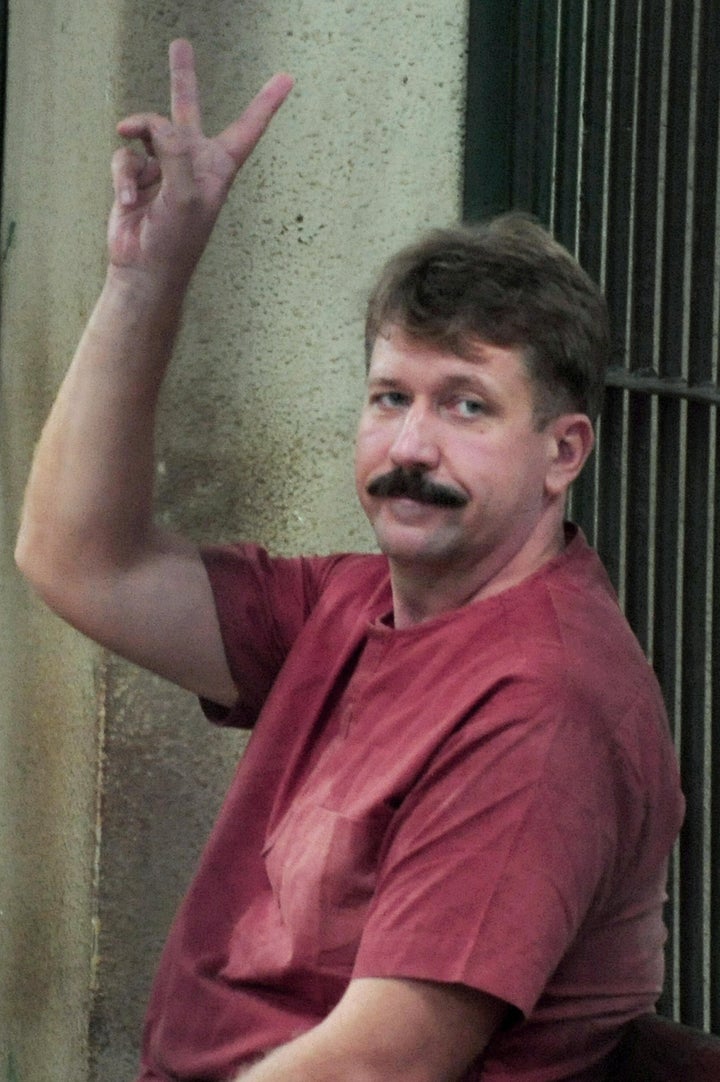 NEW YORK -- In March 2008, former Soviet military officer Viktor Bout stood in a Bangkok hotel lobby, waiting for an elevator with an avowed member of the FARC, a Colombian revolutionary group notorious for drug dealing, kidnapping and bombing civilian targets.
Upstairs was a senior FARC commander ready to discuss a massive airlift of arms into Colombia to be arranged by Bout and paid for with millions of dollars in drug proceeds.
"Let's go to war," Bout told the operative, Carlos, as the elevator doors opened.
"Like always," Carlos replied.
They were fateful words. As Bout quickly learned, Ricardo and the FARC commander were not militants but DEA informants, and the arms deal an elaborate international sting operation. Bout was arrested on an Interpol warrant that afternoon by Thai police, and two years later the Thai government agreed to extradite him to the U.S. to face terrorism charges in federal court.
On Wednesday, after a three week trial in lower Manhattan, a jury convicted Bout of all four counts against him, including conspiracy to murder American citizens and conspiracy to aid a foreign terrorist organization. He faces life in prison at his sentencing in February.
The verdict marks the end of the road for a man long considered the world's most notorious arms transporter.
"It closes the book on one of the most prolific arms traffickers of our time," said Kathi Lynn Austin, who tracked Bout for nearly two decades as an investigator for the United Nations and human rights groups. "This is a man who enabled war and atrocities."
In the chaotic aftermath of the Cold War, Bout, a Russian citizen, used his mastery of languages and his Eastern Bloc military connections to build a massive transportation network consisting of dozens of Soviet-era transport planes. According to U.S. and U.N. reports, Bout's planes carried vast loads of munitions and military equipment into the world's bloodiest war zones, including Congo, Angola, Liberia and Afghanistan.
A 2007 book, based heavily on damning U.N. reports, dubbed Bout the "Merchant of Death" and his exploits served as the inspiration for the 2005 film "Lord of War," starring Nicholas Cage, about a flamboyant weapons dealer.
During his New York trial, Bout's attorney, Albert Dayan, acknowledged his client's gun-running past, but argued that he had not violated any laws in doing so. "He did transport arms," Dayan told the jury. "It did not violate the law of any country."
In the end, however, Bout was convicted not for his role in fueling bloody conflicts of the past, but for conspiring to sell lethal weaponry to an organization labeled a terrorist group by the U.S. government.
Prosecutors successfully argued that intercepted emails and secretly recorded conversations showed Bout agreeing to provide hundreds of shoulder-mounted Igla missiles to the FARC for the express purpose of shooting down helicopters manned by American pilots providing assistance to the Colombian government.
In one conversation, Bout indicated that he could secure 100 Iglas -- the Soviet equivalent of the Stinger missile -- with a single phone call. The Igla missile is powerful enough to take down an airliner at altitudes of up to 10,000 feet.
Bout also agreed to provide the FARC thousands of armor-piercing rockets, sniper rifles, automatic weapons and plastic explosives by the ton, prosecutors said.
"He had the experience, he had the means, he had the will to do the deal," Assistant U.S. Attorney Brendan McGuire told the jury.
Bout's attorney, Dayan, attempted to weave a complicated counter-narrative for jurors, in which Bout had simply "played along" with the FARC members in order to swindle them on a deal involving two aging transport planes. Dayan did not present any witnesses or evidence, but repeatedly sought to undermine the credibility of the prosecution's case through cross-examination.
"Viktor Bout never wanted, never intended to sell arms to anybody in this case," Dayan said at the trial.
It was not enough to overcome the reams of evidence indicating Bout's willingness and capacity to orchestrate an audacious international arms deal in exchange for millions of dollars in illicit funds.
Preet Bharara, U.S attorney for the Southern District of New York, hailed the verdict and praised the DEA agents responsible for Bout's arrest. The investigation spanned three continents, from Bucharest to Bangkok.
"With today's swift verdict, justice has been done and a very dangerous man will be behind bars," Bharara said.
The verdict is likely to come under fire in Russia, where state-run media and some prominent political leaders have portrayed both the case against Bout and his extradition from Thailand as an illegal application of U.S. power.
Bout lived undisturbed in Moscow for several years after the U.N. Security Council imposed a travel ban on him and and the U.S. Treasury Department seized his assets for his role in violating international arms embargoes in conflict zones.
In the run-up to Bout's trial, eight members of the Russian parliament wrote to the presiding judge, Shira A. Sheindlin, denouncing the charges against Bout and describing him as a "family man" and law-abiding citizen.
"In business circles, among colleagues, friends and relatives, Viktor Bout has been regarded for a long time as an honest, respectable, moral and kindhearted person," the lawmakers wrote. "He is an exemplary family man."
As recently as this June, Sergei Ryabkov, Russia's deputy foreign minister, denounced the arrest of Bout as "unacceptable."
International security experts, however, note that Bout enjoyed protection from prosecution in Russia, despite outstanding warrants from Interpol and U.N. Security Council resolutions condemning his violations of arms embargoes.
In a wiretapped conversation in Bangkok, shortly before his arrest, Bout bragged that he received advance warning of imminent law enforcement action against his company accounts from his Russian bankers.
"I have friends," Bout said. "Even if there is an order to block, you know, I'll be finding out 24 hours before."
Related
Popular in the Community