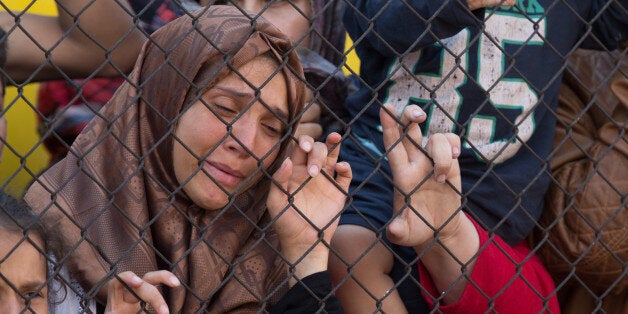 BUDAPEST -- The refugee crisis so visible on the shores of the Mediterranean has now dramatically materialized in the heart of Europe: 71 men, women and children were found dead in an abandoned truck in Austria, followed by the spectacle of thousands of desperate migrants locked down in a Budapest train station.
Who would have expected that refugees from Syria, Iraq and Afghanistan, having rolled and walked through Turkey, Greece, Macedonia and Serbia in search of safety and a better life, would be government-trapped in EU-member Hungary?
The Images Are Déjà Vu -- But Not the Outcome
The drama and chaos in Hungary today induce a powerful sense of déjà vu. In 1989, thousands of East Germans gathered in Budapest because Hungary had given up the mines and barbed wire sealing the border with Austria. They demanded to be let through to democratic West Germany and, in an extraordinary historic moment, the government heeded their wish.
Contrast that with the 175 km-long razor-tape mesh called "NATO wire," a barricade hastily built this summer along Hungary's border with Serbia. The jubilation of East Germans has been replaced by desperate cries of "Germany, Germany!" from those who are barred from getting on trains for which they had already paid. Forced to stay, but also recklessly left to fend for themselves, they are cared for only by brave volunteers driven by compassion, anguish and embarrassment.
Hungarian authorities have blamed the current situation on Europe's misguided approach to migration in general and -- opening a new front in their anti-EU rhetoric -- on Germany in particular. But much of the chaos we are witnessing is, in fact, intentionally manufactured by Hungarian Prime Minister Viktor Orbán himself.
A Mixture of Poisons at Work
For many months now, Orbán has waged a hate campaign against both the "mostly Muslim" refugees, and "Europe" that is "mentoring them." To sum up his narrative: the refugees are profiteering pseudo-victims, plus actual lawbreakers, plus potential terrorists, and otherwise tools invited to Hungary by multinational capital and the left-wingers of the world to ruin this unique nation through liberalism and multiculturalism. They hate us because we Hungarians are building an illiberal state and have never adopted multiculturalism, which, by the way, has already ruined the West. And while we show the world how to remain migrant-free, culturally separate and homogenous, we nevertheless also do this "defending European Christianity."
Thus, Orban is enriching and weaponizing an indignant xenophobia that was instilled in Hungary as an impact of its territorial losses after the 1918 collapse of the Habsburg commonwealth. He continues to generate new domestic and international conflicts, posturing as the defender of national interest. He badly needs external enemies and local quislings because his electorate has eroded amidst persistent news of corruption and growing competition from the ultra-nationalist Jobbik party.
Fear-Mongering: A Growth Industry
Orbán kicked off his battle early this year, even before Hungarians perceived that refugees "existed." He sent a misleadingly named "National Consultation" survey to every Hungarian citizen. Not too subtle, it featured heavily leading questions, such as: "Do you agree that mistaken immigration policies contribute to the spread of terrorism?" and "Do you agree with the government that instead of allocating funds to immigration we should support Hungarian families and those children yet to be born?"
The anti-migrant message was amplified through a nationwide billboard campaign that warned refugees -- in Hungarian! -- "If you come to Hungary, don't take the jobs of Hungarians." This was followed by the highly publicized construction of the fence along the Serbian border, a move that was more PR than protection, since the wire mesh fence is readily penetrable.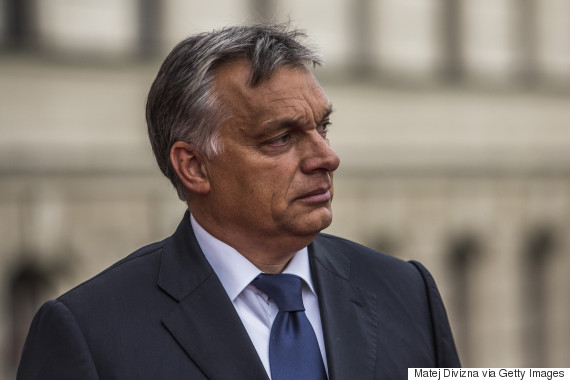 Hungarian Prime Minister Viktor Orban arrives for the summit of Visegrad Four (V4) countries to discuss the migrant crisis in Europe. Matej Divizna/Getty Images.
Next came the designation of a border patrolling police unit, taking its name "határvadászok" or "border hunters" from a WWII military unit deployed to chase Serbian insurgents. This was meant to appeal to the followers of Jobbik, which long promised to bring back the Border Guards (dismissed 25 years ago with fall of the Communist regime).
Barriers need foundations and guards need motivations. The government capped its campaign by legally barring from asylum status anyone entering Hungary via countries declared safe by Parliament. Never mind that it is Syrians, Iraqis and Afghans who arrived from Serbia. That country neither has war nor persecutes Syrians, Iraqis and Afghans -- proclaims the latest Catch-22 rule. As Orban also made clear that Muslim asylum seekers are unwelcome, the ban goes full circle.
All these emotional messages of rejection were uttered about people who definitely do not want to stay in Hungary. But by trapping thousands of angry asylum-seekers in his capital, Orban could utilize them as whipping boys in the education of his voters.
The Crime of Freedom Is Back
The Hungarian government could have constructively addressed both the needs of the migrants (set out in the Geneva conventions) and the European asylum regulations (prescribed by the Dublin texts) -- if it had the intent to do so. But Orban has another agenda. As of mid-September, crossing Hungary's border without permission will be a crime again, punishable with up to three years prison time for the migrants, and more for "helpers" (possibly including aid organizations). It is this simple for Hungary to eliminate a human right: while Geneva prohibits robbing a refugee's freedom of movement, it is perfectly legal to incarcerate a criminal. The trick, then, is to make sure the asylum seeker is classified as a felon.
"Quarantines" will be set up on the border with Serbia. Passage to Hungary will be only allowed to those with successfully granted asylum status; the rest will be deported back to Serbia. (Presumably almost all refuge seekers will be deported because coming from Serbia; see the Catch-22. The net result will be Orban's victory in channeling the flow of migrants to Croatia.)
As Bill Clinton observed, this is not an issue of values for Viktor Orbán. He only cares about his domestic ratings and an undisturbed recourse to Hungarian and European resources. If he has a principle, it is to downgrade the EU into a conglomerate that is not even a "Europe of nations" anymore, just a "Europe of nationalisms."
His opposition to refugee quotas and his rhetoric about accepting only Christians has resonated among the Visegrad-4 (the Czech Republic, Hungary, Poland and Slovakia). This may effectively tear Europe apart along an East-West divide. In other words, Viktor Orban has assumed the continental leadership of further distracting Europe from its erstwhile ideal of united democratic action.
The unfolding humanitarian crisis is rightly portrayed as an existential challenge for the European Union. Viktor Orban's willingness to escalate the crisis for his own political gain is one of the ways the challenge materializes. The EU has vital reasons for helping the Hungarians overcome their prime minister's sabotage of the continent's humanitarian vocation.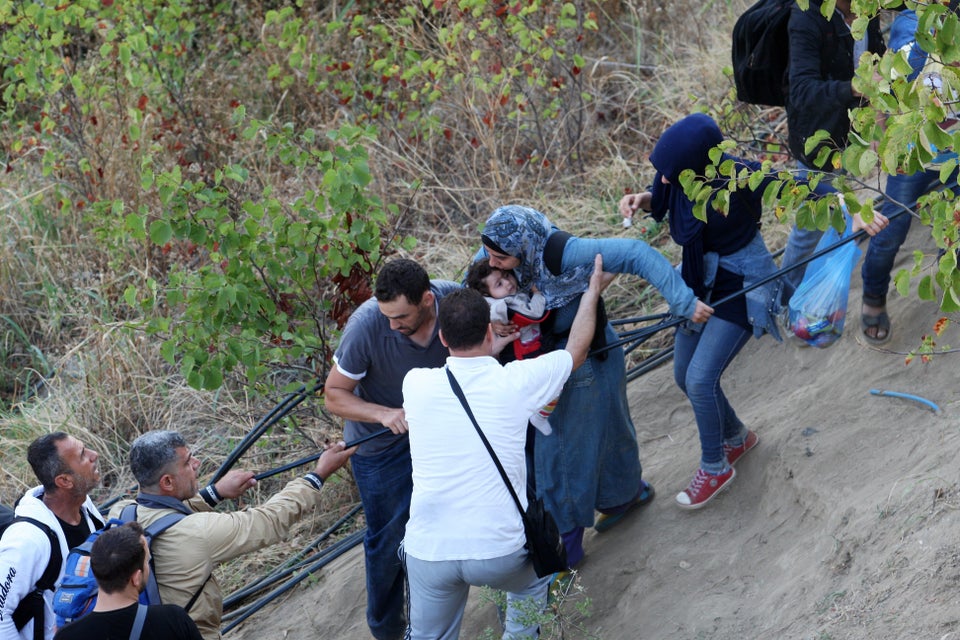 Migrant crisis
Popular in the Community