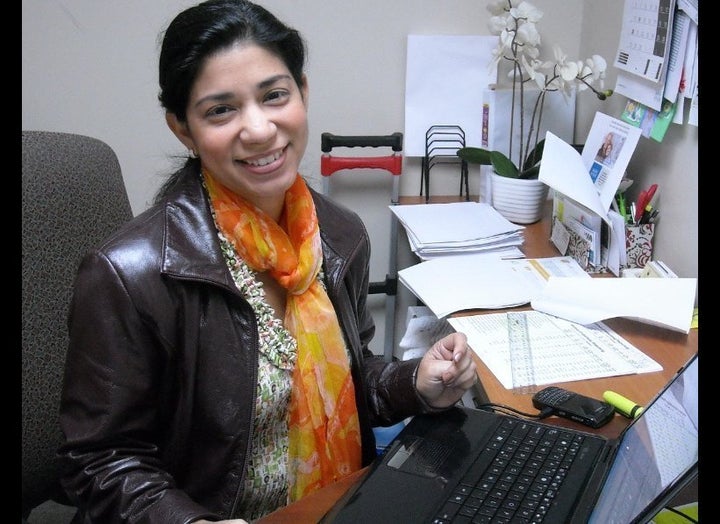 The brother of Vilet Patricia Torrez, a Florida mother of three who has been missing for four weeks, said he believes his sister's estranged husband is involved in her disappearance.
Javier Blanco, 32, told The Huffington Post he is convinced something bad happened to his sister and that her estranged husband was involved.
"We had been telling her for years to watch her back," Blanco said. "We said, 'This guy is going to hurt you.' In my mind, my gut feeling is that he was involved in some way ... Given the past threats, it's very easy for me to assume he had something to do with her disappearance."
Torrez, 38, of Miramar, had been separated from her husband of 15 years, Cid Torrez, for about three months when she disappeared.
"They were on and off for about a year and a half before that," Blanco said. "When she finally took away the keys to the house, there were death threats [and] he told her that her kids were going to grow up orphans. These were all telltale signs that somebody was going to do something crazy."
Cid Torrez's lawyer, Richard Della Fera, is adamant that his client never threatened or harmed his estranged wife.
"These accusations that he beat her are not true. These accusations that he had something to do with her disappearance are not true," the attorney told HuffPost Friday.
Tania Rues, public information officer for the Miramar Police Department, said investigators have not classified Cid Torrez as a suspect, but he is considered a "person of interest" in his wife's disappearance. Rues declined to elaborate on the reason for the classification.
"It is an ongoing investigation, and investigators are not going to comment on the details," she said.
Vilet Torrez was last seen by a friend she met for dinner on the night of March 30. Authorities have declined to comment on where Torrez went for dinner and will not release the name of the person she was with. Torrez's movements after the dinner are also unknown, but the vehicle she was driving was later found at her residence in the 12900 block of Southwest 28th Court, a gated community off Miramar Parkway.
Torrez was scheduled to work March 31 at her bath remodeling job with Bath Fitter in Doral, but she did not show up or call in.
"According to her supervisor, that was uncharacteristic of her," Rues said. "She is very reliable and responsible ... Obviously, everything points to foul play."
On April 2, Cid Torrez, who had a weekend visitation with the couple's two sons and their daughter, who are between 4 and 12 years old, reported his estranged wife missing.
Blanco said he is suspicious of Torrez's actions prior to the filing of the police report.
"He was at her house that night," Blanco said. "He had not slept at that house for three months and that one night that he chose to be there, my sister went missing. I guarantee you my sister was not expecting him to sleep over at all. Then he took three days to report her missing, which is really sketchy to me. He knew she had to work that weekend, and he didn't say anything. I still haven't gotten a clear answer as to why that happened."
Della Fera said his client had good reason to be at the residence and claims the Torrezes were in the process of getting back together.
"They had separated, [but] they were making efforts to [save] the marriage," Della Fera said. "They were reconciling their differences and, quite frankly, Vilet was the one who indicated she wanted to reconcile. So, any characterization that Vilet was trying to end the marriage and Cid was upset about that is not true."
According to his lawyer, Torrez has a solid alibi for the period when his wife disappeared.
"He was with his brother and the children all day [and] into the early evening, from March 30 to March 31," Della Fera said. "He picked up his brother, they all went to movies together, [and] they had dinner at an IHOP. Cid's brother was with him a large part of the evening [and] into the morning. We just spoke with police yesterday about that."
Blanco said he does not believe his sister left on her own.
"She would never leave her kids, her home or her family," he said. "She is extremely responsible [and] extremely religious. We're a small immigrant family. We're all from Nicaragua. She is very bright. She graduated with honors from high school and won a scholarship to college. She graduated from the University of Miami with a marketing degree. She attends church regularly and is an incredible, caring mother. My sister is a role model to me and to the family."
According to Della Fera, police have searched Cid Torrez's home, phone and car. They have also obtained hair and saliva samples. He said they have fully cooperated with the investigation.
"My client has not been arrested," he said. "He has been cooperating with the police department."
It is unknown if police have searched Cid Torrez's place of business. According to Blanco, he is manager of the Dania Beach branch of Continental Carbonic Products, Inc. According to the company's website, they specialize in manufacturing and distributing dry ice and liquid carbon dioxide. The company services a variety of industries, including meat and poultry packing, industrial cleaning, and blood and plasma services.
PHOTOS OF VILET TORREZ (Article Continues Below)
PHOTO GALLERY
Vilet Patricia Torrez Missing
On Thursday, a Florida judge denied Torrez custody of the couple's children. They had been placed with Vilet Torrez's parents after someone placed an anonymous call April 5 to the Florida Department of Children and Families. The caller alleged Cid Torrez was suicidal. His attorney denied the accusation, but Torrez was still ordered to have only supervised visitation with the children.
During the custody hearing, the judge also ordered Cid Torrez to stop making unsupervised contact with the children. Vilet Torrez' family members told the court he has been calling and emailing them.
"It is very critical that he has no [unsupervised] contact with the kids and he has repeatedly tried," Blanco told HuffPost. "He's telling them people are spreading lies and are trying to keep them away from him."
A more permanent custody ruling is expected when both sides return to court May 10. Blanco said he is afraid of what will happen if the judge sides with the children's father.
"If the state gives custody to him, I'm afraid for the kids," he said. "I'm afraid of what he might do to the kids if he is pushed to the brink and feels the walls are closing in. I'm sure the state of Florida does not want a Susan Powell case."
Powell, 28, disappeared from West Valley City, Utah, on Dec. 6, 2009, and has never been found. Her husband, Josh Powell, was named a person of interest in her disappearance. In late 2011, Josh Powell lost custody of the couple's two young children. On Feb, 5, during a supervised visit with them, Josh Powell locked a social worker out of his home, attacked his children with a hatchet and then set his home on fire, killing himself and his children.
Della Fera said he does not understand why Blanco or Vilet Torrez's other family members think his client is involved in her disappearance.
"I think they're distraught and they're just pointing fingers out of frustration, desperation [and] exasperation. I can't get inside their heads. That's just my speculation," he said.
HuffPost spoke briefly with Cid Torrez Friday. He had little to say about the circumstances surrounding his estranged wife's disappearance, other than to suggest she ran off.
"She's a loving mother. We want her to come back," Torrez said. "Everybody loves her. [She should not] think anything less from any of us. Her kids are waiting for her. Her husband is waiting for her and both sides of the family are waiting for her. We just want her to come home."
Blanco said he is doubtful that his sister is still alive.
"I know something went bad. Something went horribly wrong. She was decidedly ready to move on with her life and the fact that this happened, at this moment, devastates us," he said. "It's sad that we can't find her. We can't even give her a wake. This was a wonderful person that deserves a funeral. She deserves more than to be on the side of the road or decomposing somewhere."
Vilet Patricia Torrez is 5 foot 3 inches tall, weighs 125 to 130 pounds, and has black hair and brown eyes. Anyone with information about her disappearance is asked to call Miramar police at (954) 602-4000 or Broward Crime Stoppers at (954) 493-TIPS.
REAL LIFE. REAL NEWS. REAL VOICES.
Help us tell more of the stories that matter from voices that too often remain unheard.