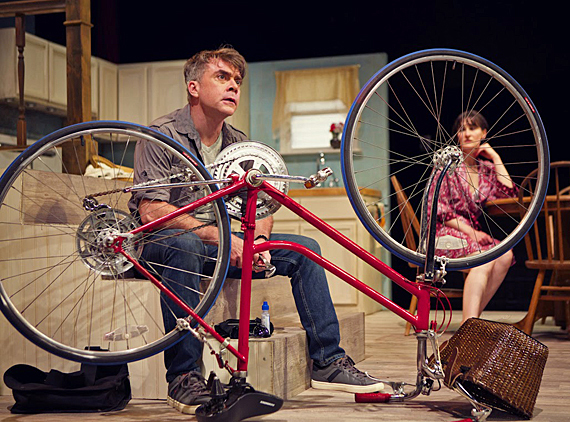 Connecting over a damaged bicycle: Kevin Clarke as Oliver, Elissa Stebbins as Becky
Stereotypes take a thrashing in Penelope Skinner's The Village Bike, the sizzling British comedy-drama that opened a few days ago in Shotgun Players' Ashby Stage in Berkeley.
Skinner's stereotypes are sexual, presented with clarity and directness that some will find titillating despite the playwright's thoughtful intentions and the strong production by director Patrick Dooley and his cast. (Example: A chubby young man seated near me swayed and roared and punched the air almost every time sex was mentioned or simulated, which was often.)
That response is hardly surprising, given the situation that opens the play and many that follow: For starters, a married couple is in bed, lightly clothed; hubby John (Nick Medina) is focused intensely on a book about pregnancy; newly pregnant wife Becky (Elissa Stebbins) is focused intensely on John, making clear that her interests lie between sheets, not pages.
John's remoteness stems from a conviction that sex during pregnancy could harm the baby; Becky's erotic desire and frustration stems from a hunger that playwright Skinner presumably finds within the normal range of female needs. The couple's love never comes into question: Both voice deep affection for each other, and the performers offer no reason to doubt those declarations.
Aside from their sexual issues, the pair appear to be happy. She's a teacher on summer vacation; John's occupation takes him on trips with some frequency. They have just moved into a pleasant rural home whose only notable drawback is leaky, noisy plumbing.
So what's Becky to do? One possibility lies in pornographic videos, which John had collected but she has come to relish. That fails to substitute for physical connections, and neither does masturbation, another issue that the play handles without fear or smirks.
Aside from celibacy, which Becky would find unthinkable, her solution obviously involves other men. Concerns about morality never enter the equation. The question that Skinner raises is whether a woman can have sex without emotional entanglement. And she leaves viewers to resolve that for themselves.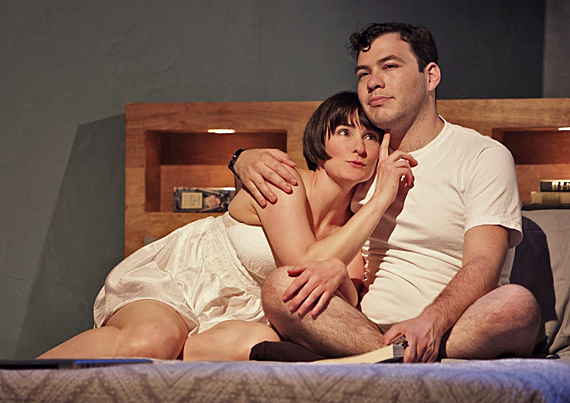 Reversing stereotypical roles: Stebbins as Becky, Nick Medina as John
Becky insists, forcefully and repeatedly, that she all she wants is sex, but events leave her assertions open to argument. For the men who satisfy her needs, such uncertainties are unthinkable. They do what comes naturally, without second thoughts.
One partner she finds is a middle-aged, widowed plumber (David Sinaiko), who was hired to repair the pipes. He's an awkward, gently comic personality named Mike, and his occupation inspires lots of double entendres before connections turn physical.
Another is a local actor named Oliver (Kevin Clarke) who arrives in 17th century attire to deliver a used bicycle that he sold to Becky. He explains the costume as something demanded by a director who wants actors in rehearsal to live their roles at all times. And he displays a scrappy temper while describing a minor accident with the bike and his efforts to repair it.
Becky apparently couldn't have found a better answer to her emergency. Oliver is vigorous, upbeat, robust, sexually adventurous and seemingly tireless: That he is also married hardly matters. Wife Alice (Megan Trout) has departed for a month, leaving him unencumbered. When she returns, though, "The Village Bike" zooms off in directions that might leave heads spinning.
The play's only other character is family friend Jenny (El Beh), who understands Becky and John and offers some support to both while maintaining a discreet distance from their issues.
The performances are consistently sharp, though Skinner's unnecessarily oddball characterization of John presents Medina with a difficult task in the context of an essentially realistic play. In addition to harboring absolutist beliefs about sex and pregnancy, John is an environmental crusader who has fits when he discovers a stash of plastic bags from the local supermarket, among other things.
Skinner has been quoted as saying, "I write parts for women in which women say something, because I think there's not enough of that at the moment." With "The Village Bike," she and her characters speak forcefully and surely provoke more discussion than most theater works. They also deliver a lively and engaging show that's well worth a thoughtful playgoer's time.
The Village Bike runs through July 3 in Shotgun Players' Ashby Stage, 1901 Ashby Ave., Berkeley. Tickets are $24-$35, from 510-841-6500 or shotgunplayers.org
Related
Popular in the Community