After nearly 35 years of making music, the Village People thought they'd seen and done it all. Everything except perform a wedding ceremony, that is.
But on Friday, Nov. 11 -- 11/11/11 -- the veteran disco stars did just that at the Riviera Hotel's Starlite Theatre in Las Vegas.
Eric Anzalone, the "Biker" from the group, and Felipe Rose, the "Native American," performed the marriage of Austin, Texas, couple Frank Goldsmith and Elberta Smoak at the end of their concert on Friday.
The Village People, Anzalone told HuffPost Weddings, were flattered to be asked to be a part of Goldsmith and Smoak's Big Day: "[We're] happily surprised and honored to have been asked to do this," he says. "Becoming a member of this group 16 years ago ... [I never thought] that before I sing 'YMCA,' I'm going to pronounce two people husband and wife."
The band members decided to officiate the wedding after receiving a request via email from Goldsmith. Anzalone says they thought it was a great idea from the start: "They're getting married by a guy in leather and a guy in feathers and war paint," he says. "It's such a Vegas story."
In order to perform the ceremony, Rose and Anzalone had to become ordained into the couples' religion, the Universal Church. So on Tuesday, Smoak and Goldsmith, who were able to ordain the band members themselves, arrived at the Starlite to meet the Village People face-to-face for the first time: "Felipe and I kneeled in the aisle there of the Starlite showroom. They put their hands on our shoulders, said a little prayer and that was it!"
Though the couple was thrilled with their wedding, Goldsmith says he never expected the band to agree to do it: "I saw that the Village People were playing [in Vegas] and thought, 'Wouldn't it be great if I could email them and get a little rejection letter that said, "We can't do your wedding, but we're so happy for y'all"?' I'd frame it and give it to [Smoak] and say, 'Hey, the Village People are happy we're getting married,'" he told HuffPost Weddings. "But instead of getting a rejection letter, I got a letter back saying, 'Hey, that's really interesting, can we talk about this?'"
"It was never on my bucket list, but it's definitely one of those cool things I can say that I've done," Anzalone said. "It's just going to be one of those things where I can say, 'Yeah, I performed at Radio City Music Hall. Yeah, I got a star on the Walk of Fame. Yeah, I've actually married somebody.'"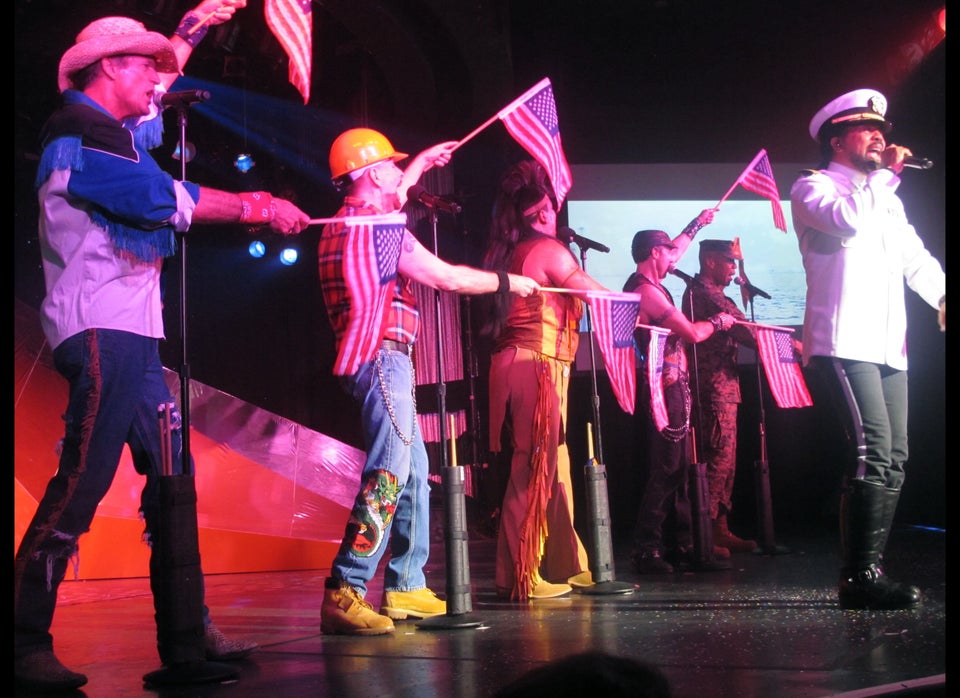 All photos by Stephanie Hallett