Village Theatre's latest offering Snapshots is a simple story told in a very complex manner with marvelous staging and stagecraft. The show involves six actors weaving in and out of the linear story of one couple's relationship. This could be complicated, but Snapshots pulls it off perfectly and keeps the audience engaged from the opening overture to the final curtain.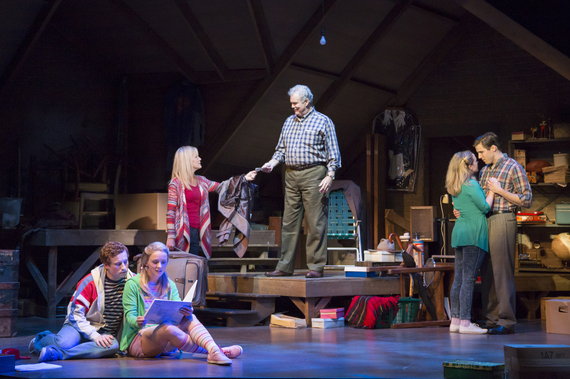 Snapshots takes place in the couple's attic as she is planning to leave him. He comes home early, and they wander though old photographs, which results in their younger and middle aged selves appearing. Hence, we have lots of versions of the same characters played by six actors in a masterful display of talent and versatility.
Here's how Village Theatre describes Snapshots:
Featuring the beloved songs of Stephen Schwartz (creator of Wicked), this new musical is a charming, funny, and familiar look at life and love. After 20 years of marriage, Dan and Sue have reached a point where they simply have nothing left to say to each other. But when they uncover a box of photos in the attic, their memories literally come to life, helping them take a look back at the moments that built their relationship as well as the opportunities that got lost along the way. This romantic comedy is a musical celebration of the work of Stephen Schwartz, featuring 26 songs from 12 shows throughout his career.
What I found interesting was that many of the songs were familiar to me. That's because they were, in fact, recycled Stephen Schwartz song such as Popular (from Wicked), All Good Gifts (from Godspell), That's How You Know (from Disney's Enchanted) and The Spark of Creation (from Children of Eden). Making this show even more intriguing is the way these songs have been repurposed to fit the situations depicted in the story.
All in all, Snapshots provides a musical look at what most couples confront at one point in their relationship. And (spoiler alert) it has the required happy ending as she decides her life has been good and they walk happily off into the sunrise of a new day.
Snapshots continues at Village Theatre in Issaquah through October 18. It then moves to the Everett Performing Arts Center from October 23 through November 15.
Calling all HuffPost superfans!
Sign up for membership to become a founding member and help shape HuffPost's next chapter