Sept 24 (Reuters) - Village Voice Media (VVM) will split off from its controversial Backpage.com online advertising site and create a new company for its struggling chain of alternative weekly newspapers and websites, VVM president Scott Tobias said.
Backpage, which critics say facilitates sex trafficking through its "adult" classified section, has been the focus of an increasingly aggressive campaign in recent months to pressure advertisers to drop their accounts with the company, resulting in the departure of dozens of national and local advertisers, according to interviews and documents provided by activists in two cities.
VVM has also laid off staffers at several publications across the country, including the flagship New York publication Village Voice, an alternative outlet for 1950s' artists and writers that gained national prestige and went on to win three Pulitzer Prizes.
Under the new plan, current Village Voice Media controlling shareholders Mike Lacey and Jim Larkin will operate Backpage.com independently, as a separate entity.
A new holding company called Voice Media Group and managed by new CEO Tobias and VVM executive editor Christine Brennan will manage the 13 alternative weekly newspapers and their websites, as well as a national advertising network unaffiliated with Backpage, VVM attorney Liz MacDougall said in a statement.
MacDougall declined requests for interviews with Lacey or Larkin.
Initial funding for Voice Media Group, which will be based in Denver, Colorado, has been raised through private investors, Tobias said, declining to discuss financing of the new venture any more specifically. He acknowledged that the campaign to pressure VVM advertisers had impacted the company.
"Backpage has been a distraction - there's no question about it - to the core (editorial) properties," Tobias said.
As part of the spinoff, Backpage classified ads will no longer appear in the weekly publications or their websites.

ADVERTISERS BOWED TO PRESSURE
In the fall of 2010, public pressure from anti-trafficking activists, politicians and law enforcement officials led the all-purpose online classifieds website Craigslist to shutter its lucrative adult section. Much of that adult advertising has since moved to Backpage.com.
Online "adult" advertising generates about $3 million a month on five different websites, according to interactive media and classified advertising consultant AIM Group. Nearly 80 percent of that revenue goes to Backpage.com, AIM said in a report published earlier this year.
The company split appears aimed at slowing an exodus of national and local advertisers from Village Voice Media in recent months.
In April, the drug company Pfizer agreed to remove its advertising from VVM's flagship publication, the Village Voice, after pressure from activists who contacted advertisers directly about Backpage's adult content.
In an April letter, Pfizer sent to a New York based-activist at the forefront of the campaign to pressure VVM to shut down Backpage, which the activist provided to Reuters, a Pfizer representative wrote "we received your inquiry, and Pfizer has decided to remove its advertising in the Village Voice." Nearly a dozen similar letters from advertisers were provided to Reuters to show that the campaign has been effective.
American Airlines, Best Buy, AT&T, Ikea, H&M, IHOP, Macy's and the Miami Dolphins professional football team have all stopped advertising in VVM publications in recent months.
But it remains unclear whether Voice Media Group will be able to lure back those advertisers, a key priority for a new company no longer generating an estimated $24 million in annual revenue from the lucrative online classifieds site.
Tobias would say only that he and fellow senior VVM editorial management executives have raised "some money from private investors" for Voice Media Group.
The Village Voice in New York has experienced a rash of high-profile layoffs and departures in the past year, including that of editor-in-chief Tony Ortega earlier this month. Ortega said he was leaving to pursue a publishing contract for a book about the Church of Scientology. He declined interview requests.
Tobias said Voice Media Group was exploring the possibility of strategic partnership to raise revenue, but declined to specify any potential partners. (Editing by Martin Howell and Mary Milliken)

Related
Before You Go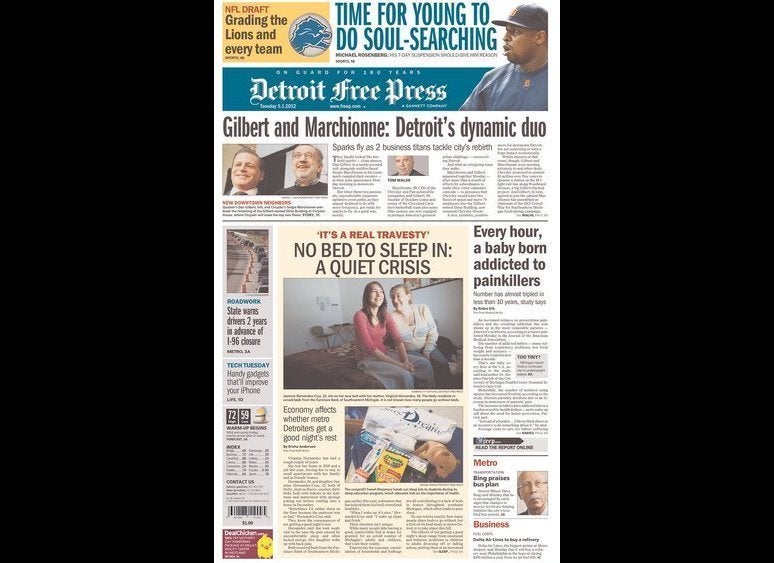 2012 Newspaper Circulation Numbers
Popular in the Community