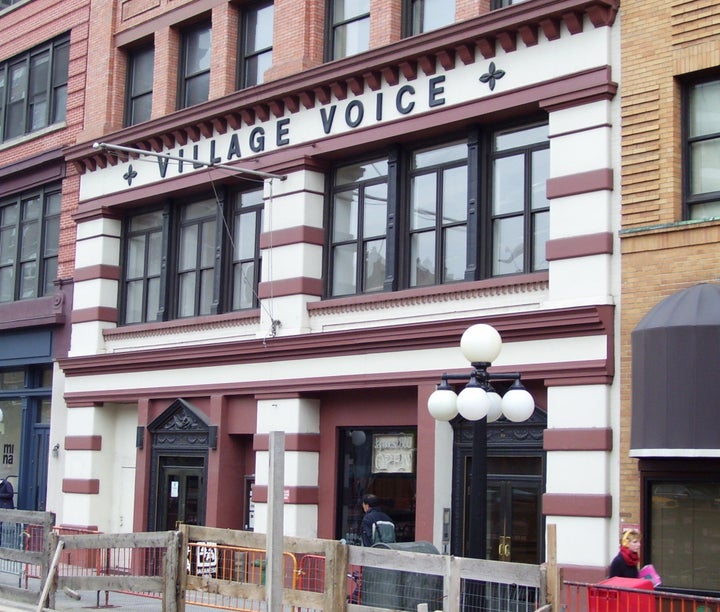 I grew up loving the Village Voice. Nat Hentoff taught me how to listen to Billie Holiday. Jack Newfield politically baptized me through his stories and recollections of Bobby Kennedy. During the 80's and 90's, the Village Voice was also one of those rare mainstream publications in which the Black and Brown mind, body, and spirit were routinely celebrated. I read the Village Voice to understand myself better as a woman of color in America.
And that is why I am heart-broken to witness how it now survives off the exploitation and enslavement of girls. Girls, who are disproportionately Black or Brown, and poor--the very girls that the Village Voice once prided itself on writing about and giving voice to. How is it that the iconic paper of vanguard liberal thinking has descended into a publication supported through a cyber slave market?
The Village Voice is now largely funded through Backpage.com, an online classified ads site, in which you can purchase furniture, cars, or underage girls for sex. Backpage is owned by Village Voice Media which also owns the Village Voice weekly. Like Craigslist used to, the Village Voice's Backpage is reaping huge profits off the sale and sexual exploitation of children -- $22 million to be exact.
Unlike Craigslist, whose founder Craig Newmark finally recognized the moral abhorrence of his site being used to sell children for sex, Backpage has expressed nothing but shamelessness. Perhaps that is because Craigslist didn't need the revenue from its sex ad sales to survive. The Village Voice does.
Because of its desperation, Village Voice's Backpage is using a multitude of asinine excuses to defend its online girl trade. Defenses such as their site needs to exist to assist law enforcement, that it is safer for children to be peddled for sex online than for the sordid transaction to be pushed underground, or that criticism surrounding its sex ads amount to censorship.
Of course, most law enforcement has publicly pleaded with Backpage to close down its sex ads (as they did with Craigslist). Over 50 Attorneys General from over 48 states have written letters demanding that Backpage shut down its adult services section due to its facilitation of child sex trafficking. And the notion that it is safer for children to be sold online rather than underground is another self-serving, false statement. It is exactly because children are sold online that demand has increased since purchases can be made quickly with discretion and anonymity.
As for the First Amendment protest -- progressive and liberal communities would do better to reframe this as a human rights issue.
We can neatly gloss over the ugly business of the online sex trade that disfigures the lives of poor and undereducated girls. We can choose to simply focus on the narrative of the empowered sex worker or the sexually free-thinking graduate student who pays for tuition through escort services. Or we can pretend that this is about free speech on the Internet. But it is, undeniably, a matter of human rights, when girls -- and especially girls from historically disenfranchised communities -- are being bought and sold for sex against their will.
I hope that Village Voice can return to its original progressive roots and cease exploiting underage girls in order to support its paper. I pray that it restores its once powerful commitment to the civil rights and human rights of marginalized communities by shutting down its cyber slave market that promotes the exploitation of disproportionately Black and Brown children. Perhaps that hope and prayer is just the naiveté of a girl who once loved the Village Voice.
Calling all HuffPost superfans!
Sign up for membership to become a founding member and help shape HuffPost's next chapter