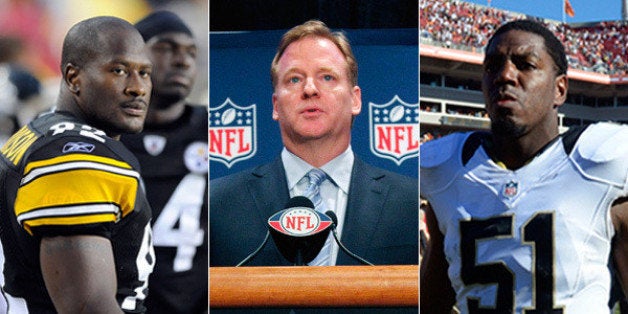 Some former and current NFL players who have been punished by Roger Goodell in the past think the NFL Commissioner has some explaining to do.
Goodell has come under fire for his handling of the Ray Rice domestic violence case in the wake of TMZ releasing the disturbing video showing the former Baltimore Ravens running back punching his then-fiancee and now wife in a casino elevator. In an interview with Norah O'Donnell of "CBS This Morning" on Tuesday, Goodell claimed that "no one in the NFL, to my knowledge" had ever seen the inside-the-elevator footage until TMZ released it on Monday. In response to Goodell's claim, three-time Pro Bowl linebacker Jonathan Vilma shared his criticism of the commissioner on Twitter. Vilma was suspended by Goodell for an entire season over his role in the New Orleans Saints bounty scandal, a punishment that was later overturned by a three-member appeals panel.
After the Associated Press reported Tuesday afternoon that an unnamed law enforcement official sent an NFL executive the graphic Ray Rice video, contradicting Goodell's claim, former NFL linebacker James Harrison had a few things to say about the Commissioner. Harrison had been fined more than $100,000 during his career and suspended over illegal hits.
A handful of other players who played or still play during Goodell's tenure as Commissioner voiced their problems about how he has handled the Ray Rice case on their Twitter pages.
REAL LIFE. REAL NEWS. REAL VOICES.
Help us tell more of the stories that matter from voices that too often remain unheard.