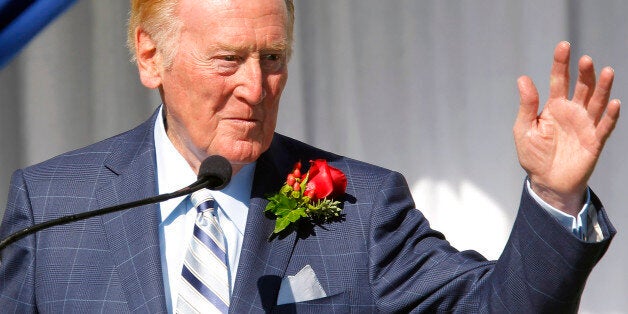 The one and only time floated down Colorado Boulevard was six years ago, atop a Dodgers-themed work of art that marked the 50th anniversary of the team arriving in Southern California. All the rich blue colors came from ribbon irises and scissored statice, accented with white mums, red carnations and 1,500 bird of paradise stems to boot.
"Really, it felt as if I was a little kid back in New York, and my father had the 20 cents on a Sunday to take the Fifth Avenue ride on the bus -- the one that had no top," said Scully, who was joined on the float by players, former manager Tommy Lasorda, and even Dodger Stadium organist Nancy Bee Hefley.
"We made that turn onto Colorado, and to me it was like going down the middle of the Grand Canyon with all the people in the bleachers on either side. The impact was overwhelming. It took my breath away."
When the Dodgers' Baseball Hall of Fame broadcaster is escorted back down the main route of the 125th Rose Parade on Jan. 1, it'll be of much grander proportions. Scully, the 2014 parade's grand marshal, will also be celebrating his 65th season as the voice of the Dodgers, who made it to the National League Championship Series last October.
Scully, who turned 86 on Nov. 29, discussed this latest honor, as well as all that goes into it:
Question: Is it true that part of the requirements for this honor is having to grow all new rose bushes in your garden?
Answer: (Laughing) Absolutely. And my wife Sandi will take care of all that. She's the chancellor of agriculture. We do have a lot of roses and she loves taking care of them. It's a very happy scene.
Q: So what are the official duties, other than to be in Pasadena in the middle of the night, find the right car and make sure you have a cup of warm chocolate?
A: Really, the only job qualifications are that you have to be alive and be able to wave. So far, so good.
Oh, it's not just showing up for the parade, as you may well imagine. There are a lot of appearances, lunches, media groupings. At first, I may have been reluctant to accept all that. I'm not much for being in a parade, and maybe instinctively I shied away from it. But the more I thought about it, it is a rather prestigious moment and, gee, if I turned it down, it would probably hurt a lot of people's feelings. I didn't want to do that.
It goes back to the old line about squeezing the juice out of life before life squeezes the juice out of you. This is the perfect moment to meet a lot of nice people, to see what's going on, see the inner workings. I'm now excited and thrilled to be part of it.
I know one thing that's important are the numbers attached to this one -- 125th parade, the 100th Rose Bowl. That gets you pumped up. The numbers here are just as important as if you're in baseball and you're hitting .299 and trying to get to .300.
Q: When you think of the Rose Parade theme -- Dreams Come True -- what comes to mind from your experiences?
A: My life has been the fulfillment of a dream. I wrote for the nuns an essay when I was 8 years old on what I wanted to be when I grew up. The boys were all about being policemen and firemen and doctors and lawyers, while the girls were about nursing or ballet dancers or becoming mothers. There was no TV and just a few things on the radio, maybe a Saturday afternoon football game between Ohio State and Notre Dame. So when I said I wanted to be a sports announcer, that was way out in left field. So when I eventually got that job with the Dodgers, in December of 1950, when I was 23, it really was the fulfillment of a dream just 15 years later. That's rather remarkable in itself. I have a great deal to be thankful for.
Q: In 1966, you broadcast the Rose Parade for ABC with Elizabeth Montgomery. You had been doing game shows and other sports for the networks at the time, but that must have felt like a whole new experience for you.
A: What I carry around in my mental book from that is, first, Elizabeth was the queen of television at that time on "Bewitched," and she was the sweetest person, both feet on the ground, so wonderful.
I remember that morning we had all this ice water on the ground, and I'm sure her feet were freezing, but she never complained. We got to the platform to do the broadcast, and maybe it was eight steps to get up there, and all of the sudden she stopped and froze. I said, "What's wrong?" She said, "I have a terrible fear of heights." And this wasn't very high. I'd done golf tournaments where we'd climb a tower maybe 20 feet high. This might have only been eight feet off the ground.
So I said, "OK, walk behind me, put your face into the small of my back and put your arms around me." Which wasn't a bad assignment for me (laughing). She hugged me for dear life as she negotiated the steps with her eyes closed, we got to the table, sat down, turned toward the open space, and we were all OK. That's the last thing any of us thought would happen just moments before going on the air. But for some reason, she was bewitched by heights.
As for the parade, the fun part was doing the research. They gave us this large binder that had all the floats described in them. But I enjoyed doing more research. There was one float from China with all these dragons on it, and that piqued my curiosity. "Why is it that we always talk about dragons and China?" There was one person at the network so impressed with all that extra research that she asked if she could have my notebook for a future broadcast. I probably should have kept it as a memento, but I just gave it away.
Q: Can you believe how detailed and mechanically advanced these floats have become over the years?
A: Some of the floats that have won all kinds of awards in the past, I'm kind of flabbergasted at what they're able to do with them.
Q: Part of the job is to also flip the coin before kickoff at the Rose Bowl. Did you ever want to broadcast a Rose Bowl Game?
A: No, not really. I think I've only been to one game -- when UCLA played Minnesota (in 1962). I was asked to be the toastmaster for the Rose Bowl lunch, and Bruins coach Bill Barnes was there and all his players. I think I went to the game for a little while, but didn't stay the whole time.
Q: How do you envision the experience of being the grand marshal?
A: I don't expect to be on camera much, just give one big wave and that'll do it, right? It's not as if I'll be jumping from one float to another like Groucho Marx (laughing).
Q: Just as long as you take the time to stop and smell the roses, right?
A: Every day of my life I do that, for sure. ___
(c)2013 the Daily News (Los Angeles)
Distributed by MCT Information Services
Related
Before You Go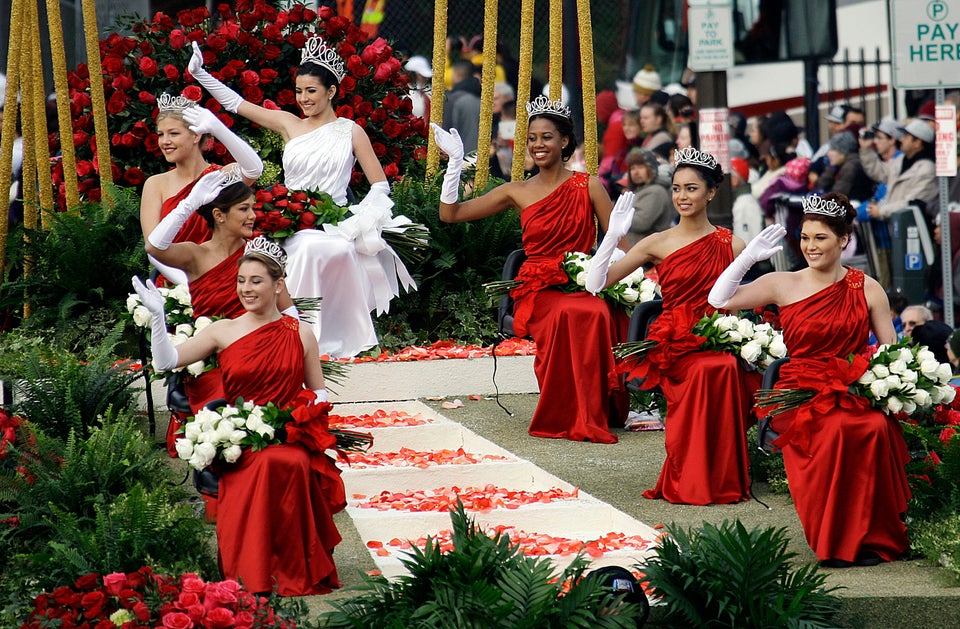 Rose Parade 2013
Popular in the Community