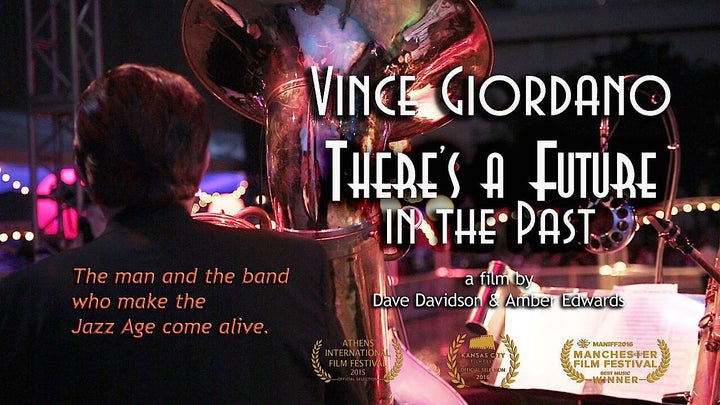 Once upon a time, a very long time ago (31 years this month, to be exact, July 1985), I attended a concert at the 92nd Street Y celebrating the orchestral giants of 1920s jazz, King Oliver, Fletcher Henderson, Duke Ellington and, especially, the Jean Goldkette and Paul Whiteman bands which had featured Bix Beiderbecke, the great and doomed cornet genius of the age. The Y's lead music maker that night was a bandleader named Vince Giordano, and his Nighthawks, whom I'd never heard of, with the Nighthawks' trumpeter, Randy Sandke, brilliantly standing in for Bix.
The concert blew my mind. Like most lovers of Jazz Age music, I'd only listened to this stuff on old vinyl records compiled from even older shellac records; which is to say, through the megaphone of history ― tinny and muffled and distant. Vince and his Nighthawks stripped that distance away. The vividness of this music, live, played by virtuosos of vintage with perfect period veracity was absolutely astonishing.
After the show, I introduced myself to Vince Giordano and told him how overwhelmed I was by what I'd just heard. Vince smiled, ducked his head humbly and said, "Thanks. This was our last gig. I just broke up the band."
And there you have the essence captured by a new documentary (long overdue) about my friend Vince Giordano and the against-all-odds musical enterprise he has kept afloat (and occasionally dry-docked, himself) for more than thirty tempestuous years now. Vince Giordano - There's a Future in the Past, is the title of this 90-minute film; a labor of love directed and produced by Dave Davidson and Amber Edwards of Hudson West Productions, whose credits encompass many hours of national PBS programming, including nine episodes of the award-winning series, Michael Feinstein's American Songbook.
Vince Giordano - There's a Future in the Past will receive its New York premiere tonight, Sunday evening, July 10, at 6:00 pm (with perfect symmetry) at the 92nd Street Y. I've seen an advance of the film and it has set me to reflecting upon my own years in Vince Giordano's orbit, a galaxy teeming with period jazz music that would have vanished into the cosmos were it not for Vince's intrepid fortitude.
What the film captures with no little awe and great affection is how hard it is to pull off Vince's resuscitation act again and again. Never mind the intricacies of replicating the music itself live - a monumental task - and booking the band himself into any conceivable venue. Keeping this music alive is unbelievably labor intensive. For every gig, Vince personally hoists a veritable tonnage of implements into his van, including a string bass, a bass saxophone and a tuba, a celesta, stacks of thick leather binders containing roughly 3000 instrumental charts each for 11 musicians, 11 lighted music stands with dangling felt banners, an elaborate, aged drum kit, megaphones, a hefty period microphone, and more.
No wonder Vince has thrown it all in on several occasions. The documentary vividly shows you why. I was so crestfallen by Vince's announcement that he was done thirty-one years ago, I determined to try and talk him out of it. I pitched my landlords at the Park Avenue Plaza building, where my bookstore Chartwell Booksellers resides, the wacky proposition that we throw swing dances in the lobby at Christmas time. When they agreed (to my amazement), I went back to Vince and challenged him point blank to restart the Nighthawks for my month's-worth of guaranteed bookings in December. Warily, Vince said yes.
I have no doubt that he would have done so on his own, sooner or later; I take no credit for in any way saving Vince Giordano and the Nighthawks. My gig did, however, nudge Vince back on track quicker. "Holiday Tea at Three," as we called our lobby bash, every Saturday in December, from 3:00-6:00 P.M., became a musical fixture for the band and for my store over the next decade or so. A very fine documentary film was even made about it: Tea Dance, directed by Daniel Jenkins. You can watch that HERE.
Today, Vince Giordano is something of a fixture, though nothing has gotten easier. He has made a lot of cinematic vintage music for movies by Woody Allen, Francis Ford Coppola and Martin Scorcese, among others. He has won a Grammy Award for the period-defining hot jazz soundtrack he provided to the acclaimed HBO series, Boardwalk Empire. He has played a lot of weddings.
By now, Vince has influenced and inspired so many young jazz musicians as they have passed through the Nighthawks, and so many Nighthawks admirers, who have simply listened (and sometimes danced), it is easy to feel that the "world of Vince" is populated by an army of acolytes. One among the besotted is filmmaker Amber Edwards herself, who told me that Vince and the Nighthawks not only played "her first wedding," but that Amber even sang with the band subsequently, including on Vince's CD Grammmy-winner, Boardwalk Empire Volume 1. ( "I was a bonus track," Amber hastens to add. "'Alice Blue Gown.'")
"We decided we'd better make a film about Vince before he got too famous to work with us," Amber laughs. "Our first shoot was in August 2012 at the Newport Jazz Festival, which was an amazing scene. I thought I knew Vince, but seeing up close the fragility of what he has put together, how it's really one guy carrying this whole heavy load, stunned me. One misstep and there's no-one to pick up the pieces. Except for Carol."
Carol Hughes is the unsung heroine of this documentary and of Vince's life and career, which are indivisible. Onscreen and off, Carol is everywhere, managing everything that Vince himself is not handling. I'm quietly pleased to say that Vince first met Carol while waiting for me one night at the Monkey Bar in the Hotel Elysée on East 54th Street to celebrate my 40th Birthday. Thus, I know exactly how long Carol and Vince have been together - and Vince, by subtracting 40 from my age, always laughingly reminds Carol that he knows too.
I was going to include a few direct quotes from Vince himself in this piece but he has more than enough to say in Vince Giordano - There's a Future in the Past, so we will let the film speak for him. Vince and the Nighthawks will play a short set at the Y screening Sunday, and Vince did delightedly point out to me that two of the Nighthawks who were onstage with him at the Y that long ago 1985 evening when I heard them all for the first time ― Andy Stein, on violin and baritone sax, and Chuck Wilson on all kinds of reeds ― will be onstage this Sunday too. I think that says it all.
Popular in the Community