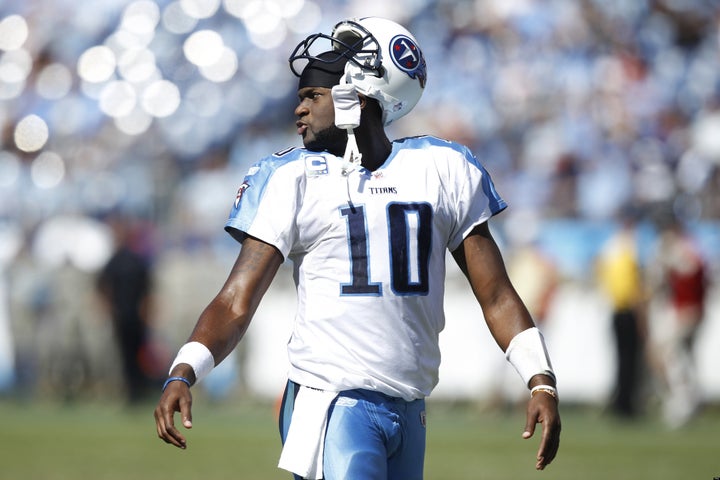 Vince Young says he does not want the 2005 Heisman Trophy, even though he finished second to winner Reggie Bush, who forfeited the award on Tuesday amidst a flurry of controversy.
"Why would I want it?" Young asked. The former Texas Longhorns quarterback and current Tennessee Titan also insisted on Twitter that "Reg will continue to be the 2005 Award recipient and I will continue to be honored to have been in the 2005 Heisman campaign with such a talented athlete."
Curiously, Young sang a very different tune just two days earlier. "I definitely want it, I definitely want it," he said on Monday.
In any event, even if Young did want the award, it won't be his any time soon. The Heisman Trust announced that there will be no winner from 2005.
NASHVILLE, Tenn. -- Vince Young says he didn't want the Heisman Trophy anyway.
The Heisman Trust decided Wednesday to vacate the 2005 award after Reggie Bush gave it up Tuesday. The news came shortly after Young talked to reporters, trying to dodge questions about the Heisman because he's busy preparing for his first career start against Pittsburgh.
The man who finished a distant second to Bush in the Heisman voting has been deluged with questions over the past week. Did Young want the Heisman? Would Young accept?
Young said in a couple of tweets Tuesday night that he considers Bush the 2005 Heisman winner. He repeated that Wednesday and begged reporters to quit asking about the Heisman.
"Why would I want it?" he asked.
Young got his say on the field in the BCS national championship about a month after Bush accepted that Heisman in New York, leading Texas to the title by running for 200 yards and throwing for 267 yards. He scored two touchdowns in the final 4:03 and was named the MVP. Young even struck the Heisman pose cradling the crystal football given to the Longhorns as BCS champions.
Titans tight end Bo Scaife, who played with Young at Texas, said they all know the quarterback was disappointed he didn't win the Heisman in 2005.
"He took that out in the national championship," Scaife said.
Young said Monday on ESPN's SportsCenter that he wanted the Heisman. Asked about that comment Wednesday, Young said that was a joke taken the wrong way.
"I'm worried about the Pittsburgh Steelers right now. I really don't even want to answer no questions about no Heisman Trophy if y'all can please help me out with it," Young said.
Teammate Chris Johnson understands Young not wanting the Heisman.
"At the end of the day, everybody's still going to know that he won the Heisman that year even though he doesn't have it in his possession, he's still the Heisman winner for that year," Johnson said.
Young has plenty to console himself as he looks back.
Besides that national title, Young was the first quarterback drafted - at No. 3 overall - in April 2006. He won the NFL Offensive Rookie of the Year award and made the first of two Pro Bowl appearances. Only the late Steve McNair, George Blanda and Warren Moon have gone to more for this franchise.
Sure, Bush now has a Super Bowl ring with the Saints, and that's something Young wants for himself and his teammates in Tennessee (1-0).
It's why he's focused on Pittsburgh. Young watched from the sideline the past two seasons as the Titans beat the Steelers in December 2008 during their 13-3 season, after losing his starting job to Kerry Collins, and was the backup in the 13-10 overtime loss in Pittsburgh to open last season.
"He's not worried about the Heisman," Scaife said. "He's worried about beating Pittsburgh. This is his first time playing Pittsburgh so he's a little more excited than usual. He definitely wants to be 2-0 at the end of this week along with everyone else in this locker room."
Young is playing pretty well these days, too.
He is 9-2 since getting his starting job back last season and is the NFL's top-rated passer after the opening week with a 142.8 rating. He was 13 of 17 for 154 yards and two touchdowns, and he also ran seven times for 30 yards more.
The 38-13 win over Oakland improved Young to 27-13 as a starter in his career, the seventh-best winning percentage among all active quarterbacks.
Titans coach Jeff Fisher said any first start against the Steelers' defense is challenging for any quarterback.
"He's got a big week ahead of him and he's off to a good start today. This is a team that literally controls the line of scrimmage on both sides of the ball, and then confuses the most experienced of quarterbacks," Fisher said.
Young said his confidence is high, but he wants to see how he matches up against Pittsburgh's defense.
"It's never the same when you're out there when bullets are flying around and things like that," Young said.
Related
Popular in the Community