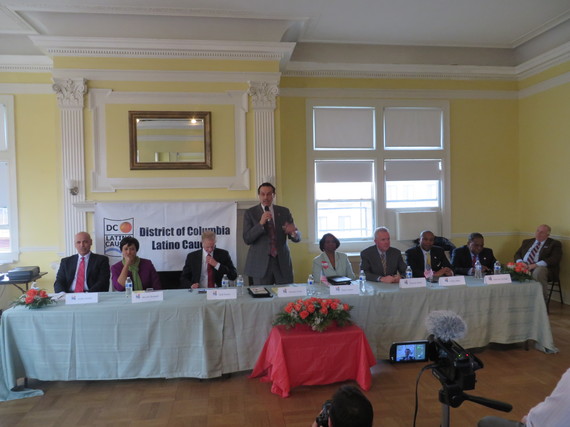 On Saturday, May 14, 2013 hundreds of voters and D.C. residents gathered at the Josephine Butler Center in Northwest Washington to hear from most candidates running in the April 1, 2014 D.C. Primary. The candidates forum organized by the D.C. Latino Caucus, the National Association of Hispanic Journalists -- D.C. Chapter, and the D.C. Asian American and Pacific Islander Caucus was a collaborative effort that took a few months to organize. Some of the other community partners that joined the effort, included: the D.C. Muslim Caucus, the Washington Hispanic Newspaper, CapitalWirePR, the LGBT Latino History Project and the Washington Hispanic Contractors Association.
The candidates forum started early on Saturday morning with the presence of D.C. Congresswoman Eleanor Holmes Norton. Congresswoman Norton is seeking reelection for the D.C. Delegate seat to the U.S. Congress, a position she's held since 1991. The forums continued with other offices, including, Chairman of the D.C. Council, where the incumbent Phil Mendelson faces Ward 4 resident Calvin Gurley. The audience also heard from candidates running for various seats on the D.C. Council, including candidates for the competitive races in Ward 1, where incumbent Jim Graham is running against Brianne Nadeau, and Ward 6, another competitive race for an open seat on the D.C. Council.
The audience also heard from At-Large D.C. Council candidates, where incumbent, D.C. Democratic Party Chair, Anita Bonds, is trying to get reelected to a full four-year term. Anita Bonds was elected last year to an At-Large seat during a special election, after Phil Mendelson was elected Chairman of the D.C. Council. The Shadow Senator candidates also attended the candidates forum. In that race, incumbent Shadow Senator Paul Strauss faced off Ward 3 resident Pete Ross.
But the big event was the D.C. Mayoral forum. This forum was moderated by veteran journalist, Ray Suarez, now with Aljazeera, and Maria Rosa Lucchini with Noticias Univision Washington. People in a packed room and a satellite room heard all eight candidates talk about issues important to the Latino, Asian and Pacific islander, and the broader immigrant community. In the Mayoral race, incumbent Vincent Gray debated seven other candidates. Topics covered included affordable housing, jobs and health insurance for all D.C. residents.
Related
Popular in the Community