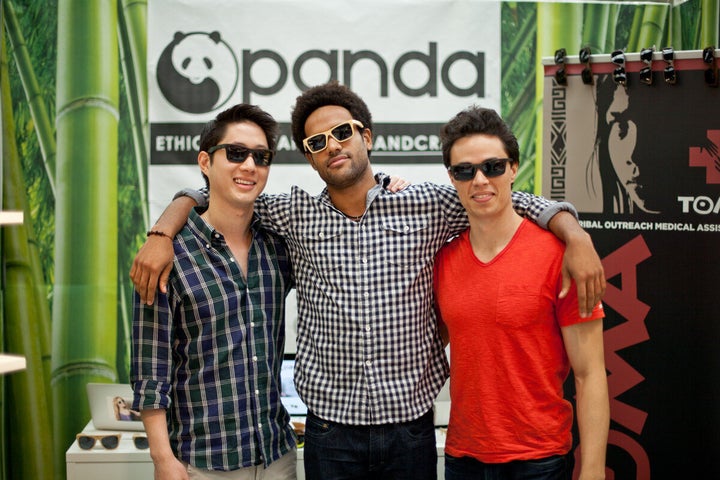 For Panda Sunglasses, it's not all about posting adorable memes on the company blog. The Washington, D.C.-based startup, which makes sunglasses out of bamboo, is responsible for unleashing a new accessories trend -- and providing free eye exams and eyewear to underprivileged people around the world.
Started by Vincent Ko in 2011, the company creates polarized sunglasses (that float!) from eco-friendly bamboo, a way to pay homage to Ko's Chinese-American background. "Growing up in a Chinese household, we would import a lot of things made from bamboo, the most commonly used wood in China," Ko said. "While it's a new and more expensive trend in America, the strong, sturdy, lightweight material has been used in China for centuries." While he knew he'd be openly battling some of the negative 'Made in China' stigmas, Ko knows that, "bamboo is what China does best."
Ko, who partnered with fellow Georgetown alum Luke Lagera and Mike Mills, had his "lightbulb moment" after walking past a display of TOMS Shoes, which donates one pair of shoes for every pair purchased. "TOMS had a huge impact on our idea. They created a shoe that started a movement," Ko said. He set out to design a discussion piece for the face, instead. "If we could have a fraction of what TOMS created, we would be happy."
Through a connection of Lagera's, Panda partnered with a small non-profit, The TOMA Foundation, which provides eye exams and general health aid to tribal communities in Columbia, Argentina and India. "When we founded Panda, we realized that 'conscious capitalism' was the way to go," Lagera said. Panda, which now provides a majority of TOMA's funds, donates an eye exam and one pair of eye glasses or sunglasses for every pair sold. "Our partnership also allows us to work hand-in-hand with them and allows us to be a part of their missions." For Ko, working with a small foundation was important. "With larger non-profits, donations might be going towards paying someone's salary, but TOMA allows us to see tangible results."
With just an idea, the team posted a project to Kickstarter in late 2011 with a $3,000 goal that was far surpassed, reaching nearly $20,000 from about 300 supporters. The funds allowed Ko to start production with a woodworking shop in China and start enlisting fans. "My partners and I were all working day jobs, so we wanted our customers to be brand ambassadors and help spread the word."
While Ko had previously worked at a startup and dreamt of being an entrepreneur, he admits he knew nothing about retail. After testing the brand through online sources, Ko started applying to accessories trade shows. He recalled a moment of desperation that paid off, heavily. "We had applied to be in the ENK accessories show alongside brands like Lucky and J Brand, but we were put on the back burner because we were so new," he said. "Mike [Mills] sent me a joking email saying to tell the show designer that we'd post up in the broom closet if we had to, so I forwarded the email and they came back and said 'We'll find you a booth instead.'" The show led Panda to eventually ink deals with the Anthropologie brand, where Panda sunglasses are currently being sold in test markets for Urban Outfitters.
What's the biggest lesson Ko has learned so far? "TOMS founder Blake Mycoskie says, 'The timing is never right' to start a project. Even though everything was going great with my day job, I knew I wanted to focus on Panda, so I did."
Names: Vincent Ko, Luke Lagera, Michael Mills
Company: Panda Sunglasses
Ages: 23, 24, 24
Location: Washington D.C. and New York
Founded: 2012
Employees: "Two and a half"
Website: www.wearpanda.com
Related
Before You Go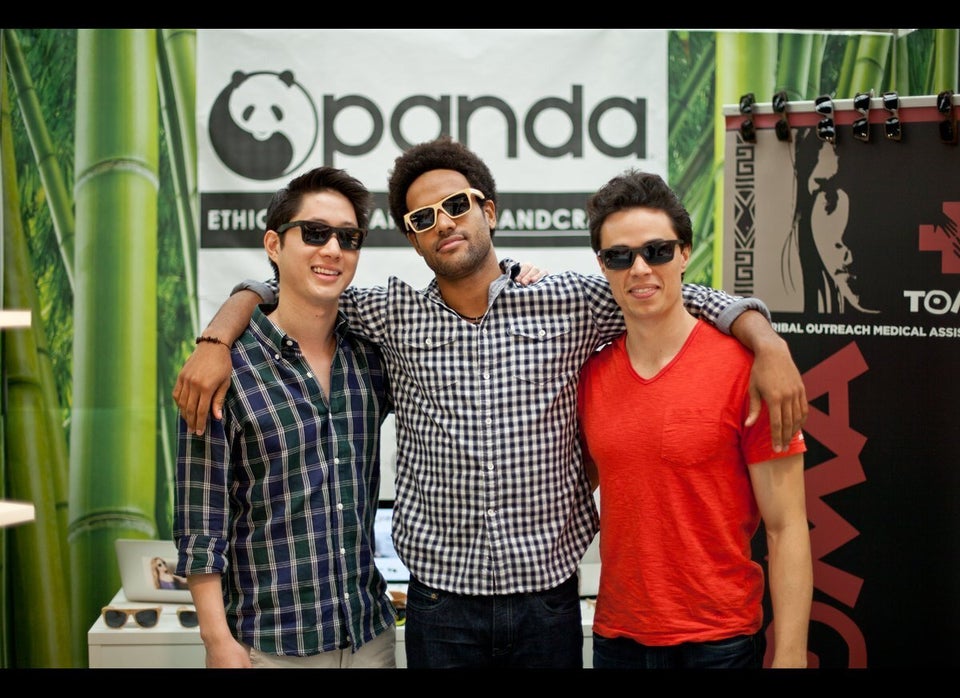 Panda Sunglasses: Shades With A Purpose
Popular in the Community